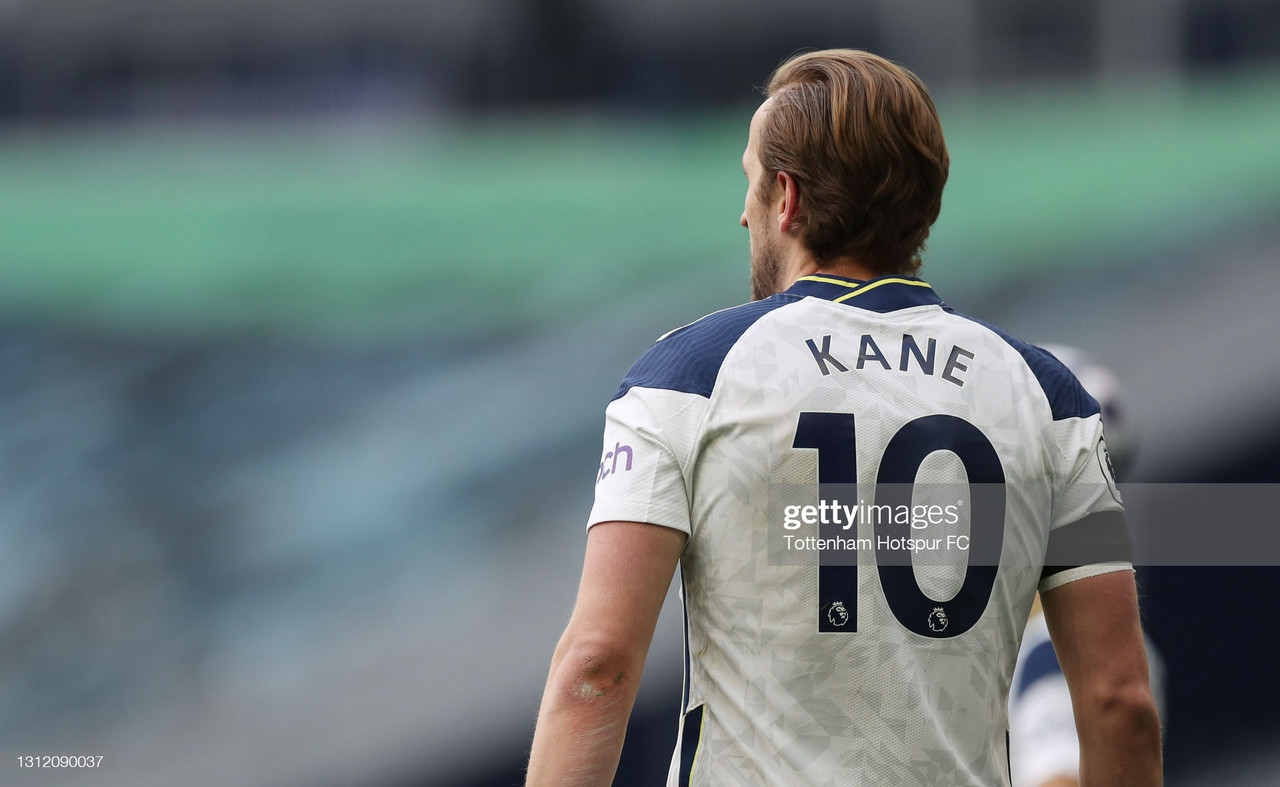 The summer transfer window is set to begin with a blockbuster move - with striker Harry Kane all but destined to depart Tottenham Hotspur in the upcoming months.
Manchester United are said to be one of several top clubs interested in Kane, with speculation about the Englishman wanting to leave the club increasing on Monday evening.
The Spurs and England striker reportedly told owner Daniel Levy about his intentions to leave the club last month and confirmed the huge rumours in an all-revealing interview with Sky Sports' Gary Neville - speaking heavily about his future.
The number 10 is the Premier League's current top scorer and assister with 22 goals and 13 assists to his name. And Kane firmly believes he has another gear to go in performance, with many more goal-scoring seasons ahead of him.
"I still feel like I've still got almost another career to play. I've got another seven or eight years. I feel like for sure I've got so much more to give. I feel like I can be even better than I've been. I can produce better numbers than what I'm producing at the moment."
Having scored countless goals and broken records at Spurs, Kane believes he can be the world's best player and is adamant he wants to increase his goal tally but deliver silverware year in, year out also.
"I'm not afraid to say, 'I want to be the best. I want to try and get on the level Ronaldo and Messi got to'. That's my ultimate goal - to be winning trophies season in, season out, scoring 50, 60, 70 goals season in, season out" Kane stated on The Overlap.
The Englishman in the coming weeks plans to speak with chairman Levy - aiming to sort his future out in an understanding and honest manner.
"I've given the club 16 years of my life, so I hope we (Levy) can have a good, honest conversation and see where we're at.
Kane added "I don't know, I mean he [Levy] might want to sell me. He might be thinking 'If I could get £100m for you, then why not?' Do you know what I mean? I'm not going to be worth that for the next 2 or 3 years.
"I don't want to have come to the end of my career and have any regrets. I want to be the best that I can be. I want to be playing in the biggest games, the biggest moments."
Meanwhile, United's reported interest in Kane could be hampered with the club having recently renewed Edinson Cavani's contract.
Ole Gunnar Solskjaer is said to be a huge admirer of Kane. And has had the striker at the top of their centre forward wish list alongside Erling Haaland having known the striker's intentions to depart the club beforehand.
Solskjaer was questioned whether Cavani signing a new deal affected their interest in signing another striker this summer.
"No. Of course, I can't say that. Yeah, Edi signed but how many good strikers have we had? I can't say we're not signing a striker because we're building towards a better squad."
Over the years, history has shown United's great strength in depth with their forward options. Their double-winning side in 2008 saw them have Cristiano Ronaldo, Dimitar Berbatov, Carlos Tevez, Wayne Rooney and Louis Saha as the top forwards at their disposal.
With Solskjaer's primary aim to challenge on all fronts next season, Kane's potential arrival to the club could be seen as the gamechanger that gets them to a first league title in eight years.