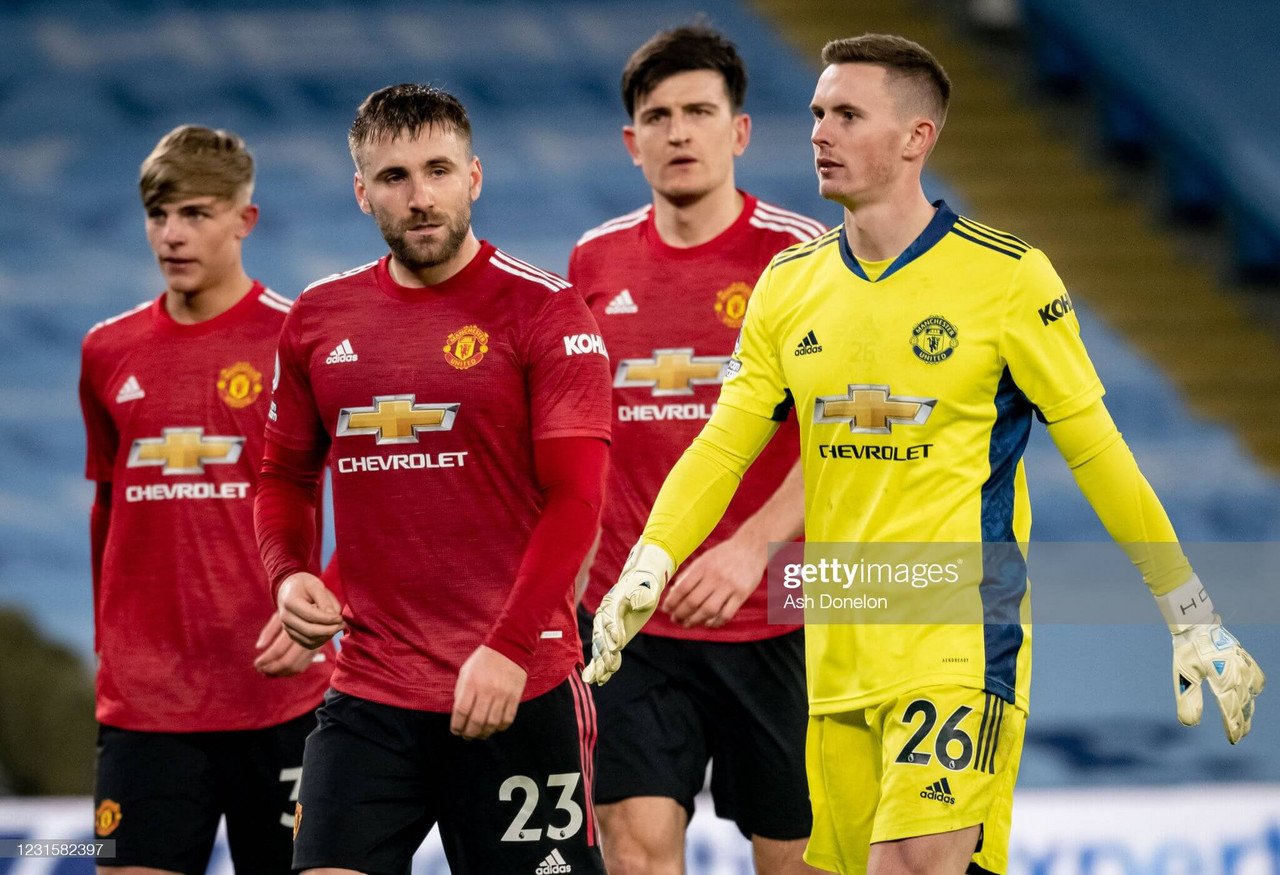 Luke Shaw had just slotted beyond Ederson to double Manchester United's lead in this derby against Manchester City, but Dean Henderson was the focus of Ole Gunnar Solskjaer's post-goal praise.
United's No.2 had set Shaw's goal in motion. He collected the ball and had it in his hands as Pep Guardiola's side dropped off into their defensive shape. Henderson pondered quickly before releasing Shaw down the left with a throw-out. United's excelling left-back did the rest but Solskjaer acknowledged the role that his goalkeeper had played in the goal with a thumbs up.
That was one of many moments that Henderson compiled in his most comprehensive Premier League performance to date. The 23-year-old is getting a run of games, this being his second in succession, due to David De Gea travelling back to Spain for the birth of his first child. De Gea will not regret that decision but it could prove to be a pivotal one in Henderson's United career.
Henderson is destined for No.1
Henderson has had to bide his time and sit as understudy to De Gea but it is widely acknowledged that the England goalkeeper, who spent the past two seasons on loan at Sheffield United to great acclaim, will become United's No.1. It is simply a question of time.
He has the confidence and ability to play in 'the most scrutinised position in English football', as former United captain Gary Neville described the role.
This sequence of starts, with United sitting second in the league and still needing results to ensure Champions League football next season, will be crucial to Henderson's claim to the starting berth. This game against City displayed what Henderson is capable of.
He was increasingly busy as the home side attempted to score and mount a comeback to try and maintain their 28-game unbeaten run as their 21-game winning sequence appeared to be drifting away. He was forced into six saves and managed to keep a clean sheet against a side that has scored a goal in every game since the last Manchester Derby on December 12.
Furthermore, Henderson had 40 touches, five more than Ederson, which showed just how involved he was with United's playing out from the back. His quick release for Shaw proved crucial and built on the early lead that Bruno Fernandes had provided form the penalty spot.
In truth, there was very little for Solskjaer not to be impressed by as Henderson commanded his area and was frequently shouting at the back-four in front of him, constantly arranging them and urging them to hold their high-line which they adopted for the first 25 minutes.
Southgate has much to mull on
This was all in front of Gareth Southgate, the England manager, who has a decision to make in terms of his No.1 ahead of this summer's European Championship. It is a three-way battle between Henderson, Nick Pope and Jordan Pickford for the role. Pickford has Southgate's current backing but with Henderson now given the chance of playing regularly for his club that could change.
Southgate will also have been impressed by the latest man-of-the-match display by Shaw. One minute he was sliding in decisively to deny Raheem Sterling, then he was down the other end scoring his first goal since March 2020. The purpose and speed of his play are constant and despite United's somewhat troubling few weeks, he has continued to be the shining light of Solskjaer's side.
There is no better full-back, let alone left-back, in the Premier League at the moment. The competition that Alex Telles has provided seems to have brought the best out of the 25-year-old and there is little chance of the Brazilian displaying him any time soon.
Shaw's performance was indicative of United's display as a whole. Solskjaer's side were aggressive, positive and defensively sound, they took their chances while Anthony Martial was one of several impressive performers in attack. The game-plan worked a treat.
The United manager has now achieved three wins from three at the Etihad Stadium, and his good form against Guardiola is corroborated by United now being unbeaten against City in their last four league meetings. The key for United is to make this latest victory count for something, the start of something.
From the early play that extracted a clumsy penalty Gabriel Jesus to the final minutes which saw United's defence standing tall to withstand late City pressure, this was a deserved win for Solskjaer's players, and one that could lead the way for Henderson to be the club's No.1 sooner than expected.