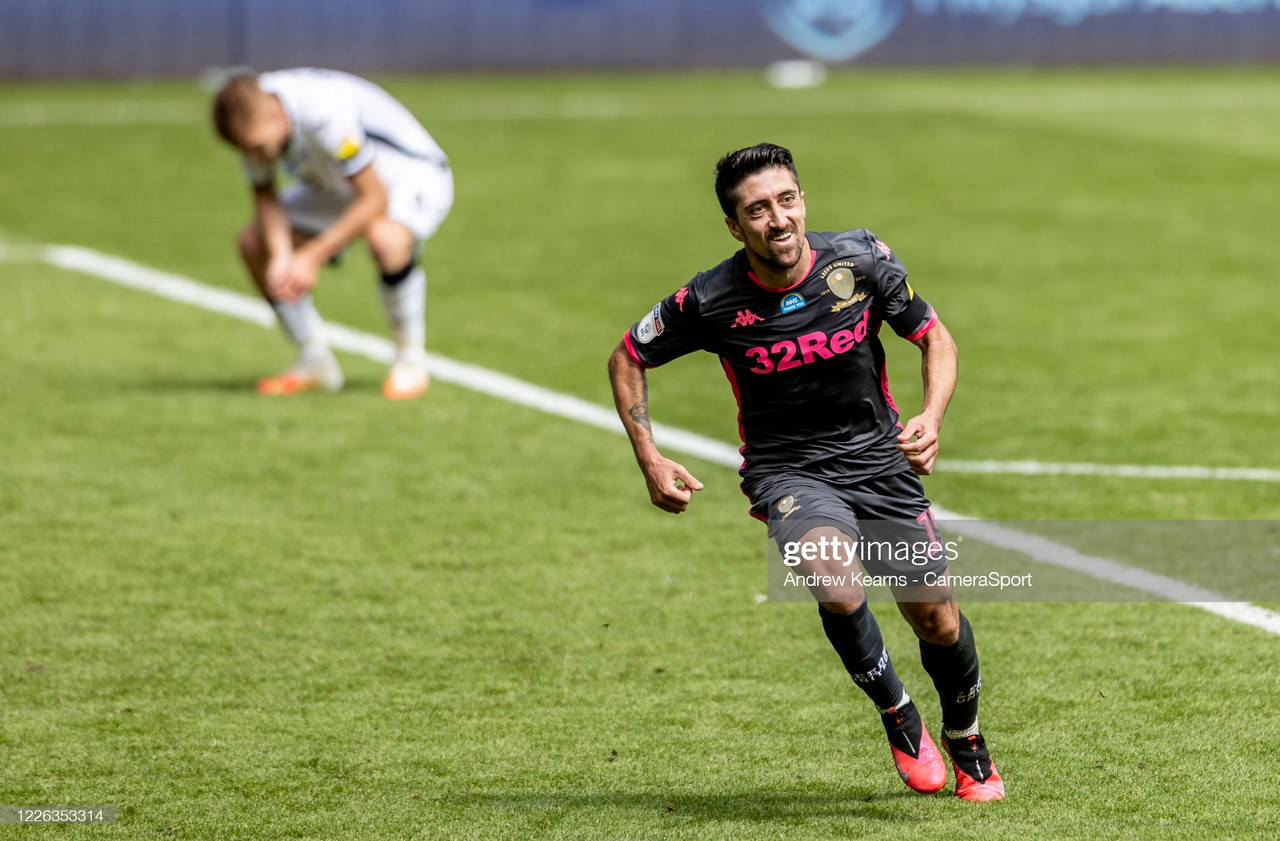 When a player leaves a football club, you can often tell how good they have been by looking at what they have left behind. Their legacy. What the fans think of when you say their name.
Some players barely leave an impression. Some are remembered for all the wrong reasons. And then there's Pablo Hernandez.
He may not have a statue at Leeds United, or a stand bearing his name, an honour reserved for the greats of the famous Don Revie team which made Leeds what it is today.
He does, however, have a mural emblazoned across the side of the Duck and Drake pub in the centre of Leeds. So that should tell you something.
But so much of football is not in the physical, nor is it even in the statistics on which so much importance is placed by so many in the game.
The true joy of football lives in the mind and the memories people make along the way. Those moments of unbridled joy and overwhelming emotion.
Sunday 12th July 2020, Liberty Stadium, Swansea
Hernandez has almost certainly scored better goals during his time with Leeds, but he has not produced a more important or iconic one.
It will go down as one of the "Where were you when?" moments in Leeds' history.
All Leeds fans have seen it countless times, they can probably tell you what happens in the most accurate of detail.
If not, they will surely be able to offer a word-for-word re-telling of Bryan Law's almost equally as iconic commentary.
"Klich, out wide it goes to Helder Costa…"
Ultimately, this is what Leeds fans will remember Hernandez for. Moments. Memories.
The goal against West Bromwich Albion after 16 seconds in front of an electric, capacity crowd at Elland Road.
The stunning first goal of the SkyBet Championship-winning season away at Bristol City which announced that Leeds were not going away after their play-off heartache.
"…there's space, and there's an overlapping run from Ayling…"
Part of what makes Hernandez so special is what came before. Signed during the chaotic and troublesome ownership of Massimo Cellino, where Leeds had become a laughingstock.
Arriving only a few years after Leeds, under Neil Warnock, started Michael Tonge, David Norris, Paul Green and Michael Brown in a midfield. In an actual, competitive game.
"…and Ayling gets the ball, and there are men in the box…"
Now, here was a player capable of producing moments of magic. There is a reason his nickname is "El Mago" or "the magician".
He got fans off their seats. Wonderful goals, incredible passing, and an entire compilation's worth of nutmegs.
He could win games on his own. As he did at Swansea City on that July day.
"…and it comes for Pablo Hernandez…"
It almost became Leeds' game plan during the end-of-season run in following the suspension of the season due to COVID-19.
Start Hernandez on the bench but bring him on to produce something when things were not going quite right.
That's what happened against Swansea, his former team. Introduced at half time for Tyler Roberts.
Leeds knew that with a win they would be almost there, but Swansea had them frustrated as the minutes ticked by.
But then, in the 89th minute, El Mago waved his wand to save the day.
"…AND PABLO HERNANDEZ SCORES A GOAL FOR LEEDS UNITED!"
A special moment involving a special player.
With Leeds securing both promotion and the title thanks to results not involving them, that was the moment. There would be more game before glory was secured but the feeling after Swansea was, the job was done.
Sunday 23rd May 2021, Elland Road, Leeds.
His job was done, Leeds were up but the fairy tale has not continued into the Premier League.
Leeds, as sad as it is to admit, have almost moved on. A top half finish secured without having to rely on Hernandez with new faces like Raphinha and Rodrigo stepping in to fill the void.
That does not mean Leeds have forgotten about him. Though there was a limited crowd at Elland Road on Sunday, he got the send off he deserves and I would be surprised if there was a dry eye in the house.
The ovation he got from the 8000-strong crowd, and the constant chanting of his name, was the least he deserved.
In the end, despite everyone's wishes and attempts by his team mates to set it up, there was to be no final Hernandez goal. West Brom 'keeper Sam Johnstone clearly didn't receive the memo.
There was still some lovely moments though, glimpses of what he can do at his very best. If he had stayed on the pitch for longer, he may have got his goal when Leeds were awarded their 79th minute penalty.
In the end though, Sunday wasn't about the present, but celebrating the past.
As he exited the field in the 70th minute, tears in his eyes, Elland Road got to do just that.
It was another special moment to add to the Hernandez legacy.