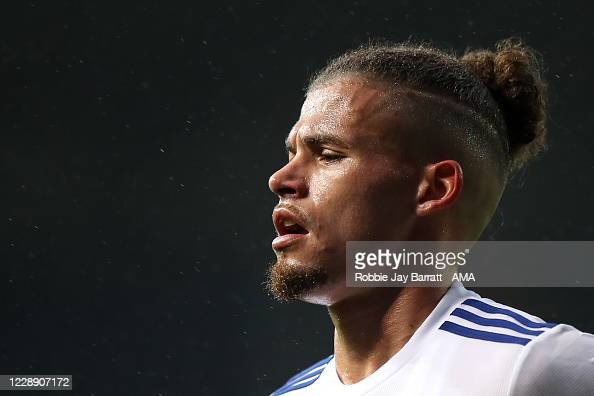 "Side before self - every time" the words of the late Billy Bremner. They are emblazoned pitch side of the fan-lacking Elland Road; they are etched into the psyche of Kalvin Phillips - a man who has been moulded by the former Leeds United great.
Phillips is the embodiment of the mantra and last night, he demonstrated just that by playing through injury to ensure victory in his 200th appearance.
Since his debut back in 2014, Phillips has seen plenty come and go at his boyhood club, including eleven managers and a change of ownership. 200 appearances later, he continues to remain a constant for Leeds, but it hasn't always been that way.
Local Lad
Growing up in Wortley, an inner-city village in Leeds, Phillips supported his local club and idolised players like David Batty - another Bremner inspired midfielder.
As a young lad, Phillips' love for football shone through playing for Wortley Juniors, but it was never a certainty that he would play professionally. His move to Leeds came purely incidentally during a local tournament.
In 2010, aged 14, Phillips had gone to watch his side play but got on the pitch due to a lack of players. Fortunately for Phillips, a former disciple of Don Revie, Walter Sweeney, from Leeds City Boys had gone to watch the tournament and had spotted a midfielder who stood out from the rest.
Despite his clear ability, Phillips never saw himself that way, yet in an interview for the Yorkshire Evening Post, Kalvin revealed his teammates thought of him as "one of their best players".
Academy Days
It is rare for a player to join an academy set up as late as 14, but Phillips - part way through his time in secondary school - was about to enrol into Leeds United's academy.
Most schoolboys are bedded in to academy life by that age, but Kalvin, coming to a crucial stage in his education, was requesting permission from his school to let him join his boyhood club.
At first, it appeared as though his journey was coming to a premature end. His school wrote back to Phillips' mother asking her to reconsider Kalvin's future, but they got what they wanted in the end.
Before joining his beloved Leeds United, Phillips had a short trial further down the M62 at local rivals Huddersfield Town. But his love for Leeds made him question the choice. Shortly after, Phillips was back at United and working his way up the academy ranks.
Skipping on to 2014, Leeds United Under-18s coach Neil Redfearn had an admiration for the young midfielder and displayed it with the decision of making Phillips the captain of the side.
Many fellow coaches believed that Phillips had a strong future ahead of him and he was ready for the step up to senior football.
Breaking into the first team
It was a turbulent time for the club, as Italian businessman Massimo Cellino had completed his takeover of the club earlier that year and had begun his managerial merry-go-round.
Following the sacking of Darko Milanic after just 32 days in charge, Redfearn was offered the role of head coach on a 12-month contract. It was a wonderful stroke of luck during a dark time in the history of Leeds United, but it sparked the emergence of an 18-year-old cheeky chappy with an infectious smile.
Redfearn took over with the intentions of bedding in the young talent he had worked with in his time working with the academy. He had talented stock to work with, including Sam Byram, Lewis Cook, Alex Mowatt and Charlie Taylor.
Phillips joined his fellow graduates for a trip to Wolverhampton Wanderers which saw an action-packed debut as Leeds suffered a 4-3 defeat at Molineux. If it weren't for the Leeds youngsters, it would have been a resounding 3-1 defeat that day, but goals from Taylor and Mowatt kept the game as close as they could.
Just five days later, Kalvin made his home debut at the ground he grew up around the corner from, scoring the only goal in a 2-1 loss to Cardiff City.
For the next couple of years, Phillips was struggling to find his way in the first team. That was until 2016. One of Leeds' brightest young stars in Lewis Cook agreed to join AFC Bournemouth in the summer, and it paved the pathway for Phillips to take his role in the starting eleven.
That season, under Garry Monk, Kalvin made 33 EFL Championship appearances in a year where they were vying for a play-off place.
It was regarded as one of the best season's the club had endured in the preceding years, and for Phillips, he regarded it as "one of the best" he's had.
That was until a certain Argentinian stepped through the doors of Elland Road in the summer of 2018.
The Making of Kalvin Phillips
On the 15th of June 2018, Leeds United had begun a remarkable transformation under the control of an unassuming gentleman hailing from Rosario, Argentina.
Before taking the role of head coach for the Whites Marcelo Bielsa, one of the greatest footballing minds, had highlighted the boy from Wortley and had earmarked him as one of the club's best talents.
In a discussion in Buenos Aires involving Bielsa and club CEO Angus Kinnear, the Argentinian coach said, "Kalvin Phillips could be one of the best centre halves in the league".
It was certainly a unique statement considering he had been utilised as a box-to-box midfielder and had scored seven goals in the previous season.
However, Bielsa set to bring out the hidden qualities in the gem that Leeds now refer to as the 'Yorkshire Pirlo'.
Phillips has recalled moments of bemusement when first hearing of his new role for the club. The then 22-year-old rolled with the punches of being pushed back to a defensive midfield position, but he was in further disarray when he discovered he would also be expected to fill in at centre back.
Under Bielsa, it could be argued that Phillips has the most challenging role in the line-up and is being pushed to the limits of what can be expected of a professional footballer. However, Kalvin has relished his opportunity and has been reborn as one of the best in the business.
In Bielsa's first season in charge, vast improvements were clear throughout the squad, none more so than Phillips.
He only managed one goal - albeit a crucial 101st minute equaliser against Middlesbrough at the Riverside - but what really shone through, was his newly found ability to read the game.
Phillips studied his role and knew his tasks inside and out. One of the vital components of the Bielsa's machine is the high press. In order to succeed, Bielsa's side must break down their opponents attack and win the ball back to create one of their own. And Phillips did exactly that.
With an expert level of frequency, Phillips can intercept a pass and spray a measured punishing pass to the feet of a winger at the opposite end of the ground. A feature of his game Leeds fans have come to love but never expected.
A lasting impact
It is not only his performances that have had a lasting impact under Bielsa, but he is also displayed permanently in his home city for all to see.
Over the summer, following the club's return to the Premier League for the first time in 16 years, some of the standout figures have been made visible for all to see in the city.
Along with Pablo Hernandez, and Bielsa, Phillips has his own mural painted in Leeds to commemorate his successes.
This mural features two other former Leeds United legends in Albert Johanneson and Lucas Radebe - all three of whom were of black heritage and inspirational talents for their respective generations.
It is a direct display of the affection the fans have for Phillips and the respect he has amongst his peers at the club. He is only 25, but he is a figure that has been looked up to and will continue to be looked up to for years to come.
Will there be more?
Obviously, it would be ridiculous to predict the future of such a talented individual, but many Leeds fans can derive pleasure from Phillips' previous loyalties to the club.
Despite failing to obtain promotion in 2019 and falling in the final stages, Phillips turned down the chance to move to newly promoted Aston Villa. The move was a guarantee of Premier League football and a significant pay rise to partner it.
However, once again, Kalvin's loyalties to not only the club but the city were too strong, and he stayed. Now the Whites are back in the top-flight and he is the poster boy.
Having already received four caps for England's national side, he will be flirting with replicating his domestic success on the international stage. Although, as we all know, when it comes to international tournaments, high quality performances lead to high volumes of interest.
Fans of Leeds United will just be hoping he'll be pulling on the white of Leeds after he has taken off the white of England. Kalvin himself won't be thinking too far ahead, because as ever, he isn't worrying himself over the future.