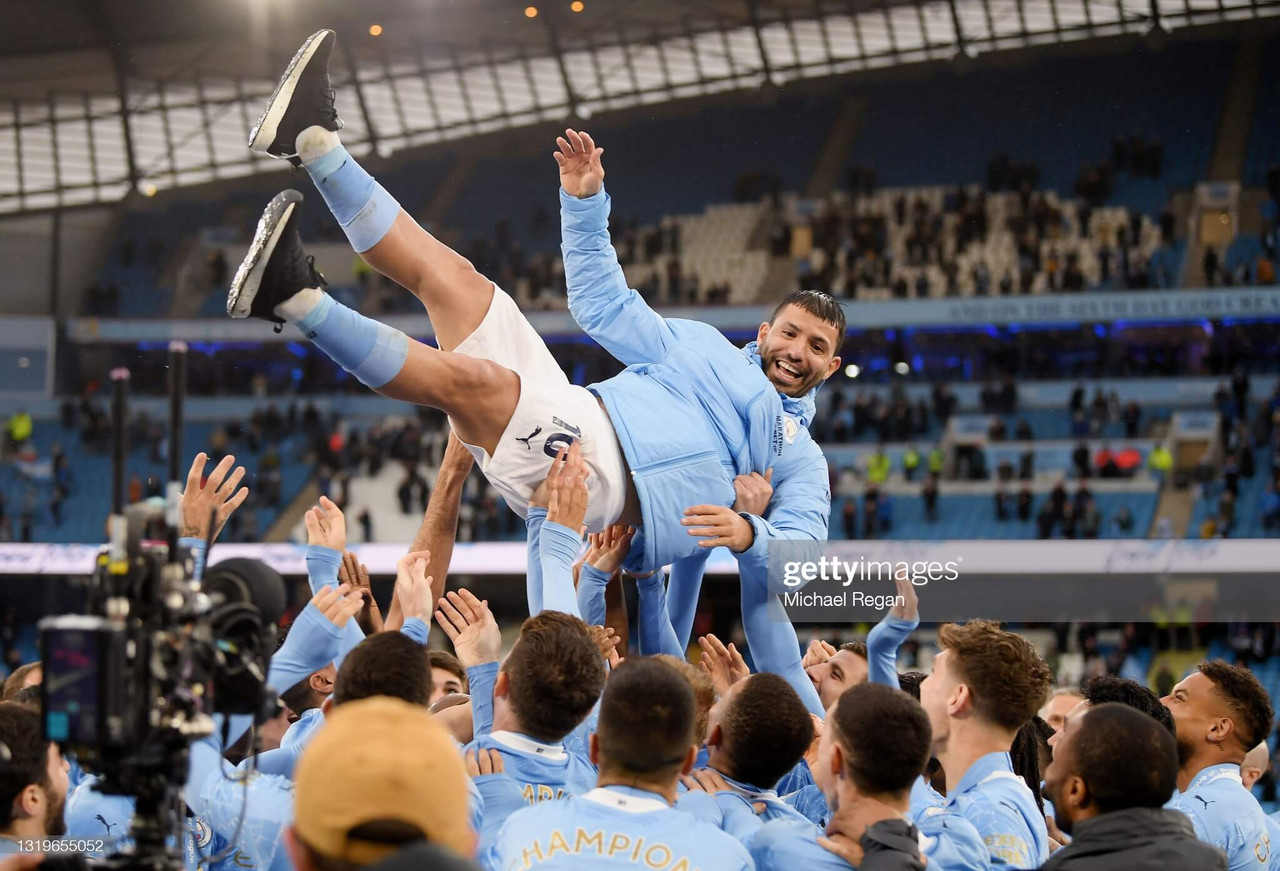 Sergio Aguero said farewell to Manchester City supporters this afternoon with a 5-0 victory against Everton.
The Argentinian striker bagged two goals as he came off the bench and set a new Premier League record for the most goals scored at a single club in the league.
Aguero will leave the club this summer after 10 years at the club and 260 goals. He has also won five Premier League titles, one FA Cup, six League Cup triumphs and, on 29 May, has the chance to add a Champions League medal to his collection.
We should have seen it coming
After scoring two and setting up another against Swansea on his debut all those years ago, maybe the footballing world should have known what Aguero was capable of.
With his thunderbolt of a second goal, the skill to set up David Silva and his instinct at the back post, Aguero introduced himself to the City fans in style - similar to how he rounded it off on Sunday.
The word 'legend' gets thrown about these days but there is no doubt that Aguero has become a Man City and Premier League legend. After he signed in 2011 for £38 million (yes, only £38 million), he became City's most expensive signing in the club's history which eclipsed the £32.5 million spent on Robinho in 2008.
Aguero had a price tag to live up to, and boy did he do it.
The stats behind his remarkable career
Aguero leaves Manchester as the fourth all-time Premier League goalscorer and the highest non-English scorer in the competition's history, with 182 goals. Aguero also holds the record for most hat-tricks in the Premier League with twelve.
And on his final league appearance he scored another two stunning goals, which made history yet again.
He set a new league record for the most goals at a single club in the league. Wayne Rooney previously held this record with 183 goals at Manchester United, Aguero has now scored 184 in the league with City.
After a relatively poor season due to not being selected and suffering from niggly injuries, Aguero ends the season with 12 appearances, four goals and one assist.
But collectively, across the ten years - he made 389 appearances for the blue half of Manchester scoring 260 goals and 73 assists.