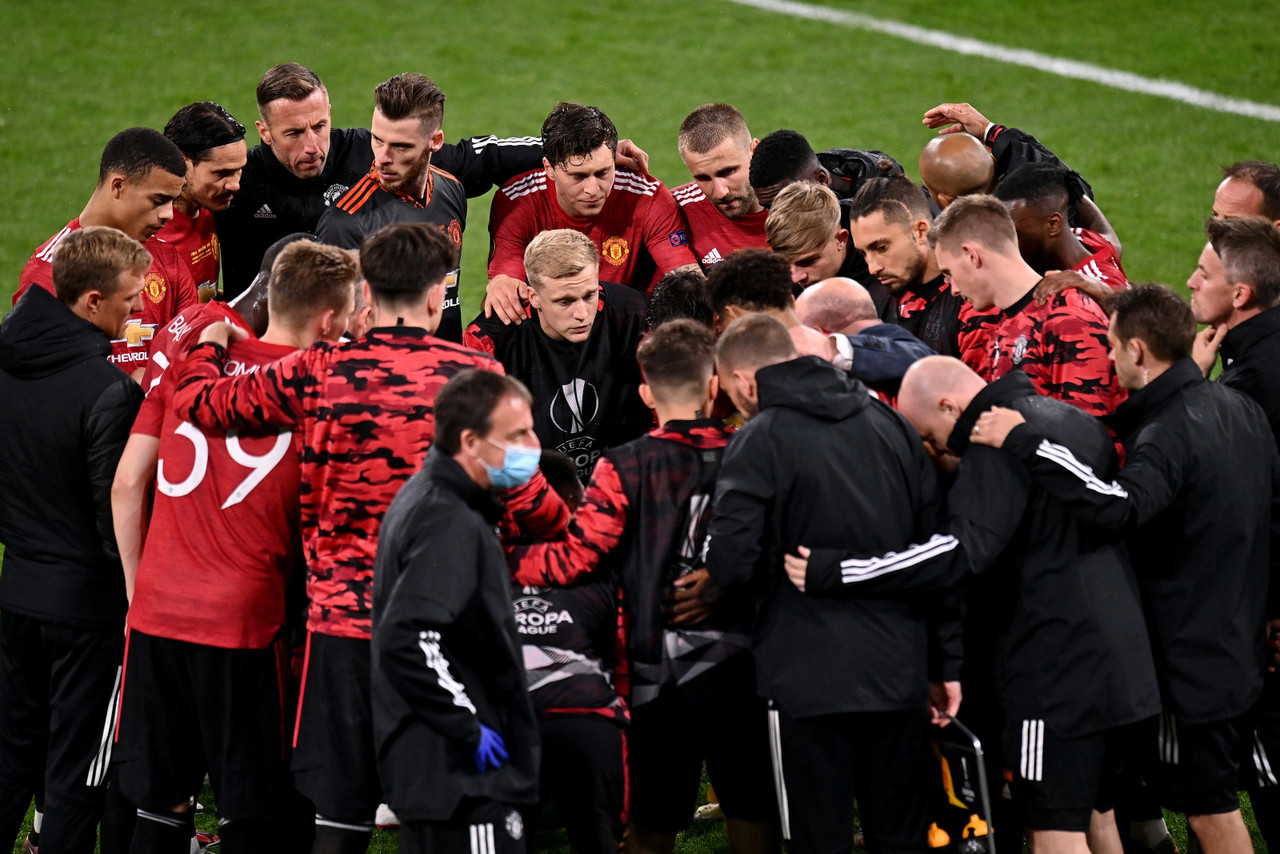 Brad Cox, Ryan Batty and James Ridge
During one point of the season in January on a freezing cold night away at Burnley, Manchester United topped the Premier League table with a 1-0 victory.
Former United player, Gary Neville, took to social media to celebrate that win. But for the players and Ole Gunnar Solskjaer, it was all about the next game and the United manager insisted that no trophy is won in January. Little did he know back then, that nothing would be won in May either.
United ended their campaign trophyless but they did reach their first final under Solskjaer. They were beaten on penalties in the Europa League final against Unai Emery's Villareal.
The word 'progress' has circulated the United dressing room throughout the season, which is a fair assessment. However, many feel as though with Solskjaer entering his third full season at the helm - he needs to mount a serious charge for the title and/or win a trophy.
But that's enough about next season, let's reflect on the jam-packed, out of the ordinary and exhausting 2020/21 campaign.
Transfer business
Edinson Cavani
A free transfer, from Paris Saint Germain and quickly became a fan-favourite...sounds familiar?
Edinson Cavani like Zlatan Ibrahimovic introduced himself to the United fans in style with what should have been the goal of the season against Fulham. Unfortunately for himself, it just so happened to be his only fixture at Old Trafford in front of a fan base that loves him so dearly - due to the ongoing consequences of the global pandemic.
Cavani was deemed a 'panic buy' by many supporters online as he signed on a free transfer on deadline day in October 2020.
The excellence of Cavani deservedly won him a contract extension, with the Uruguayan becoming somewhat of a cult hero for the Reds during a difficult season behind closed doors.
His wonderful strike against Fulham summed up his impact on the side this year. However, Cavani's addition arguably only came because of a difficult start to the season; the Jadon Sancho saga is easy to forget but dragged on right until the window's end – Donny van de Beek was the only real addition prior to the season.
Donny van de Beek
Donny van de Beek has shown glimpses of his quality – but not enough to convince the fans he was worth the full £40 million that was paid to Ajax last summer.
Solskjaer clearly does not trust the Dutchman fully – his brief cameos this year have been underwhelming and has not shown his quality when starting to force himself into the club's plans.
Alex Telles
The arrival of Alex Telles was solid: he played well when called upon but his main job – to bring competition to Luke Shaw – worked wonderfully. Shaw has had the best season of his professional career.
The one negative point about Telles has been his reluctance to put defending first at times. He can be often found caught out too high up the pitch, leaving dangerous space at the left-back position for Harry Maguire to clean up.
Youth signings
Facundo Pellestri was loaned to Alaves in La Liga pretty much instantly, while Amad Diallo will be blooded into the first-team slowly, but has shown his quality when required, such as against AC Milan.
Turning point in the season
Manchester United 1-2 Sheffield United
After capitalising on their poor run of form over Christmas, United leapfrogged their old rivals Liverpool into top spot. Back to back Paul Pogba winners had secured dramatic wins over Fulham and Burnley as the squad were flying high when they welcomed a struggling Sheffield United side to Old Trafford. Having not yet broken the double figures mark for points before the match, few were expecting the visitors to leave Old Trafford with all three points, following a calamitous 1-2 victory. The loss saw United overtaken by Manchester City and preceded a run in which United would pick up just 6 points in 4 games, opening the door for a relentless City to run away with the league title shortly after. In hindsight, this inexplicable loss really was a turning point in United's ill-fated title charge.
Player of the season
Bruno Fernandes
The question that needed to be asked was how important was Bruno Fernandes in the grand scheme of things relating to United. The answer? Quite. It was either Luke Shaw or Fernandes, the two obvious candidates but when taking a look at Fernandes' incredible stats and goal contributions, it would be criminal not to award him as the player of the year.
His 28 goals and 17 assists this season have not only eclipsed any other United player's seasonal output post-Ferguson but has also broken Frank Lampard's record for most goal involvements by a Premier League midfielder in one season.
Make no mistake about it, he may not be the most consistent or stylish player to grace the earth, but he is THE sole reason United secured their joint-highest league finish since 2013.
With rumours of a new contract in the works, long may Fernandes' rule over the Premier League continue.
Most improved player of the season
Luke Shaw
From being ostracised by Jose Mourinho, to becoming United's players' player of the year, you won't find many 'zero to hero' stories better than Luke Shaw's. The summer arrival of Alex Telles seemingly ended Shaw's reign as United's left-back-in-chief, yet just eight months later Shaw is in the form of his life.
The 25-year-old now sits among Europe's elite for chances created in 2021 and has earned himself a spot in the Premier League Team of the Season for the first time since his Southampton days, as well as a return to the England squad. He'll be hoping his projected performances continue well into the summer and the season to come.