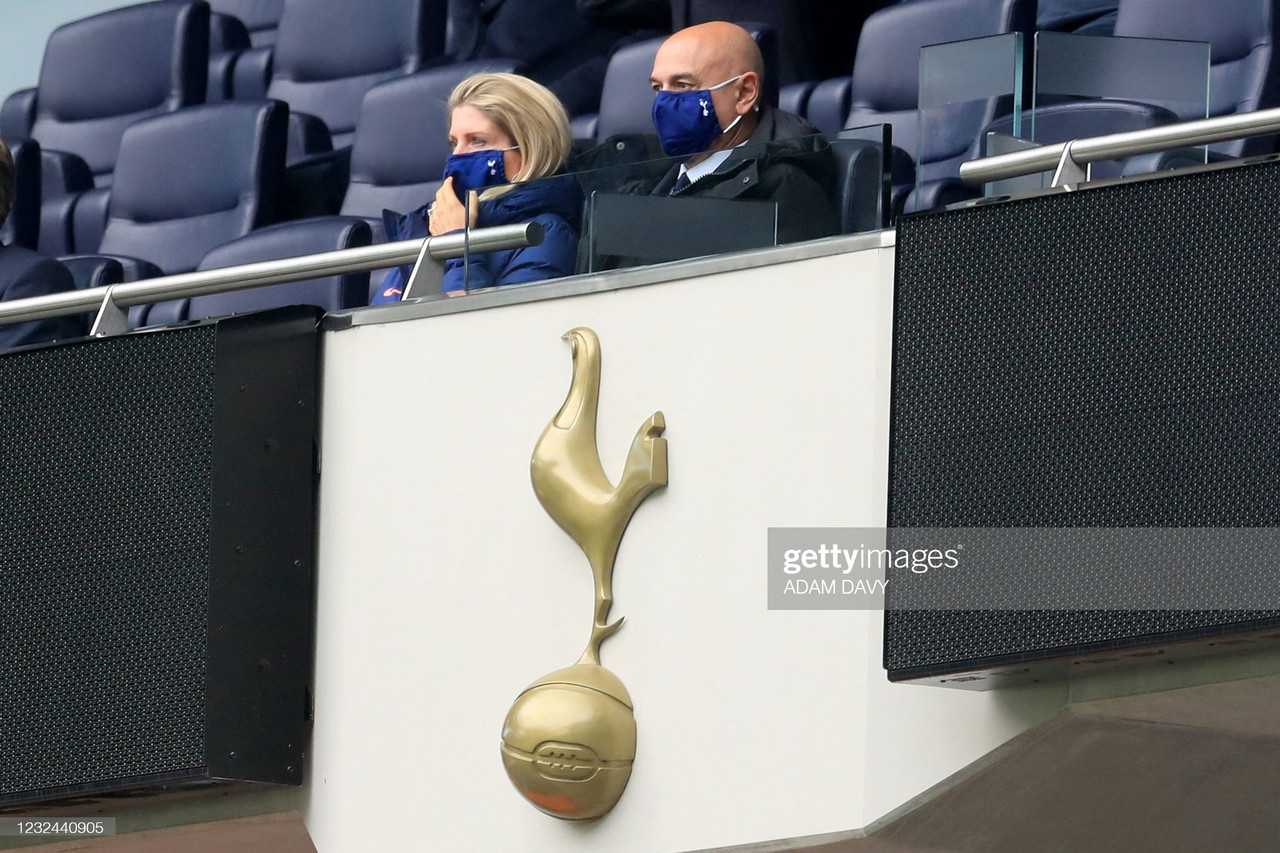 Tottenham Hotspur have been without a permanent manager for 43 days, the longest period for any club in Europe's top five leagues has been without a manager.
Daniel Levy is swimming in dangerous waters as the search for a new manager is set to continue as the summer transfer window opens.
With reports emerging that Spurs had hoped to have their new manager in by the end of the domestic season, many fans were hopeful that the new boss would have the entire summer to settle in and prepare for what will be a crucial season come August.
However, as is often the case with the Tottenham hierarchy, the entire situation has been overcomplicated and has dragged on for far too long.
Mauricio Pochettino is still in talks with the club in what could be a sensational return to the north London club, however, there are said to be numerous complications with a potential deal.
Pochettino's relationship with Sporting director Leonardo Araujo is said to be poor and there has even been the suggestion that one of the two will have to depart the club in the summer.
Despite this, Paris-Saint-Germain had a clause in Pochettino's contract that would extend his stay until 2023 should the club qualify for the Champions League, which they successfully did.
This means that Spurs would have to compensate PSG should they wish to end the Argentine contract early. The alternative is that Pochettino would have to publicly express his desire to leave the French capital, which could make the deal a much smoother transition.
There is also the scenario in which Spurs fail to re-appoint Pochettino, then they would have to weigh up their other options, which is a whole other task for the club.
Whilst it is clear that Pochettino is Daniel Levy's main target as the next Spurs manager, there are others on the chairman's shortlist should a move fail to materialize.
Antonio Conte is an attractive option for Spurs to pursue, however, the Italian is renowned for his excessive spending and complete control of operations at each of his previous clubs. Spurs will be looking for someone with a softer personality and who is easier to manage.
This tradition within the club that has seen heavy involvement from the chairman has hindered the club rather than helped it. A lack of freedom when it comes to transfer dealings and hauling out the deadwood has been costly for Spurs particularly in the last three years.
Tottenham must decide whether they are to continue down this path of close man management or whether they are going to begin trusting those they put in charge of the first-team squad.
Conte is also a free agent and would not cost a penny in compensation, which may further appeal to Levy.
Conte has proven at Juventus, Chelsea, and Inter Milan that he can win with the right amount of money and time, and should he be backed, then he could work wonders with this Spurs squad.
Erik Ten Hag seems to be the other option the Spurs hierarchy may turn to should they fail to secure the services of Pochettino or Conte. The Ajax manager is another who has had an extension triggered as part of his contract that would require Spurs to pay a fee to acquire the Dutchman.
Ten Hag plays attractive football and fits the philosophy that has been outlined at Spurs, which may make him a good fit for the role. But again, the situation is more complex than it seems at first sight.
If Spurs are not careful, they will lose the interest of potential candidates, if they do not make a decision soon. Any of the three managers mentioned in this article would go down well with the fans, but the longer they take to announce the appointment, the more restless people will become.
How long do fans have to wait?
The frustration of Spurs fans is shared throughout the community. People want a manager who will come in and get down to business straight away.
With the Euro's starting in just 10 days time, transfer dealings will become increasingly more difficult to complete. Therefore, it is imperative that Spurs make an appointment before the tournament starts.
The mood around the club is that the appointment will be made in this time, however, there may not be time for the new manager to make any adjustments or even draw up a shortlist of potential transfers.
One thing is for sure, the 6 weeks without a manager have been agonizing, and with clubs such as Real Madrid making appointments within five days of a manager leaving, it does make you question the stability and level of professionalism that is present within the Spurs board.