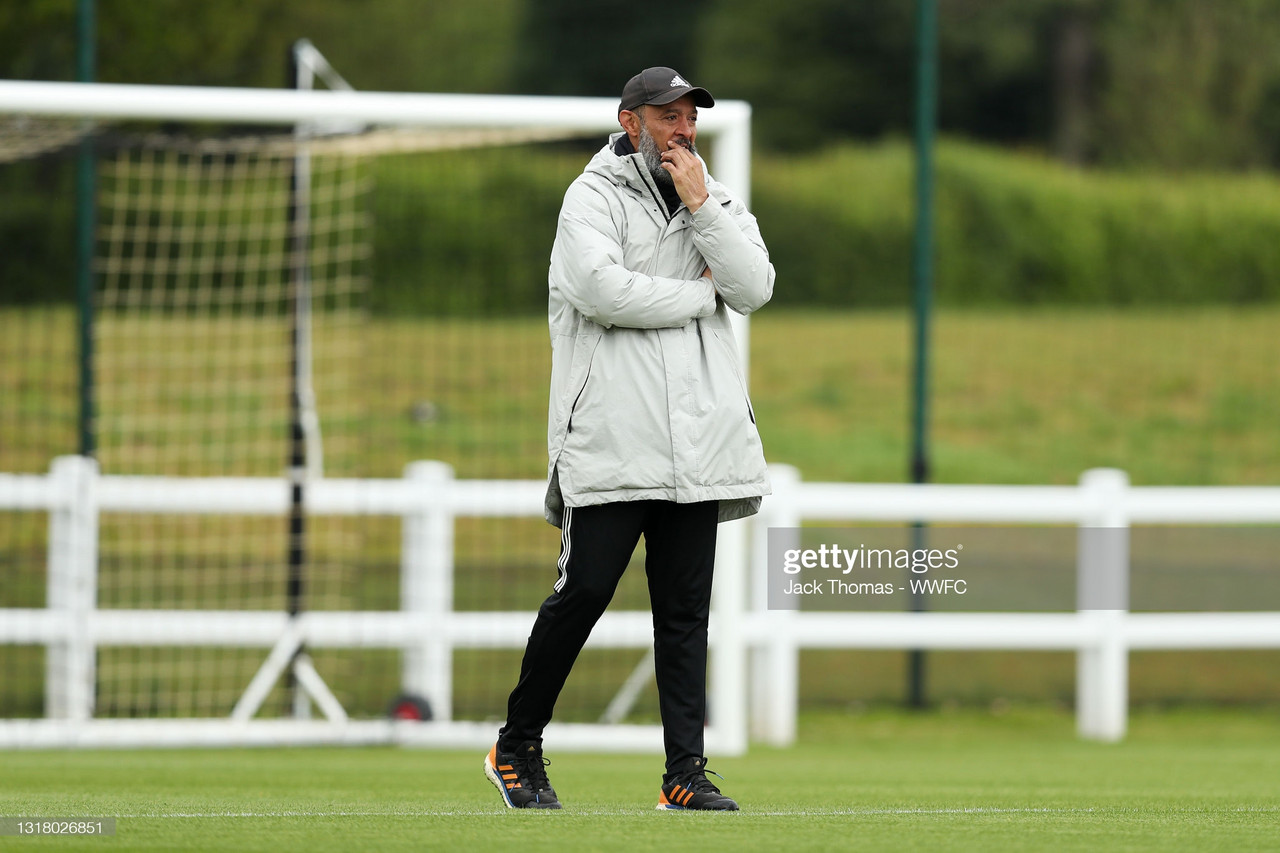 The never-ending carousel that is Tottenham Hotspur's search for a new manager continues with just 11 days until pre-season officially starts.
Spurs have been through nearly every name on the list and the latest to emerge is that of Nuno Espirito Santo. The former Wolverhampton Wanderers manager left the club at the end of the 2020/21 season following a four-year spell at 'The Wanderers'.
Since then, Nuno has been close to landing both the Crystal Palace and Everton job, with talks failing at the final hurdle in both instances. Having now seen the calibre of club that Nuno is willing to represent, it does leave multiple questions to be asked.
Why did the talks fail at the other two clubs? Why did he leave Wolves in the first place?
More importantly, is why would a club like Spurs want to hire a manager that has achieved next to nothing in his time as a manager? Yes, the appointment of Mauricio Pochettino was a gamble returned riches (almost), but the North London club are in a much different situation now to what they were in 2014.
For one, they have a massive new stadium that holds nearly 60,000 people. Its specific purpose is to house elite football in Europe's top competitions. Nuno has only ever managed to guide Wolves to seventh place in the Premier League, a position Spurs finished in this season, which has been regarded as borderline awful.
You could argue that Nuno had a much worse squad at Wolves than what he would at Tottenham but the players aren't necessarily the issue. As someone who plays a very similar style of football to Jose Mourinho, there is little to no sense in appointing someone who would do a similar or perhaps even worse job.
As well as this, chairman Daniel Levy distinctly outlined his ideal manager and what they need to possess to be employed by Spurs. Nuno is anything but that.
Questions already have to be asked of new sporting director Fabio Paratici around his judgement, as he clearly lacks decisiveness and vision when it comes to finding a new manager for the club.
Nuno is a big fan of the 3-4-3 formation and played it regularly during his time in the midlands.
Nuno likes to play out from the back with three central defenders controlling the backline, whilst two fullbacks push the width of the pitch in order to maximise space and use every available blade of grass.
This formation also gives the centre-backs opportunities to play long balls over the top for either the fullbacks or wingers to run on to.
Nuno likes his team to play more compact when defending, and push his opponents wide rather than allow them room in the middle.
The three becomes a five when defending and this shape did prove effective on many occasions for Wolves. Since the clubs return to the top flight, they have had an excellent defensive record, mainly built up during the 2018/19 and 2019/20 season.
In terms of personnel, Nuno likes efficient dribbles who can beat their men. An example of this is Adama Traore, who has one of the highest success rates in terms of dribbles completed in the Premier League.
Those who engage one on one are a large part of Nuno's attacking tactics, the like of Heung-Min Son and Dele could be integral to a potential setup.
Counter-attacking football also has its place in a Nuno team. Whilst the former goalkeeper has become more accustomed to wanting to play possession-based football, having runners who are willing to pounce on the counter is essential.
Spurs have seen this often under former boss Jose Mourinho, so that could be a play that is more easily accustomed to Nuno's potential appointment.
Wolves have also been a threat with set pieces, as Nuno likes the striker to peel off of defenders and create room for himself in the box.
Overall his style of play can be rewarding when it works, however, as proven more frequently with Wolves this season, they can often concede early and in quick succession, due to a lack of discipline and organisation at the back.
Wolves and Nuno have certainly not lit the world on fire in recent times. This season, they finished 16th in terms of goals conceded per match (0.9). They had the 16th best-expected goals rate and only won possession in the final third 122 times (18th in the league).
Paratici clearly admires the Portuguese boss, and he has managed at some well-established clubs such as Valencia and Porto.
However, his best managerial achievement is winning the Championship with Wolves, and picking up a La Liga manager of the month in 2014.
Daniel Levy is looking for someone who plays with a Tottenham 'DNA'. This DNA includes free-flowing attacking football, with energy, hunger and desire.
This has not often been seen at Wolves and it does raise questions about the decision making process at Spurs, seeing as this is around the ninth or tenth serious name to be linked with the job.
Spurs fans have already got #NoToNuno trending in the top three on Twitter, following the success and impact of a similar hashtag when the club was close to appointing Gennaro Gattuso.
One thing is for sure, should Spurs appoint Nuno Espirito Santo, it would be massively underwhelming. Continuously, it would not even remotely fit the profile Daniel Levy outlined at the end of the season.
Spurs would be appointing a coach with a similar style to Mourinho, and we all know how that ended.