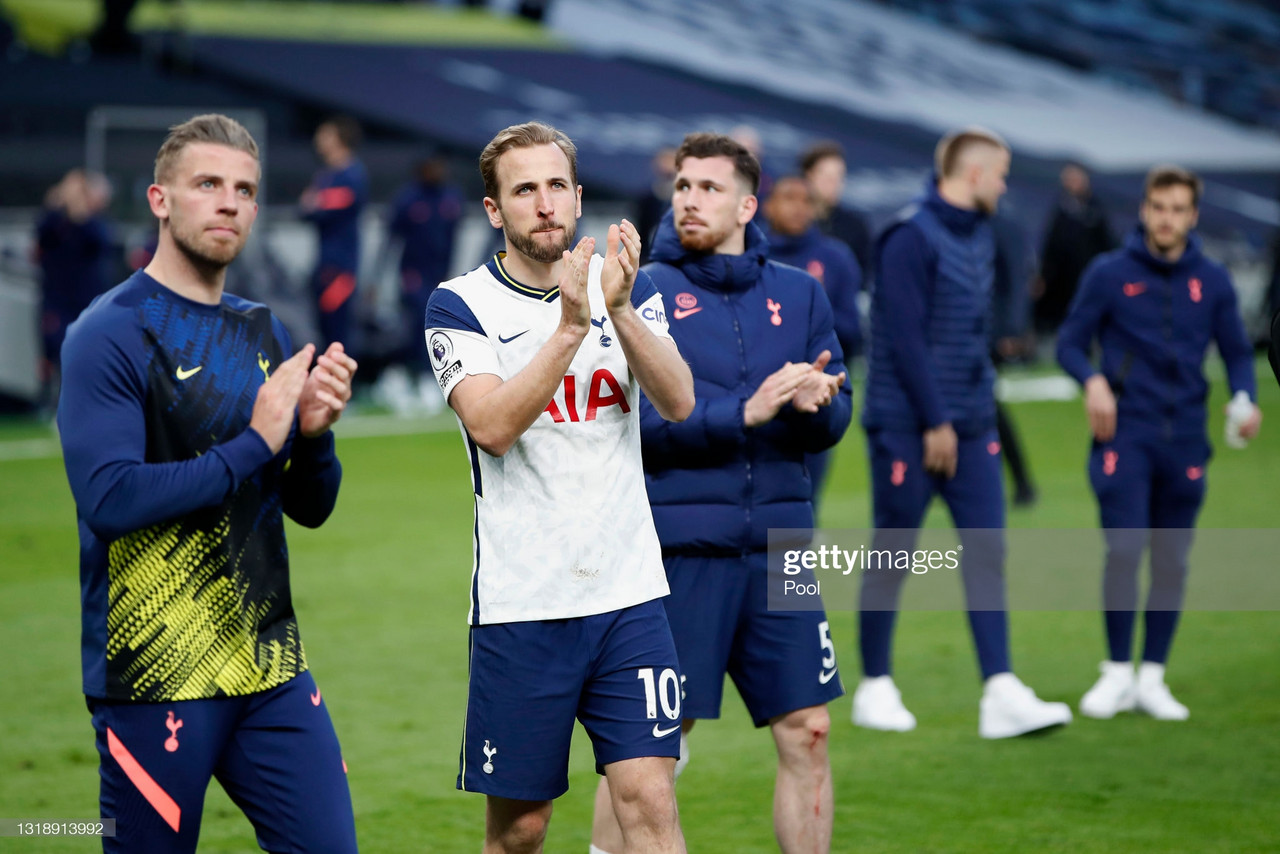 Mauricio Pochettino stated no less than two years ago that Tottenham Hotspur needed to undergo a painful rebuild in order to continue on their upward trajectory in terms of achieving success at the highest level.
However, in the two years that have followed, Spurs have burnt through two managers, and only sold a minority of their squad, with a large portion of the 'deadwood' remaining at the club.
The likes of Christian Eriksen, Mousa Dembele, Kieran Trippier, Jan Vertonghen, and Victor Wanyama have all departed the club, with Eriksen and Trippier both looking like they will pick up a winners medal with their respective clubs.
As the news of Harry Kane's potential departure looming over the club like a storm, the long-term success of the club is hanging in the balance, and a major overhaul of the squad is needed to salvage any hope of competing with the top clubs in the Premier League next season.
Below we can briefly discuss potential outgoings from north London this summer as Spurs look to bring in fresh faces at Hotspur Way for the 2021/22 campaign.
Having signed a contract extension last summer, Eric Dier is one player that Spurs will be considering selling in the summer.
Whilst the England international is known for his versatility, he is known for his lack of leadership and composure whenever he features for Spurs.
Dier has featured regularly for Spurs this season, under former boss Jose Mourinho and under interim manager Ryan Mason. However, with the news that Spurs are looking at bringing in two new centre-backs over the break, Dier could fetch a decent price for his services.
Valued at around £20million, Dier has proved useful over the years for Spurs. Whilst he is not at the required level to feature in a top team, he could be a real asset to another Premier League outfit, should they be willing to match his transfer fee.
Serge Aurier is a player who has been linked with a move away from Spurs for most of the season. The Ivorian has been a regular feature for Spurs since the departure of Kieran Trippier to Atletico Madrid last summer.
At 29, Aurier has one big contract left in him and is rumoured to be on his way back to Paris-Saint-Germain, having initially made the switch from Paris to London.
Aurier has been a liability for Spurs over the years, giving away needless penalties and lacking the incentive to really fight for his side and put his body on the line.
In all honesty, Spurs never really replaced Kyle Walker when he left for Manchester City. The acquisition of Matt Doherty from Wolverhampton Wanderers last summer seemed like a good bit of business, however, the Irish international has failed to impress in his first season.
As Aurier enters the final year of his contract, he could still fetch up to £15million, which would add nicely to the transfer pot that Levy will dip into during the summer.
Harry Winks was a youth prospect who made his name under Tim Sherwood, before featuring more regularly under Mauricio Pochettino.
But, now at 25-years-old, many will suggest that Winks has failed to develop into the player many had hoped for.
Despite having ten caps for England, Winks looks unlikely to feature in Gareth Southgate's European Championship squad, as he has simply failed to impress for Spurs this season.
Winks has only featured 14 times in the league, with six of those games being wins, four being losses, and another four being draws.
The Hemel Hempstead born midfielder could fetch up to £25million for his services and was keen to leave his boyhood club in January, with Valencia reportedly interested in him.
Whilst it is always sad when players who actually support the club fail to make it, but Winks is a player who could seriously contribute to the Spurs' summer transfer budget, and it seems a sacrifice that needs to be made.
Erik Lamela was originally brought in to replace Gareth Bale in 2013. He was part of a spending spree that also brought the likes of Eriksen and Nacer Chadli.
However, in his eight seasons, Lamela has only scored 17 times in the league and provided 23 assists.
The 29-year-olds passion, desire and commitment to the shirt has been second to none, but the £25million signing has never demonstrated a real clinical side to his game.
The Argentine is full of tricks and has demonstrated some impressive play, but his final product has let him down.
Another player with just one year left on his contract, Lamela could still fetch up to £15million, should the right buyer come along.
It is reported that Lamela could be on his way back to Italy, and I am sure that his rabona's and ball rolls will be of great effectiveness should he depart London this summer.
Moussa Sissoko was a regular feature in the side that embarked on the astonishing journey to the Champions League final but ultimately fell short at the hands of Liverpool.
At 31, Sissoko is approaching the end of his career in England, but, and is another player with one year left on his contract.
The former Newcastle player could still fetch a decent sum, due to his versatility. The Frenchman has the ability to play across the midfield and defence and has a good engine that allows him to progress up and down the pitch.
Furthermore, Sissoko has just been selected as part of the French squad for the summers Euro's, which will only add to his value.
Whilst he has been a good servant to the club, should Spurs be able to get £15-£20million for Sissoko, they should accept this without a doubt, and reinvest the money into a replacement.
Whilst I have listed my five main candidates that Spurs should be looking to move on this summer, the above is by no means an exhaustive list of players that should be sold.
Moving players on that have little time left on their contract or that already have an interest in them is essential for football clubs, as they can then use that money to reinvest in new recruits.
Whether Spurs and Daniel Levy will actually do that is an entirely different debate, however, there are also a few more names that could leave the club this summer, should the right offer come in.
Davinson Sanchez - The Columbian signed for £40million in 2017 from Ajax, with an expectation that he would be world-class in a few years. Four years later and he cannot even get into the starting XI. At 24, Spurs may well cash in on him this summer.
Ben Davies - Another veteran at the club who may be thinking it's time to move on. Davies has rarely taken a hold of that starting left-back role, he has always seemed happy to play back up, and for players such as Sergio Reguilon to thrive, they need that pressure that their position is not safe.
Lucas Moura - The Brazillian will undoubtedly go down in history for that second half hat-trick against Ajax, however, Lucas is often described as a 'purple patch' player. He seemingly has periods where he is absent from the squad and doesn't really have an impact. Spurs could look to cash in on the 28-year-old.
Juan Foyth - Currently on loan at Villarreal, Foyth never really got his opportunity at Spurs. The young Argentine featured mostly at right-back this summer, but came across as naive and rash in some of his decision makings. The Spanish side looks like they will move to make the loan permanent in the summer, with Spurs' asking price of around £15million.