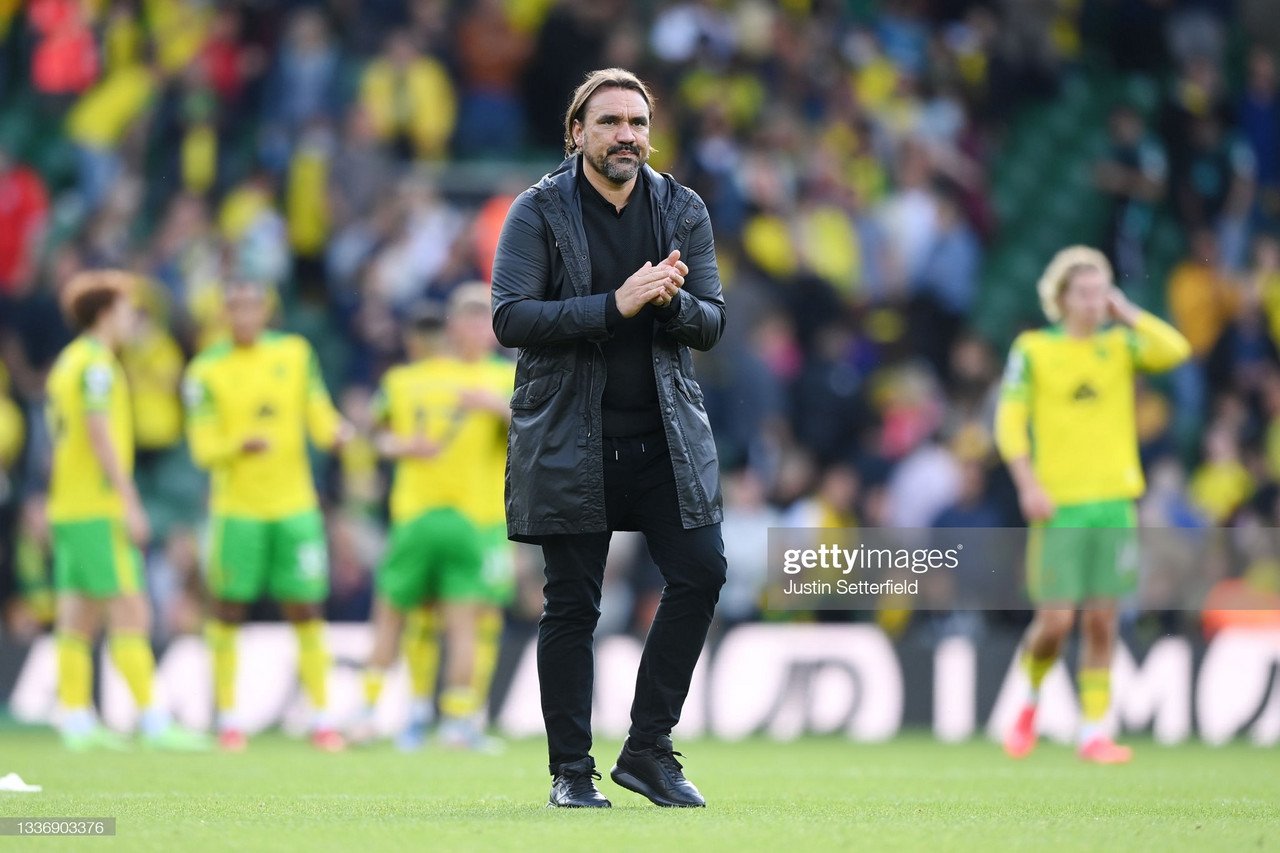 Beginning at 1:15pm on Friday 17th of September- and lasting for over an hour, the Norwich City manager gave an impassioned defence of his players after criticism recieved, issued a team news update and asked for "four yellow walls" of support at Carrow Road for the game
Farke defence of his players
Embed from Getty Images Premier League football returns to Carrow Road this weekend and Norwich City will be hoping to collect their first win of the season against Watford. Picture taken by Stephen Pond- getty images.
In a thirteen minute monologue during the press conference, Farke spoke about four of his players- Ben Gibson, Grant Hanley, Lukas Rupp,, Teemu Pukki and the suggestions that they are not good enough for the Premier League.
Farke spoke about central defender Ben Gibson first. He told canaries.co.uk: "My centre backs were criticised a bit after the first games for conceding a few goals. They are not good enough for the Premier League. But it is important we stay positive, stay respectful and remember what these lads have done for this club. Ben, I have worked quite long in this business, but I have never worked with a centre back who is as good in his build up play. He is outstanding with his left foot. What he does in the dressing room, even if he is not playing, he acts like a captain with his personality. He is smart in his tactical movements."
Moving on to Grant Hanley, Farke made it clear just how important the defender is to him and the side: "Grant is a massive rock for us last season. Our club captain. So important for us. Of course as a defender, when the team concedes goals you are sometimes involved. But it is important we are not critical. We need these player to lead. You can go through each and every position."
Arguably Farke's most passionate part of the speech came for midfielder Lukas Rupp and Finnish striker Teemu Pukki. Speaking about Rupp, Farke told the gathering media that despite not being a "fan favourite", other players who train with him would have him first on the team sheet.
Farke said: "I know he is not a fan favourite. Sometimes there are some groans when he is in the starting line up but believe me if you would ask the players who train with him every day he would be the first player on the team sheet. No other outfield player has the experience he has at the top level, or covers more ground than Lukas, or wins back more possession at this level than Lukas."
"If you watch the Arsenal game carefully the number of defensive situations he repaired, or how often he won the ball back, it was Oliver Skipp level. With all respect to him, I know Lukas is not playing sexy football like Cristiano (Ronaldo). He is LR7, not CR7. He is not Emi Buendia, with his magic touch and back heels who gets supporters out of their seats. He is more like an unsung hero."
Farke finished his thirteen minute answer talking about Teemu Pukki. The striker has come under some criticism for his apparent lack of goals but his manager reminded people of his goal scoring record and how crucial he is to Norwich City.
The Norwich boss said: "29, 11, 26. These are the numbers of goals he has scored the last seasons. I don't want to discuss if he is the best striker in the history of this club. I leave that with the experts. But there is no doubt he is one of the best strikers this club has ever seen. This player stuck with us when he had other opportunities after relegation."
"His blood is already pretty yellow. He always delivers an unbelievable workload and he is thinking about the team with his pressing. I was a striker, it is difficult if you play a Manchester City to just run after the ball all day."
"I am struggling to accept any comments that he is too poor, he has to be dropped, he is too old."
Norwich have got Dimitris Giannoulis and Josh Sargent available again after the duo missed the trip to Arsenal last week. Farke told canaries.co.uk: "Dimitris Giannoulis, after his neck and back problems, was back in training at the beginning of the week.
"He was a still bit stiff but since being back in training for a few days, right now he is fully fit and available for the game. Josh Sargent was struggling with a minor hamstring injury. He did some individual work at the beginning of the week, but since Wednesday he has been back in full team training. We will have to see if he is available for 90 minutes, but he is definitely a topic for the squad."
There are doubts around Jacob Sørensen and Pierre Lees-Melou's fitness but Farke is hopeful that both Sorensen and Lees-Melou will be in contention. "Jacob Lungi Sørensen was struggling with a dead leg during this week, but he could train today and he seems to be alright,"
"There were also concerns of Pierre Lees-Melou, he was struggling with illness and at the beginning of the week he was out. Thankfully it was not Covid, but he had the flu, so we also have to check if they are available for the 90 minutes, but they are both available. They were on the training pitch with us today."
However Sam Byram, Christoph Zimmermann (ankle) and Przemysław Płacheta will be out (illness).
Farke asks for "four yellow walls of support" at Carrow Road for Watford game
After four games without a win this season, a game against fellow promoted side Watford at home represents a chance to win some points and Daniel Farke gave a rallying call to Norwich City supporters attending the game tomorrow: "If I play Max Aarons tomorrow and some people think I should play Bali Mumba that is not a problem, but once Max Aarons' name is on the teamsheet, I want everyone to back him and to cheer him up and sing his name,".
"This has to be the way when our starting line-up is announced. It was like this against Liverpool, everyone was singing our song On The Ball City and we need this even more tomorrow."
"It was easy to do this against Liverpool when it was the first game, there was the spotlight and the TV cameras. We need this even more against Watford and when the teamsheet is announced tomorrow, everyone has to be spot on. The people in the ticket office and our announcer. He has to be like in the boxing fights, and to make sure everyone is buzzing and when he says the names our stadium escalates."
"This is what I want to have. It will still not be a guarantee that we win this game, but we must create an atmosphere where were support and back the lads from the first to the last second. Let's make four yellow walls but just because you are holding a scarf, don't forget to scream"