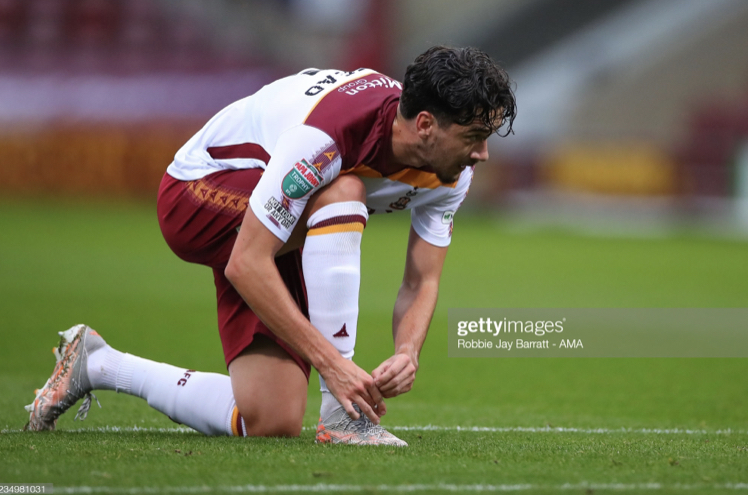 Goals from Alex Gilliead and Andy Cook helped relieve the pressure on Bradford City, at the expense of Rochdale.
The Bantams has been on a shaky run recently, after a run of seven winless matches but finally broke the curse against a similarly positioned Rochdale side.
Rochdale are now winless in four, after a tap-in from Gilliead and a late penalty from Cook sentenced the Dale to 16th in the table.
Bradford City: O'Donnell; Threlkeld, O'Connor, Songo'o, Ridehalgh, Sutton, Watt, Gilliead, Cooke, Vernam, Cook
Rochdale: Coleman; O'Keefe, Graham, O'Connell, Dorsett, Keohane, Morley, Dooley, Odoh, Beesley, Cashman
Prior to kick-off, Derek Adams had demanded more of his players, but his words were nearly meaningless within the opening minute.
Yann Songo'o, who was filling in at centre-back, made a crucial block to deny Corey O'Keefe within sixty seconds.
The Bantams were keen to stamp their mark however, as a link-up between Oscar Threlkeld and Levi Sutton ended with two blocks denying striker Cook.
Cook was the clear threat for Bradford, as the towering forward nodded wide before forcing a vital stop by former Huddersfield Town goalkeeper Joel Coleman.
Charles Vernam was next to have a chance, but he lashed his effort into the side netting. The Bantams were nearly left ruing their chances however, as youngster Abraham Odoh found space in the box but somehow missed from close range.
And Odoh and the Dale were to be punished- as Bradford stole the lead. Vernam fed the ball into Levi Sutton, who rifled an effort at Coleman, who could only parry into Gilliead to calmly convert from close range.
Heading into the second half, Bradford were soaking up the pressure and looking to double their advantage. Callum Cooke came close, meeting Liam Ridehalgh's cross with a volley but a crowd of bodies denied his audacious effort.
Rochdale's biggest chance yet came through former Brighton & Hove Albion attacker Danny Cashman, but the striker sliced his one-on-one wide of the target.
Vernam continued to terrorise the Rochdale defence, but once again was stopped by the acrobatics of Coleman.
Before Bradford would eventually get their second, but this time from the spot. Sutton raced through and was charged down by the Dale defence in the box, allowing Cook to step up and hammer his spot kick past an unfortunate Coleman.
There would be one final exchange between Theo Robinson and Gilliead, before the referee called an end to a vintage result for Bradford.
It's been a worrying blip for the Bantams, but Adams team are back.
A win was badly needed with a toxic atmosphere slowly brewing, but a solid victory over a difficult Rochdale team is exactly what was needed, with Bradford showing that it was just a temporary problem and not a permanent issue.
Rochdale's main problem today wasn't their defending and it wasn't their football (in fact Rochdale played really nice football), it was their lack of finishing prowess.
The chances the Dale missed were a huge issue that needs to be addressed, having squandered a number of key opportunities. The Rochdale fans are understandably frustrated with their teams lack of scoring, but the performance was promising.
Adams gave Sutton a chance this afternoon, and he delivered. With a workhorse attitude and a fantastic drive that kept the game open and alive for Bradford, Sutton should be a guaranteed starter in this sort of form.