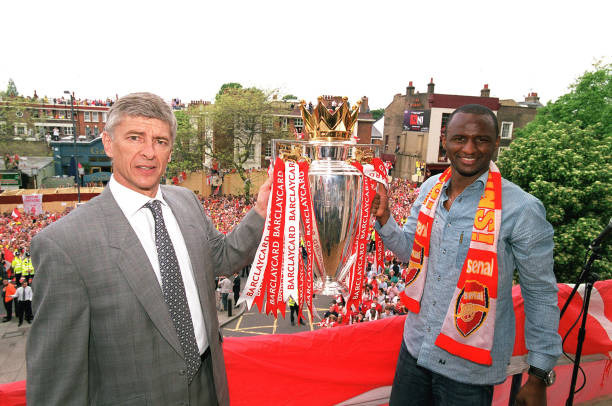 The Eagles boss will find himself in the opposing dugout, pitting himself against the club where he achieved greatness.
Emotions are sure to be high for the Frenchman, but he will be determined to get a positive result for his Palace side, putting aside his history with the Gunners for one night at least.
Let's look back at the distinguished playing career of Vieira and how he came to be an invincible, a Premier League legend, and his management journey.
Journey to invincible
Vieira's professional playing career began at Cannes before being snapped up by the Italian giants, AC Milan, in 1995.
He was part of the reserve team and only made two first-team appearances across one season.
Enough promise was shown, however, for the Gunners to come calling in the summer of 1996, paying £3.5m for his services.
Vieira's arrival coincided with the appointment of Arsene Wenger as manager and the start of Arsenal's French revolution.
Little did Arsenal fans know, this would be the start of an incredible journey over the next decade.
It was Vieira's second full season where he truly cemented his status as a vital member of the squad, as his partnership alongside fellow countrymen, Emmanuel Petit, helped the Gunners to a league and cup double in 1997-98.
In the summer of 1998, Vieira would then go on to play an integral role in winning the World Cup for France.
Vieira grew leaps and bounds as each season passed, whilst also having some disciplinary problems along the way. The towering midfielder was certainly not afraid of a tough tackle.
The 2001-02 season was almost the end of the story for Arsenal and Vieira as it was reported Manchester United were ready to go all out to sign him.
Vieira even went on record to state his desire to leave the club, as he didn't believe they were capable of winning titles going forward.
Arsenal's response was to make him vice-captain and put all their trust into his abilities.
The club was rewarded by Vieira staying and leading them to another league and cup double. History may have been very different if that audacious move to Old Trafford had gone through.
The retirement of Tony Adams in 2002 meant Vieira became club captain and had even more responsibility on his shoulders.
The 2002-03 season was a mixed bag for the midfield maestro as he struggled with injuries and burnout. Arsenal still went on to win the FA Cup, despite his absence in the final.
It was the 2003-04 season which will go down In Premier League folklore forever.
Vieira was again in the middle of a tug-of-war between European giants wanting to sign him; he decided to sign an extension at Arsenal until 2007.
That season, Arsenal became the first English side in over a century to go an entire domestic season unbeaten, and thus the invincibles were coined.
Captain Vieira scored the winner on the final day of the season before lifting the trophy as club captain for the first time.
His final season would follow in 2004-05, mainly memorable for Manchester United ending the famous unbeaten run and the infamous tunnel incident.
Roy Keane and Vieira had their battles over the years, but this one lives on in the memory of Premier League fans, as the cameras caught all the tunnel talk before United went on to win 4-2 at Highbury.
Vieira was a figurehead that defined his era in the Premier League. Dogged determination, hard work and physicality.
The Gunners finally said goodbye to their hero and captain in the summer of 2005, when aged 29, he decided to head back to Italy with Juventus, leaving behind an incredible legacy at Arsenal and the Premier League as a whole.
His stay at Juventus was brief after they were involved in a match-fixing scandal, which relegated them to the Serie B, stripping them of their league title.
Vieira would join Inter Milan in the summer of 2006, where he went on to win 3 consecutive Serie A titles, albeit playing a lesser role.
Transition into management
The Palace boss' playing career would officially end in 2011 after 18-months at Manchester City - a role that would help him transition into coaching.
Vieira held the role of "Football Development Executive" for 4 years at Manchester City, before getting his first opportunity at first-team management with New York City FC in the MLS.
A successful 3-year spell In New York led to a move to French side OGC Nice.
Back in his home country, Vieira would take Nice to 7th place in his first season, followed by a 5th place finish the following season, including qualification for the Europa League.
However, after a run of poor form and failure to get out their Europa League group, Nice and Vieira parted ways in December 2020.
Now, in October 2021, Vieira will return to Arsenal for the first time in many years.
His appointment as Crystal Palace's boss in July was a surprise to many, but he has made a solid start to life in South London.
Vieira has led the overhaul in players and integrated a new philosophy and playing style around the club.
With seven points from his first seven games, there have been plenty of positives and fans have really taken to his way of playing.
Vieira now faces what could be his biggest personal test so far as Eagle's boss.
Returning to a club he called home for almost a decade - a club in which he became a true legend.
As a player, Vieira was passionate and vocal, now as a coach, he seems calm and collected - traits which he will be needing tonight to avoid any emotions getting in the way.
Arsenal and their fans are sure to give Vieira a hero's welcome, but won't be wishing him too well as they will be wanting all 3 points.
Whatever happens tonight, it is sure to be a fascinating spectacle, and with how Vieira's Palace side have been playing, don't rule them out from taking something from this game.
Vieira may now be an Eagle, but the Gunners will always be where his heart remains.