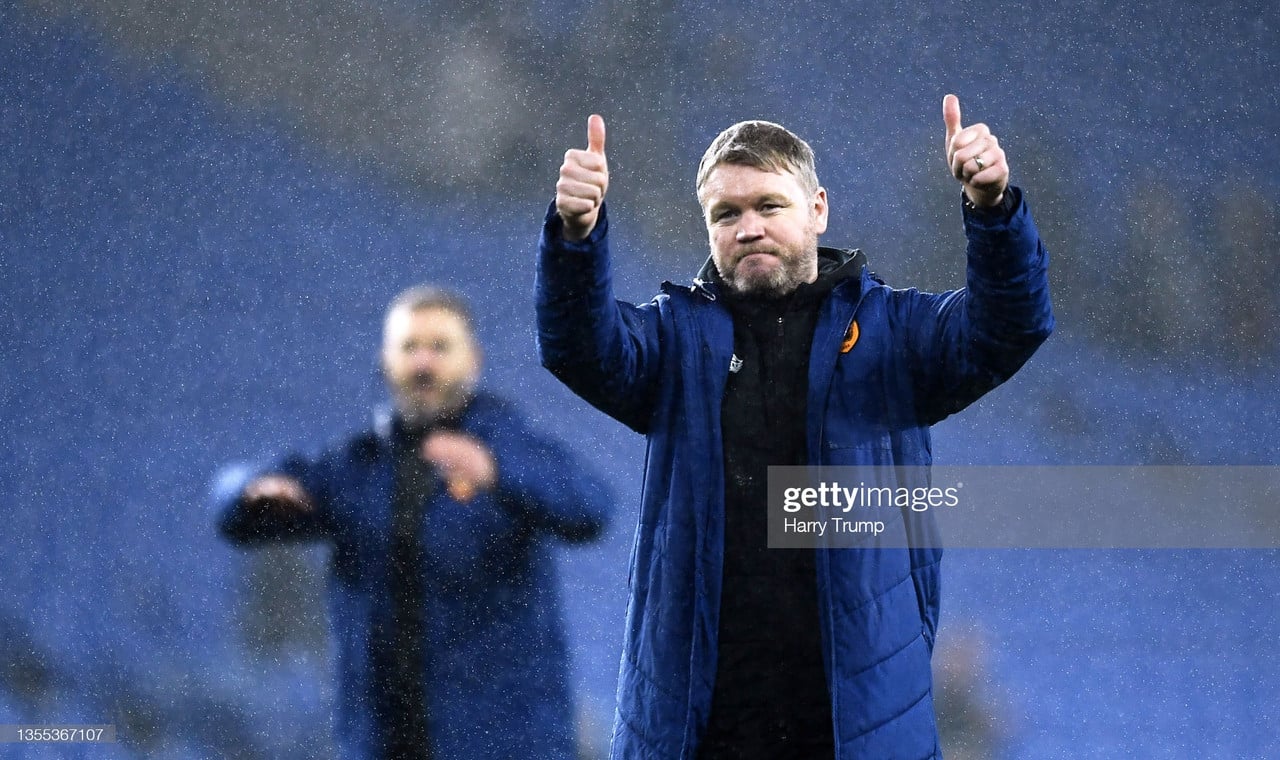 Just a few weeks ago, Grant McCann must have been feeling the pressure. His side had won only two games all season, and the fans were starting to show negativity in the stands. He was often prickly in press conferences, and often defiant - defending himself and his team against all challengers.
It made me sad to see this state of affairs for a manager who hasn't had it easy at the football club since he arrived. Many fans called for him to go after the 2019/20 season, but he kept his tenure and earned respect back by not only getting Hull City promoted at the first attempt - and many teams have struggled with that - but also by winning the league.
McCann has a different attitude about him recently - assured, but much more good natured. He jokes and laughs about the players and the game - easy to do, of course, when you've won - but he looks very much like he is enjoying himself again at the MKM Stadium.
"The changing room was down at half time, but we picked them up"
George Honeyman and Ryan Longman scored the goals that saw off Millwall, and when asked about the win, McCann was quick to mention the disappointment the players felt when they conceded just before half time. Perhaps against the run of play, the players perhaps felt hard done by - but came out flying at the start of the second half.
"It was a good win," said the Northern Irishman in his press conference. "I thought we started the game quite well. Well worked first goal but disappointed to concede when we did. Changing room was a bit down at half time but we picked them up – and we scored from a corner, Ryan did well.
"We had to adapt towards the end with Smith who's good in the air," McCann said of barrage of pressure Millwall put on his side towards the end of the game. "I thought we limited them even if we didn't have many chances going forward."
On his young squad and stand out performances
McCann has said all season that he has a young team who have been trying to adapt to Championship football quickly, and he was true to his word today.
"Our young boys are learning on the job still and I thought they coped well against seasoned Championship players," he said, clearly proud of his young squad.
"George (Honeyman's) performance levels are very high. He's getting his just rewards now. Ryan (Longman's) been really good. He's deserved that."
On how his side have handled three games in a week
"It's been a tough week," McCann admitted when asked about the last three games. "We've played three teams who all play a different way but all of them were tough games and we've picked up nine points. The distances the boys are covering are phenomenal.
There's always a lot made of shape, for me it's the style of play that's important.
Callum Elder is fine – we just wanted a bit of balance on the left side, but Ryan's done really well.
McCann was also quick to mention Young Billy Chadwick, who has returned to the club from Linfield after an unfortunate injury disrupted his excellent form. "Billy Chadwick – we are gutted for him. He's done his ACL in the same knee before so he's going to see a specialist. We'll do all we can for him. It will be surgery and will be six to eight months on the sidelines.
We have another tough game next week at Reading. Hopefully we can go with momentum there and get a result.
The difference from a month ago to now is we've taken our opportunities. We are short defensively – Lewie, Josh, Alfie and Brandon Fleming. It's nice to get people back who have been missing.
Our Midfield three are phenomenal – the amount of work they do is unreal. It's back to the levels of last season."
McCann was also very strong on mentioning the mentality of his squad - something that is clearly getting better week on week. "We are very much as one as a group, we have a great mentality at the club. We have a siege mentality at the club."
Despite the poor start, McCann must surely be in with a shout of Manager of the Month for November. Despite injuries and suspensions over the past few games - including this one - he has found a way for his team to shine, and the Tigers fans will be hoping that continues well into December and into 2022.