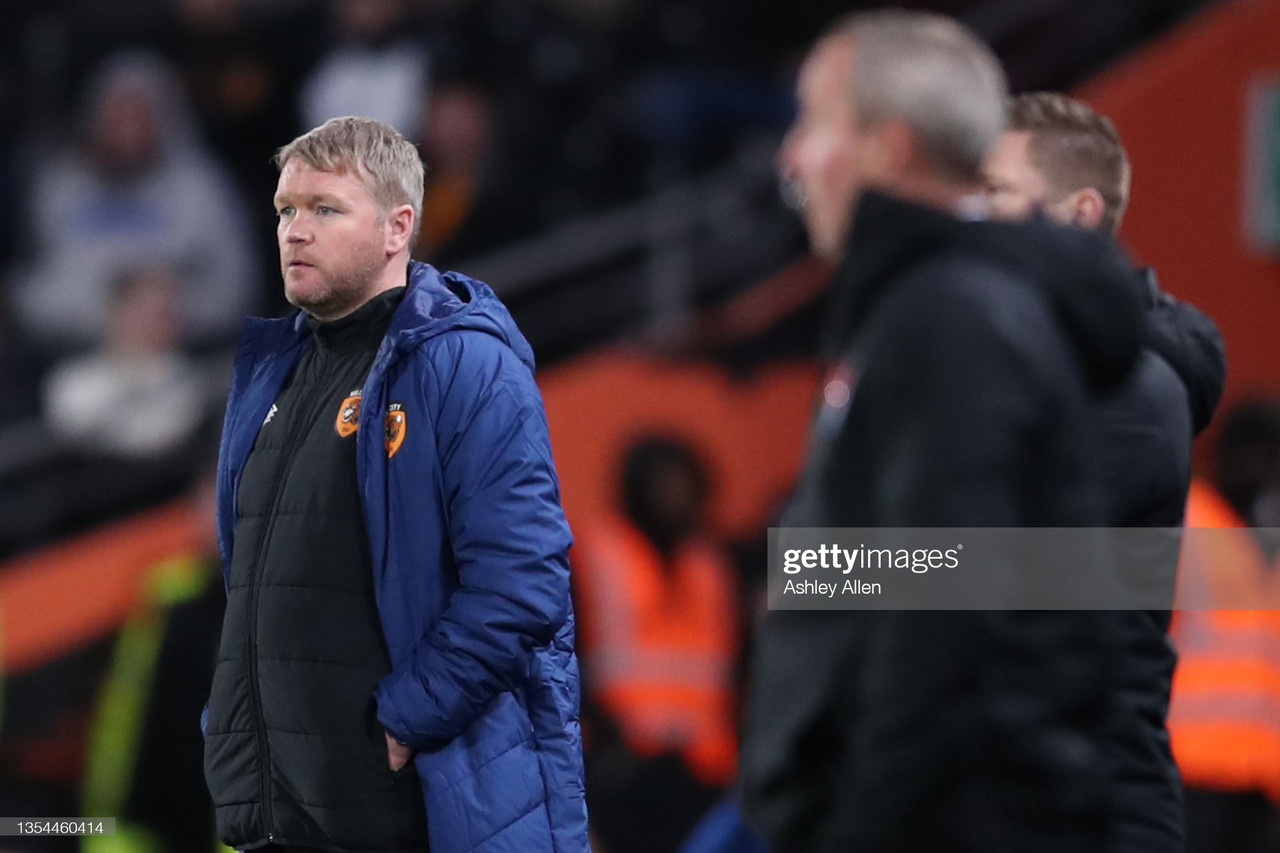 Hull City manager Grant McCann was pleased with his side's performance against Birmingham City, running out 2-0 winners in an incident packed game at the MKM. Goals from George Honeyman and Mallik Wilks saw the Tigers win two consecutive games for the first time this season.
On his side's performance
"Good performance from start to finish – last 20 maybe a little sloppy. We were in control of the game all the way through, and im pleased as it's been tough this week. We've had all our fit and available defenders on the pitch today.
"Look", he said on the controversial goal, "I was speaking to Lee and it's hard how they don't see it – the linesman should see it. If it's out it's a bit of luck – I think people couldn't quite believe it. You make your own luck I'm a big believer in that. Today we got a wee break - the important thing for us was that performance levels were good.
I think people look into the table too early in the season. We are improving all the time and players are adapting, getting better and better. We're starting to meet the challenges of this league head on.
On his side's injury problems
"I'm going to see if Cliff Byrne (Assistant Manager) has got his boots for Wednesday – we've only got Sean and Greaves as fit centre backs," he joked when he talked of injuries and the upcoming one game suspension of Di'Shon Bernard. "It's not a great time in terms of injury.

Callum (Elder) has had a bug – he wasn't feeling too great and jetlag might have something to do with that. What I didn't want to do is not play him when he's not 100%. Hopefully he'll play the next two.
I haven't thought about Wednesday yet. I'm still digesting this game. There's some young players like Jevon Mills and Jake Leake who could be an option.
On the potential takeover
"I haven't met with the prospective new owner (Acun Illicali), said the Northern Irishman when asked about the ongoing situation. "All I can do is prepare the team as best we can. I have no idea – all I can do is focus on the group.
We have a real siege mentality in our dressing room – my only focus is on the team. It happened at Peterborough and I lost my job in about a week!
One thing we are doing is trying ourt very very best. We are working hard to try and get better, and we're all learning abot this division – it's a tough, tough league.
For me, all I can do is focus on life at Hull City and prepare us for the next game.
On individual and team performances
"There were some excellent performances out there today. Richie (Smallwood) is an unbelievable guy. The way he conducts himself every single day is outstanding. Keane (Lewis-Potter) can play anywhere – he's playing centre half on Wednesday!
The style will never change, no matter what the formation. We always want to be on the front foot.
On the bottles being thrown onto the pitch by Blues fans
Unfortunately, incidents off the pitch raised their ugly heads in the game as the frustration boiled over in the away end. Various bottles were thrown in the direction of Greaves and Nathan Baxter, and McCann condemned it straight away.

Goalkeeper Nathan Baxter made light of the situation by drinking from one of the bottles thrown at him, before throwing the bottle back towards the crowd - but McCann wasn't impressed by the behaviour of a section of the away fans.
"Disgraceful," he said when the question was asked. "I don't know how people want to do that. It's just crazy. I'm sure it'll all be dealt with. Could be a life ban for him."