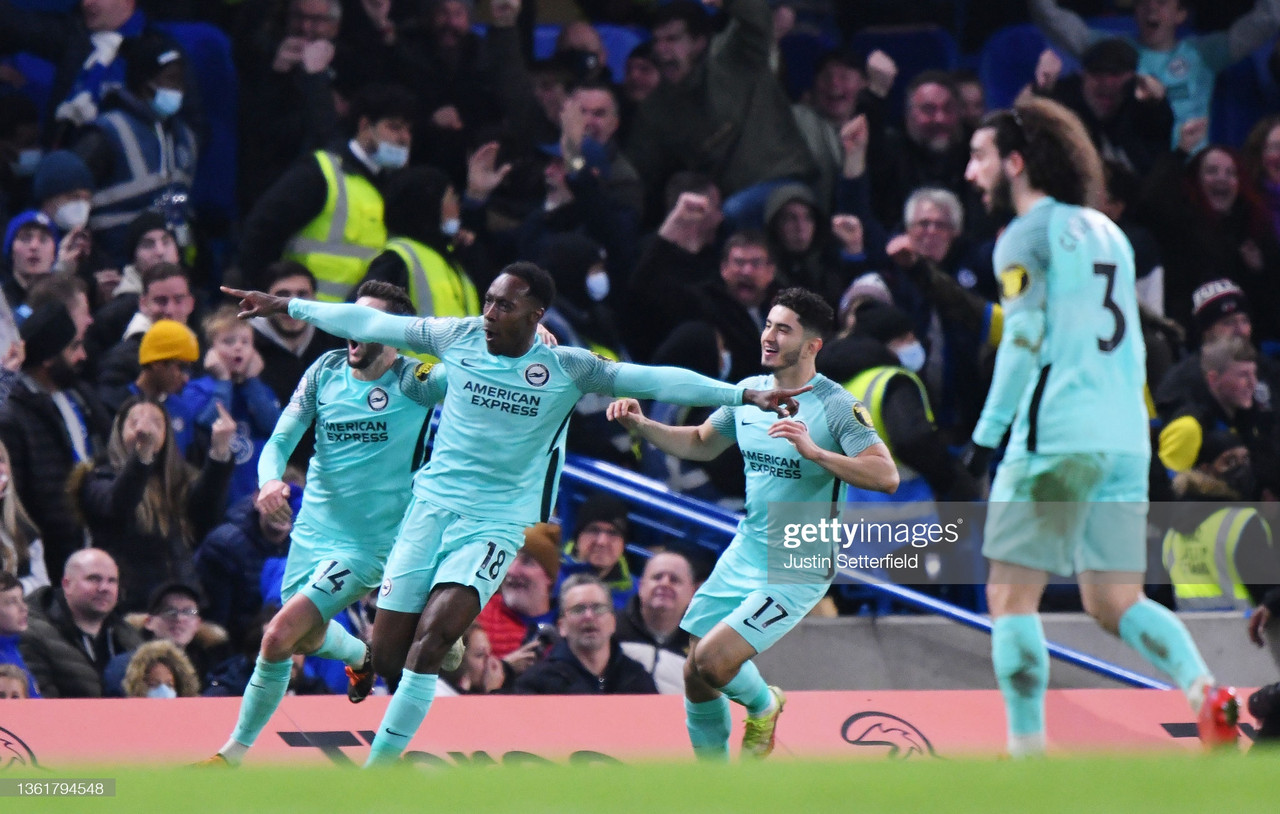 Crystal Palace; West Ham; Southampton; and now Chelsea, with a fantastic thumping header at Stamford Bridge sealing a worthy point on the road once more.
For the fourth time this season, Brighton & Hove Albion have defied the odds and delivered a crushing blow to their opposition on enemy soil in the dying moments, snatching a point and silencing a mass of bewildered home supporters.
In fact, Albion end the first half of the campaign with a single away defeat, with two late goals in Steven Gerrard's first match at Aston Villa's helm condemning Brighton after a timid display.
In yesterday's affair Brighton displayed their stoicism once more, rebuffing Chelsea's advances and remaining undeterred after Romelu Lukaku netted with a deft header from the impressive Mason Mount's delivery.
Such performances were few and far between amongst Chelsea's ranks as a further lacklustre display stretched the gap in the championship race, as title rivals Manchester City clinched a tenth successive victory in the Premier League after a tenacious display against Brentford.
And as Brighton remained persistent in the pursuit of an equaliser they were indeed rewarded when Danny Welbeck leapt tall from ten yards out to direct the ball past the hapless Edouard Mendy and into the net of the Shed End.
Wily Welbeck
Dat guy again. Welbeck demonstrated once more why he was previously held in such high esteem, with a towering header inflicting further woes upon Chelsea and claiming a further point on the road in the process.
Welbeck was introduced in the 80th minute to put pressure on the opposing backline and offer a direct presence in the box, and the tactical substitution worked a treat.
As the impressive Marc Cucurella drifted a looping ball into the box, Welbeck found a pocket of space to drive a headed effort into the left side of the goal.
The goal was Welbeck's second of the season in just 295 minutes of action, and his first since the return from a lengthy hamstring injury that had kept him side-lined since September.
As Potter ponders dipping into the transfer market to improve the club's lack of goal threat, it may be that the answer lies in the ranks.
The injury record that Welbeck is beset with does him no favours, but his talismanic talent is unequivocal.
Fluidity re-established?
Against a team crowned champions of Europe earlier this year, with offensive ranks bolstered by the £97.5m signing of Lukaku, a destructive force in front of goal capable of terrorising the finest of football's defences, Brighton flourished.
18 shots to Chelsea's 11 - with six on target to the home sides five – hardly paints the complete picture of a commendable performance in London; a late equaliser was certainly deserved, and a victory would not have been unwarranted.
Statistics are all well and good, but by watching the game the nature of the draw is well and truly told.
Brighton were fantastic; excellent in their transitional play, formidable in their defensive approach, slick in their passing manoeuvres (Brighton held 52% of possession across the match), and ultimately unlucky not to emerge victorious away to the title-chasing Blues.
The cogs just combined.
Yves Bissouma put in a tenacious shift at the heart of the midfield, battling the likes of Mount and Matteo Kovacic and receiving plaudits for his role as the driving force.
With key players out of contention, Joel Veltman did admirably to keep Chelsea's attack at bay for large instances, notably making a crucial interception in the box as Callum Hudson-Odoi sought out Mount for a easy finish.
Cucurella was also excellent down the left, with his vital contribution to the goal complimenting another fine performance since his arrival to English football in the summer.
Strength in adversity
Potter was forced to field an impromptu back three with key defenders such as Shane Duffy, Adam Webster and captain Lewis Dunk all side-lined, but was thoroughly impressed with the resilience and determination on display in the face of adversity.
Impressed with his side once again, Potter said, "I thought it was a fantastic performance from the players, it was full of courage and full of quality against a top side.
"To come here and be ourselves is a big challenge and I thought we were and that is a credit to the players, they were fantastic tonight."
Granted, Chelsea had absences of their own but fielded a team more than capable of sinking the Seagulls and failed to take control of the match after going ahead in the first half, with Brighton growing in strength with each passing minute.

Brighton have now only lost one of their past six league fixtures, with one victory and four further stalemates; in fact, throughout the club's recent poor run of 11 league fixtures without a win, only three of these actually resulted in defeat.
The Premier League is ferocious. It takes no prisoners and possibly holds the highest competitive standard throughout, so when form slips the task of regaining former fluidity can often appear insurmountable.
Under Potter's guidance, the Seagulls remained confident that results would return even as the hunt for a win raged on.
Bite down on the mouthpiece, keep on swinging! This old boxing adage has seemingly been harnessed by Potter as he implores his team to keep pushing until the final bell, and it has paid off.
The year concludes with so many positives for Brighton & Hove Albion, who reside in tenth place after 18 games played.
Sure, there are improvements to be made, with issues in attack and a potential need for forward additions, but Brighton can commence 2022 fuelled with optimism to improve on a fantastic year.