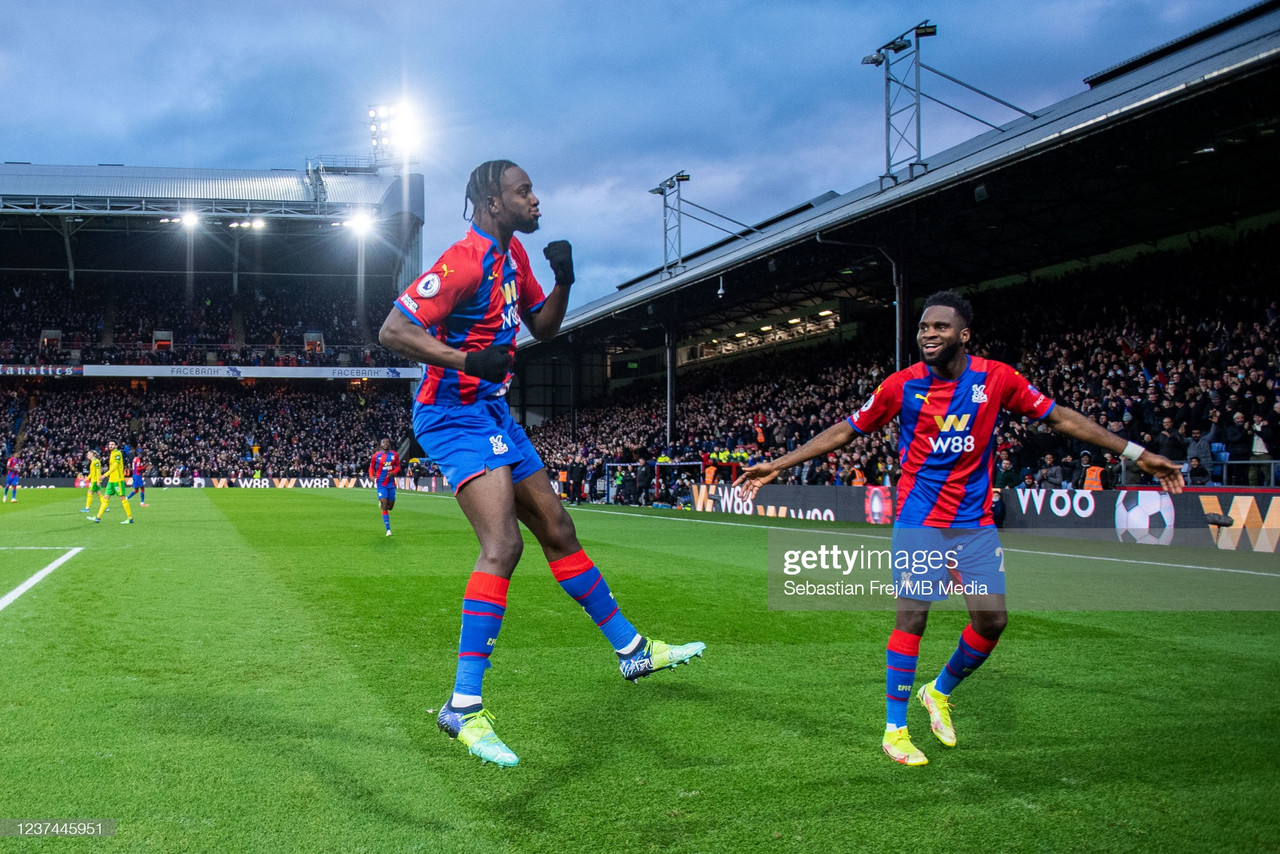 Crystal Palace FC forward, Jean-Philippe Mateta, secured what seemed only a few weeks ago to be an unlikely permanent transfer to the club on deadline day. From being a forgotten man at the club, Mateta is now quickly becoming a fan favourite.
Mateta's turnaround at Selhurst Park has been dramatic. Before the transfer window opened, there were rumours circulating across social media platforms that the club was contemplating terminating his loan.
Frustrated at a lack of game time, Mateta was seriously considering returning to his homeland in a desperate attempt to kickstart a career that had stalled. This has since been confirmed by Saint Ettienne's Sporting Director, Loic Perrin, who admitted to L'Equippe that Mateta was their number one transfer target this winter and at one stage the striker was close to joining the Ligue 1 side.
Initially joining Crystal Palace on loan in January 2021, Mateta arrived with huge confidence and who could blame him? Up until joining Palace, he had scored goals wherever he went.
His career started at Chateauroux, where he scored regularly, before joining Ligue 1 giants Lyon. Although impressing in Lyon's second team, a loan move to Ligue 2 side Le Havre saw the hitman net 17 goals in only 35 appearances, meaning Bundesliga side FSV Mainz 05 were willing to make Mateta their record signing.
In Germany, Mateta continued to thrive, scoring a respectable 24 goals in 67 appearances. It was only a matter of time before EPL teams came knocking, and it was Crystal Palace who persuaded the German outfit to part with Mateta on loan with an option to buy him permanently if he was successful.
However, Mateta's understandable swagger when joining his teammates in South London led to quotations from the player which irked some supporters. Describing how he wanted his career to play out, Mateta inadvisably admitted to SoFoot.Com that he saw Palace as a steppingstone before he could find a bigger club where he would "stay at for 10 years and where I'll win trophies."
Although these honest comments could be forgiven, fans were nonetheless pondering whether the new addition could walk the walk as well as talk the talk.
Frustratingly for Mateta, performances on the pitch and in training did little to convince his then manager Roy Hodgson that he could indeed justify the player's bold assertions when he first joined. Known for being a cautious manager, Hodgson just didn't see enough in the Frenchman which gave him the confidence to start the forward regularly.
Despite a clever back-heeled goal away at Crystal Palace's fierce rivals Brighton and Hove Albion, Mateta couldn't force his way into the starting line-up. Under Hodgson, Palace were a team that struggled to score goals and relied on defensive stability. That Mateta could not get into a team who were "shot-shy" naturally damaged his confidence, with many fans unsure if the loan-signing of Mateta represented good business.
Mateta's hopes that he would be given a chance under his new manager Patrick Vieira, who joined the club after Hodgson stepped down in the summer, were dealt a blow after fellow Frenchman and striker Odsonne Edouard arrived from Celtic. Christian Benteke's good form also limited Mateta's chances further and it seemed the opportunity for Mateta to make an impression at Selhurst Park was fading away.
However, injuries and a need to rotate the squad due to the Covid pandemic presented Mateta with a chance soon after Christmas 2021, and he grabbed that chance with both hands.
A goal against Norwich City (his first at Selhurst Park) was followed by an audacious scissor kick which almost earned Palace a thrilling draw against London rivals, West Ham United.
An FA Cup goal away at Millwall in a fierce South London derby, followed by his trademark celebration of kicking the corner flag in front of rival fans warmed the hearts of the Palace faithful. From being a striker who openly admitted to wanting to one day leave Palace for someone "better", he was now scoring goals in a rival's backyard and celebrating in front of the baying home support. Mateta demonstrated he understood the passion and sentiment of a London rivalry, and the Palace fans revelled in it.
Finally, an assist against Liverpool in an underserved 3-1 defeat persuaded Crystal Palace to part with £8m and secure Mateta on a four-year deal.
Like many players who move abroad, Mateta needed time to adjust. He has clearly now done that. He looks settled in his surroundings, is becoming popular amongst his teammates and finally looks ready to hit the ground running in SE25.
Discussing his move with Palace TV, the Paris-born frontman said, "I'm happy. I want to say thank you to the gaffer (Patrick Vieira), he trusted in me. And (thank you to) Dougie (Freedman), then Chairman (Steve Parish), and the team and the fans also, and my family."
His Chairman, Steve Parish was also delighted at Mateta's permanent arrival saying on Crystal Palace's official website, "We are delighted to secure the long-term future of Jean-Phillipe. Coming to a new country, a new team and a new league is not easy and JP worked incredibly hard to get and then take his opportunity."
"He really has shown the aptitude, attitude and dedication we look for along with his natural footballing ability. I'm looking forward to seeing much more of him in a Palace shirt."
It is clear that a confident Mateta has a lot to offer Crystal Palace. It is now time for him to shine and who knows what bigger club may come in for his services one day. However, with more goals against the likes of Brighton and Millwall, Palace fans would bid him farewell with fondness. A potential iconic figure has been born in Jean-Philippe Mateta. Corner flags, take cover!