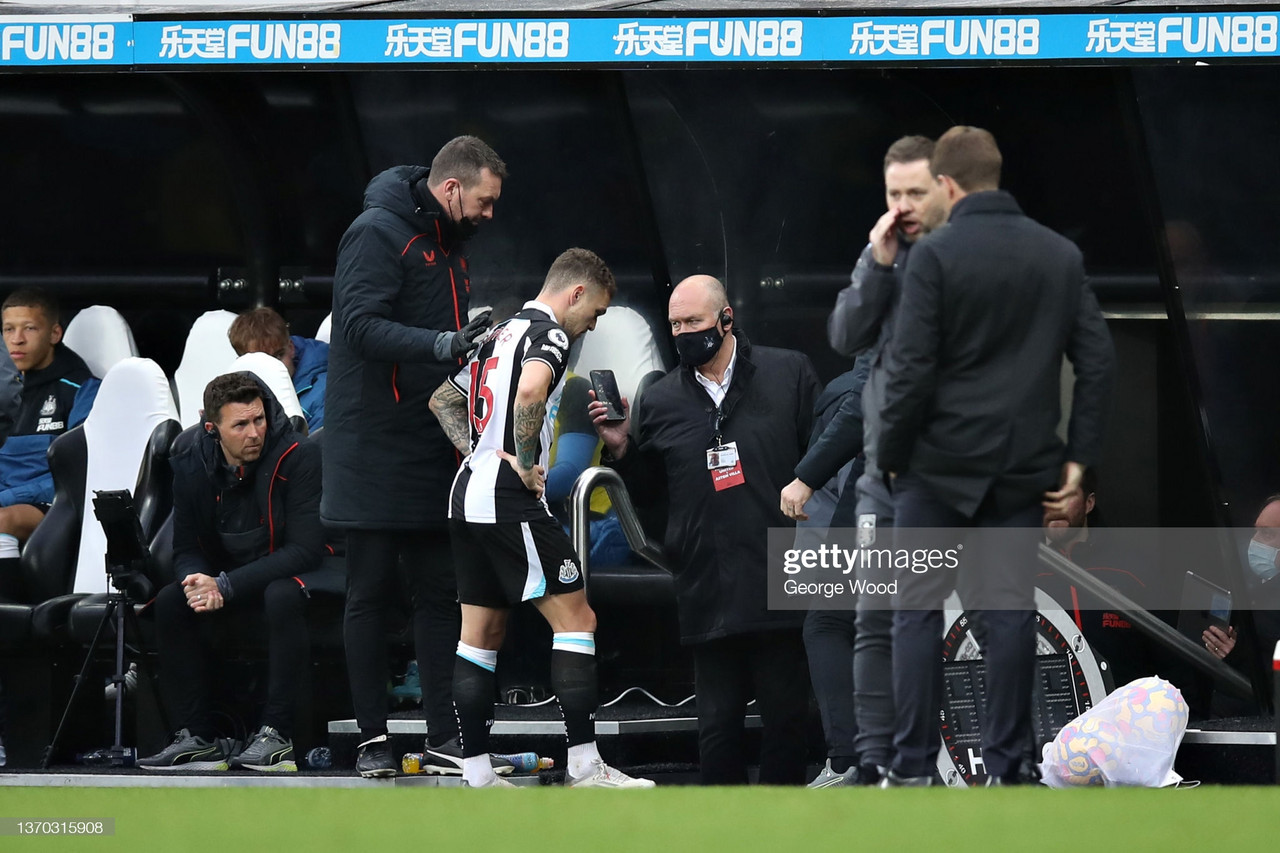 Newcastle United boss Eddie Howe says he has everything crossed in the hope that Kieran Trippier hasn't broken a broken his foot after he was forced off just two minutes into the second half of today's one-nil victory over Aston Villa.
Trippier scored a second free-kick in as many games to ensure The Magpies made it three straight Premier League wins in a row.
The vital three points for Newcastle moved them four points clear of the relegation zone, with a game in-hand on 18th placed Norwich City.
Speaking to the media after the game, a clearly worried Howe said on Trippier: "He got stamped on. He couldn't continue with the problem on the top of his foot.
"He's gone to hospital for an x-ray – and everything is crossed there's no broken bone."
On the win as a whole
It wasn't all good news for Newcastle today, of course, as they made it six points out of a possible six from their two games at St James' Park this week.
Howe insists there isn't a big mystery behind their blistering hot form as of recent.
"It shows we're in a good place at the moment," he said.
"In the last three games I don't think there's been any secret to how we've won the games.
"They've not been fluid footballing performances but it's been very disciplined and hard-working."
On Dan Burn's stunning debut
After captain Jamaal Lascelles was forced out of the side due to illness, Blyth-born Dan Burn was thrusted into the starting line-up for his debut after his deadline day move from Brighton and Hove Albion.
To say he impressed was an understatement, with the centre-back being awarded 'man of the match' by Sky Sports for his dominant display.
A delighted Howe said: "I thought he fitted in superbly.
"He was very calm, composed and used the ball very well.
"He put out a lot of fires with very good defensive decisions so I thought together with Fabian [Schar] they played very well."
The clean sheet 'a real collective effort'
Howe was also keen to focus on striker Chris Wood – who is yet to score for The Toon since his £25 million move from Burnley last month – for his 'unnoticed' defensive work in the match which lead to third clean sheet of the season being kept.
The Newcastle boss said: "I do think today's clean sheet was a real collective effort from back to front.
"Starting with Chris Wood who again, a lot of his work would have gone unnoticed from a defensive perspective but he was terrific, as was the team."
Attention quickly turns to next weekend
Not looking to bask in glory of today too much, Howe admits he is already fixated on next weekend's challenge away to Champions League chasing West Ham United.
Three points in East London on Saturday would be the first time The Magpies have won four consecutive games since April 2018.
"We're looking at the next game. That's all we can do," he said.
"It's amazing how quickly the mood can change externally but internally we have to be very calm and very focused on what we're delivering."