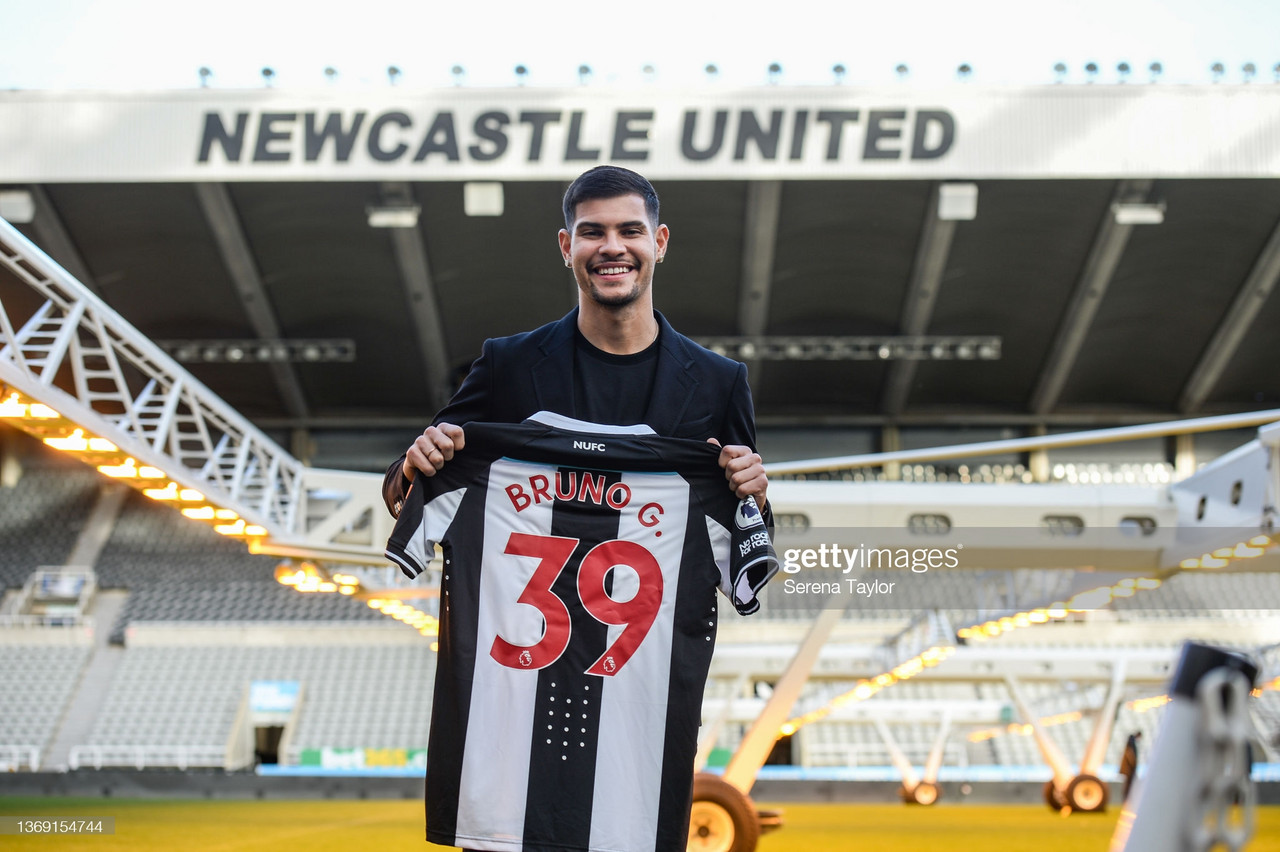 Bruno Guimaraes believes that Newcastle United are going to become a 'big power in world football' – but says that surviving in the Premier League this season is the current priority.
Guimaraes spoke to the media for the first time at St James' Park this afternoon after joining the club for £35.5 million, ahead of tomorrow's crucial clash with fellow strugglers Everton.
"We are definitely going to be a club that is going to be a big power in world football," said Guimaraes.
"This is a historic club with great tradition and a beautiful history. I have no doubts about my decision to come to Newcastle."
Confident about survival chances
Much has been said about Guimaraes swapping Champions League football with Lyon for a relegation battle last month.
It's a battle they still may lose out on, despite them becoming the biggest January spenders in English top-flight history.
However the uber confident 24-year-old says his new club – currently sat 19th in the table – can avoid the dreaded drop.
He said: "Definitely, if not I wouldn't have accepted to come here.
"With the new players & the manager we can achieve our main objective of staying in the Premier League."
Eyeing Champions League football at St James' Park
It's no secret that the new Saudi Arabian-backed owners of the club are selling a 'vision' and 'project' to new recruits – and Guimaraes gave an insight into exactly how grand they are.
"The owners were very up front that the idea this season is to stay in the Premier League," admitted Guimaraes.
"But in the future, the main objective in the seasons to come is to be in the Champions League and eventually to win the Champions League."
On his friendship with Joelinton
Toon fans were grinning from ear-to-ear when they saw Guimaraes and fellow Brazilian Joelinton meet each other for the first time a few days ago.
Newcastle's new number 39 revealed that Joelinton has provided a big helping hand to him ever since his arrival.
"Joelinton has been helping me settle in with my teammates, and I'm really happy with the way I've been made welcome by everybody."
Guimaraes then went into further detail about his friendship with his fellow countryman, and hopes they can become the Brazilian footballing edition of Ant and Dec.
The 24-year-old said: "He sent me a message on my way here and in training he's really helping me as much as possible.
"I spend all my time with him and I really hope we can have a great Brazilian double act here in Newcastle."
🇧🇷🖤🤍 pic.twitter.com/5pu97PmWSt

— Newcastle United FC (@NUFC) February 4, 2022
Glowing reports from Brazil teammates
While on international duty with Brazil in Ecuador, Guimaraes told the media that he had spoken with some of his Premier League-playing teammates about the prospect of joining Newcastle.
And it's safe to say they swayed him in the direction of the North-East.
"I spoke with Thiago Silva, Gabriel Jesus and Alex Telles and they told me how difficult it is to play away at Newcastle, how passionate all the fans are and how it's one of the most difficult away fixtures in the league," he said.
"I didn't have to think twice about coming here."
Encouraged to join by a former player
After being reminded of former Newcastle player Mirandinha – the first Brazilian to ever play in England – Guimaraes revealed that former Magpies player Claudio Cacapa gave him the nudge to come to St James' Park.
Guimaraes said: "I would like to send my best wishes to Mirandinha and send my regards to Claudio Cacapa, who is a coach at Lyon and who encouraged me to come here and told me so much about the club."