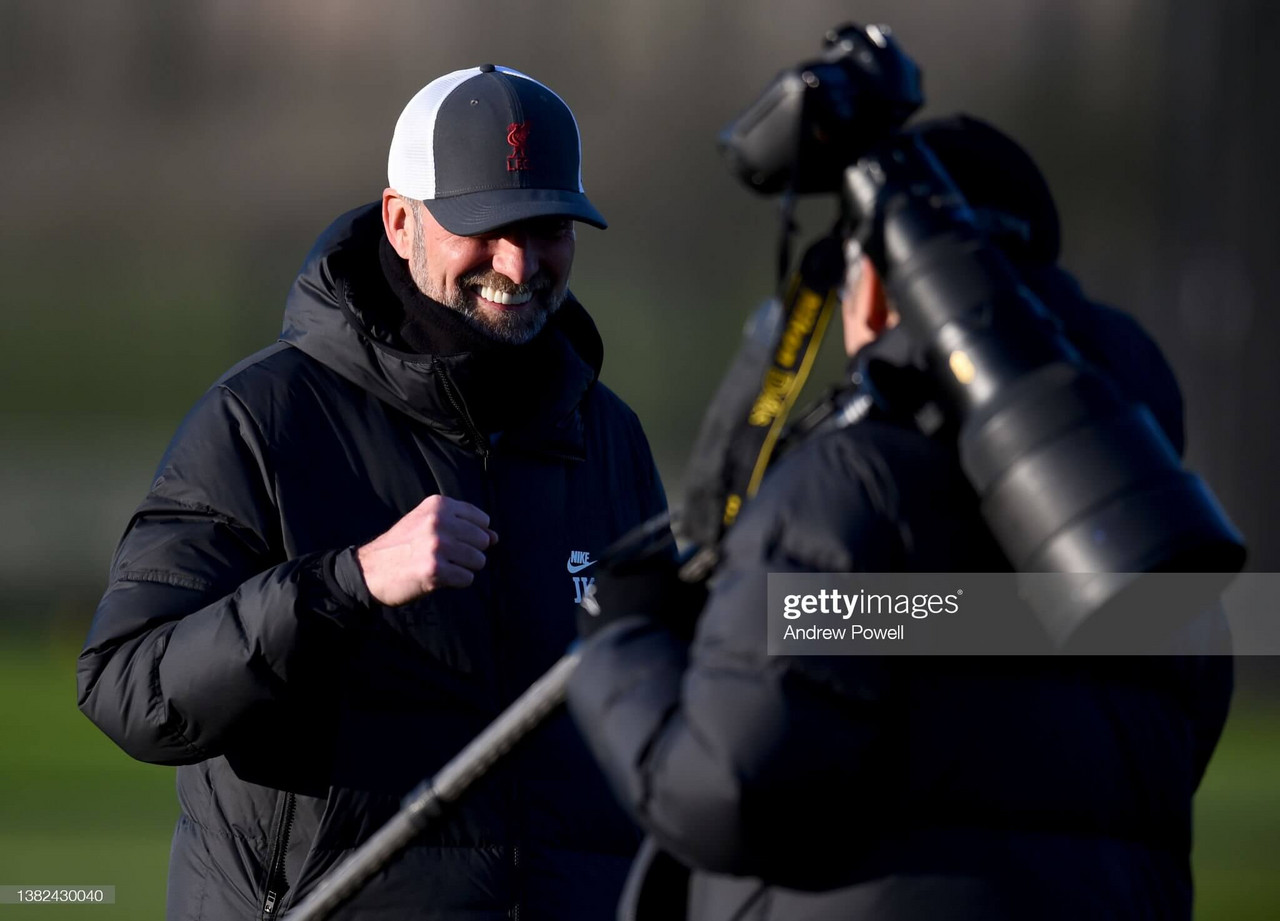 Jürgen Klopp covered a range of topics as the Reds – who hold a 2-0 aggregate lead from last month's San Siro first leg – prepare to face Simone Inzaghi's Italian champions.
There were fitness updates on Joël Matip, Thiago Alcântara and Roberto Firmino, while the 54-year-old also discussed the quality of Inter and that of other opponents, such as Manchester City and Chelsea.
Injury news
Klopp confirmed that each of Matip, Thiago and Firmino were part of full training on Sunday.
Matip had only been absent for a few days due to illness, which kept him out of Wednesday's FA Cup victory over Norwich City and Saturday's Premier League success against West Ham United, while Thiago had been out since sustaining a slight hamstring problem in the warm-up prior to the Carabao Cup final on 27th February.
The relatively short-lived nature of their respective issues seemingly means there's a good chance that both could be involved in one way or another on Tuesday.
Firmino had been sidelined for a little longer, though, with the Brazilian not featuring since his goalscoring substitute appearance in the first leg of this tie, on 16th February.
Klopp, therefore, suggested that the 30-year-old may need a few more sessions before returning to action.
Centre-back Ibrahima Konaté appeared to be absent from the Reds' session on Monday afternoon, meanwhile, meaning there may be an increased probability that either Matip or Joe Gomez will start alongside Virgil van Dijk at Anfield.
"All trained yesterday – full. So, not sure yet what we make of that exactly, to be honest – because we have to see how they react.
"So, Thiago was only a week out. Probably would be fine, but I have to wait for it. Joël was only three, four days I think. So, he is fine. With Bobby [Firmino], he was longer out. It was first session.
"So, we have to see if we have to stress that or if it makes probably sense to give him just a few more days with proper training. Because we obviously don't train properly today. It's the minus-one, it's tactical stuff, not high intensity and Bobby might need something else. So, we will see that but they are all in training."
The challenge of Inter
When asked about the danger in the tie, the former Borussia Dortmund and Mainz boss spoke about both the nature of a two-goal lead and the strength of Tuesday's opponents – who notched a 5-0 home win over Salernitana on Friday night to keep themselves second in Serie A, two points off city rivals AC Milan who they have a game in hand on.
"The danger everybody knows about. It's 2-0. I think it's the lead which got turned over most often in the history of football. Because if you have half time being 2-0 up and you have a team who thinks we are halfway through then you are already on the wrong path. So, we are long enough [experienced], we know that.
"It's a much better result than I would have expected, to be honest, before we played there. The game didn't look like we will win it 2-0 for most of the time. It was a really tough tie and a really difficult game to play. We knew before they have quality. After that, we knew they have real quality.
"So, now they will show up here. Won the last game, I think 5/6-0. Yes, against the bottom team of the table but still really impressive. [Lautaro] Martínez scored, [Edin] Džeko scored, [Robin] Gosens is back. When you saw the game then you are really happy that [Nicolò] Barella is not playing [due to suspension] because he set up, I think, three or four.
"So, that's a really good, really experienced team and they don't come here as tourists. I know that. They want to chase the game and that's what we want to do because we are not a team who defends results or whatever, tries to get through somehow. We want to attack the game again and, yeah, let's see what we can get from it."
Quality opponents
With Klopp having already reciprocated Manchester City manager Pep Gurdiola's words from Sunday that Liverpool were the toughest opponent he had faced thus far in his career, the final question of the press conference focused on the current level of competition on several fronts.
As well as facing the Italian champions in Inter, it was highlighted that Liverpool may well have to get the better of at least one of City and Chelsea in each of the Champions League, Premier League and FA Cup if they are to win those competitions this season.
"Let me start with the Inter issue we have. I think when we saw the draw, when you all saw the draw, you thought as well, 'That's the toughest one, probably, you could get.'
"For us, it's just normal. I can't remember a draw where you thought 'Oh, yeah'. I don't think these things usually but even I'm a human being and I think 'Okay, that's doable' or whatever.
"But it's always like this. You always get these kind of opponents and in the Champions League it's Inter. And yes, in the Premier League and FA Cup and all other competitions it's not only City and not only Chelsea, we play so many other teams as well.
"It's the strongest league in the world, no doubt about that, where we're in so there are no easy games. But it's the challenge and, actually, we enjoy it. We spoke in a press conference, I think. If we wouldn't be here this year or two years ago or three years ago, then City would have been champions in February. So, because we're around, it was tighter. If City would not be here, I think we had a good chance that we would be champions. But we are here and they are here and the other teams are here as well. So, it's completely hypothetical and not interesting.
"It's a challenge but we like challenges and we are used to it. We play the strongest teams in the world and, at a specific point in each competition, you will face the strongest teams in the world. That's why I said, I didn't watch the last few Carabao Cup finals, to be honest, before we play now. But, this game we played there, that was completely different level. It was unbelievable, the intensity. 120 minutes like this. That's because Liverpool and Chelsea face each other.
"And it's great for the supporters. It's great for everybody involved in football that you can have games like this. Usually finals are kind of, yeah, not so exciting, a lot of tactics, stuff like this. But, when these calibers face each other, then it's all in. And I think that's really good for football. And, I come back, that's why we need five subs."