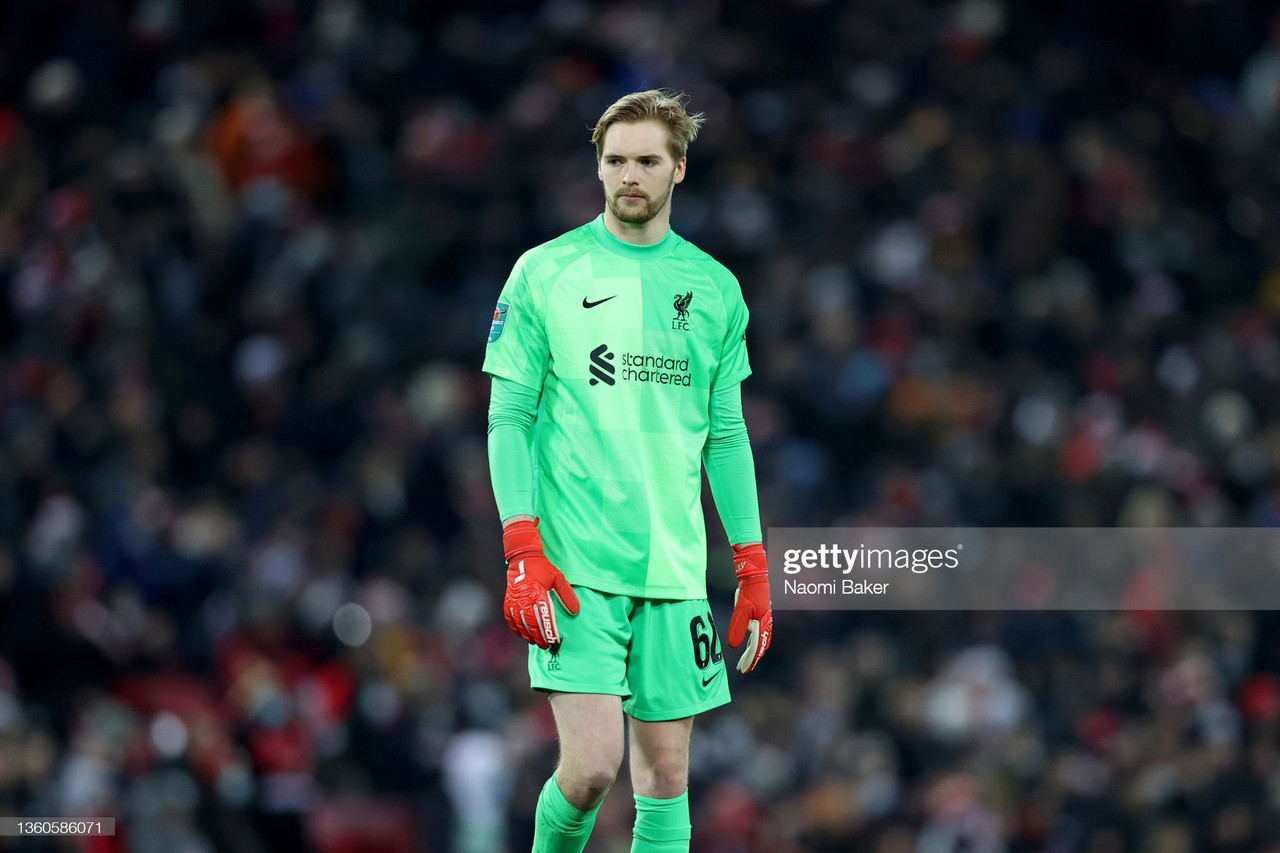 Following Liverpool's Carabao Cup victory over Chelsea on Sunday evening, Jurgen Klopp described Caoimhin Kelleher as 'the best number two [goalkeeper] in the world.' However, with the Irish shot stopper turning 24 this year, it is time for him to seek regular first team football away from Merseyside.
Kelleher made several key saves during the 120 minutes of action at Wembley to help send the match to penalties, and despite not managing to keep out any of Chelsea's spot kicks, the number 62 emphatically netted his own penalty before doing enough to put off Kepa Arrizabalaga who blazed over the bar. A miss that subsequently earned the Reds a record ninth League Cup success.
Kelleher's LFC story
The man from Cork has been at Liverpool since the summer of 2015 and he signed his first professional contract in August 2018. Since then, he has played just 17 times for Klopp's side across four different competitions - largely down to Alisson's importance to the Reds since his move from Roma.
Even though Caoimh has found playing time hard to come by in recent years, his performances in LFC colours have often been memorable. In just his second game for the Reds, Kelleher was the penalty shootout hero when he saved a Dani Ceballos spot kick in a fourth round FA Cup tie at Anfield, which his side went on to win.
The 23-year-old made his Champions League debut in December 2020 with an accomplished performance in a 1-0 win over Ajax. Followed up just five days later with another clean sheet and faultless performance on his Premier League debut in Liverpool's 4-0 victory over Wolves.
Kelleher featured in three of the Reds five games leading up to Sunday's final against the Blues and kept clean sheets in two of them. He was yet again LFC's saviour in the quarter-final shootout against Leicester City, after he denied both Luke Thomas and Ryan Bertrand from 12 yards as Klopp's men emerged 5-4 winners on spot kicks.
Eight clean sheets across his 17 Reds appearances demonstrates how the Irishman is worthy of a place in this magnificent Liverpool squad, but is his ability being wasted with such a little number of opportunities up for grabs?
Could playing time remain difficult to come by?
You could argue that perhaps Liverpool are grooming Kelleher to eventually replace their current No 2 Alisson Becker. But Alisson is still just 29, with a contract that will keep him in Merseyside for another five years - by which time Kelleher will be 28. Of course, a lot can change in that space of time. But the Brazilian international has been arguably the best goalkeeper in the world over the last three years and is showing no signs of slowing down.
A key factor that will limit Kelleher's playing time even more is Alisson's improved ability to stay fit. In the 2019-20 season, Ali missed 14 games in total after he suffered a lengthy calf injury in August and had a hip problem later in the year. In the season after, the Brazilian was out for eight matches with several short-term injuries. Whereas this season, he has missed just one – which was because he returned a suspected positive Covid-19 test.
If Alisson can continue avoiding lengthy injuries during his LFC tenure, in theory he will likely play in all of the Reds' Premier League and Champions League matches. Which essentially leaves Kelleher with the FA Cup and League Cup – a maximum of 11 matches a season (should Klopp's men reach the final of both.)
It is unlikely that the German would want to part ways with the young goalkeeper, as he is excellent back up and clearly a key member of the squad. But it is understandable if Kelleher wishes for a move away from Merseyside to seek consistent playing time in the near future. Therefore, a loan deal might be a viable option for the Reds. It would keep Kelleher on Liverpool's books, and if Ali's past injury struggles were to return, they'd have the possibility to recall the Republic of Ireland international.
What clubs could Kelleher move to?
Kasper Schmeichel, Hugo Lloris and Vicente Guaita are all approaching the end of their careers, and Leicester, Tottenham and Crystal Palace respectively will be looking to replace their No 1's soon. What Kelleher has shown for LFC so far is a clear indication that he is ready to be a first-choice goalkeeper in the Premier League, and clubs such as these might be the ideal move for Caoimh, whether that's temporarily or permanently.
Southampton and West Ham will also be in the market for a new main man between the sticks soon and may well be interested in signing the talented Liverpool man.
In conclusion
The Reds may already have a plan for Kelleher, or he might be content with the minutes he is getting at this stage in his career whilst playing for one of the best teams in the world. Players such as Divock Origi have been happy to be bit-part players for this LFC side and maybe that is the case for Kelleher too?
It all comes down to personal preference. If his wish is regular first team football, then the club must respect that. As a Liverpool fan I'd love for Kelleher to stay and be our second-string goalkeeper for years to come, but 'the best back up goalkeeper in the world' deserves more than to play 10 games a season. At 23, he is ready to become the main man, and he will not be that at Liverpool.