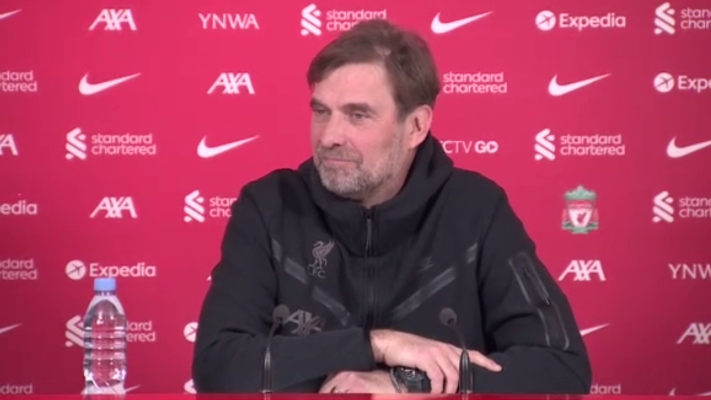 Liverpool host Norwich seeking to put pressure on leaders Manchester City before their 5:30 clash with Tottenham.
The Reds are nine points behind Pep Guardiola's team, but that gap could be just three points if results go their way over the next week.
Here are the key points from the Jurgen Klopp's pre-match press conference.
Portuguese forward Diogo Jota is a doubt for the Carabao Cup final against Chelsea.
Klopp revealed that the Reds do not know the extent of the injury he suffered against Inter Milan.
"Everything is possible. It could go quick or the other way," he admitted.
His absence will be a huge blow considering he is Liverpool's second top goalscorer behind Mohamed Salah.
Salah's significant landmark
Salah is on the verge of scoring his 150th Liverpool goal.
His manager described the feat as an 'insane' achievement.
"The number speaks for themselves. It's a massive number. Hopefully he can do that tomorrow," Klopp said.
Klopp was asked about the title race and responded in a typical fashion.
He called it his 'smallest problem'.
"There isn't a minute when I think about it. We only have to win our football games and see if we come close," he added.
"Not the Harlem Globetrotters"
"We are not the Harlem Globetrotters" was Klopp's response when asked about the strength of his squad.
"There are a lot of good teams and squads that we have to battle with."
Players missing out on the squad
Klopp said that players who have missed out on the 18-man squad in recent weeks such as Joe Gomez, Curtis Jones, Divock Origi and Takumi Minamino did not deserve it.
He described it as the "part I like least. It's easy when the boys give you reasons."
He praised the response of those players.
"Here you go again and show the best version of yourself. This group is incredible."
Roberto Firmino scored the first goal in the 2-0 win over Inter Milan on Wednesday and Klopp called him an 'incredible person'.
"It was the most difficult position on the pitch [v Inter], Diogo got injured in those fights in the first-half. It calmed everything down, Bobby scored, we got the momentum back."
The opposition on Saturday will be tough, warned the Liverpool manager.
"They are a really good footballing side. Will not stop believing [that they can survive]."
Norwich were beaten 4-0 by Man City last time out, but were unbeaten in four games before that.
The turnaround between fixtures means that the crowd will be vital, and Klopp urged supporters to push his team.