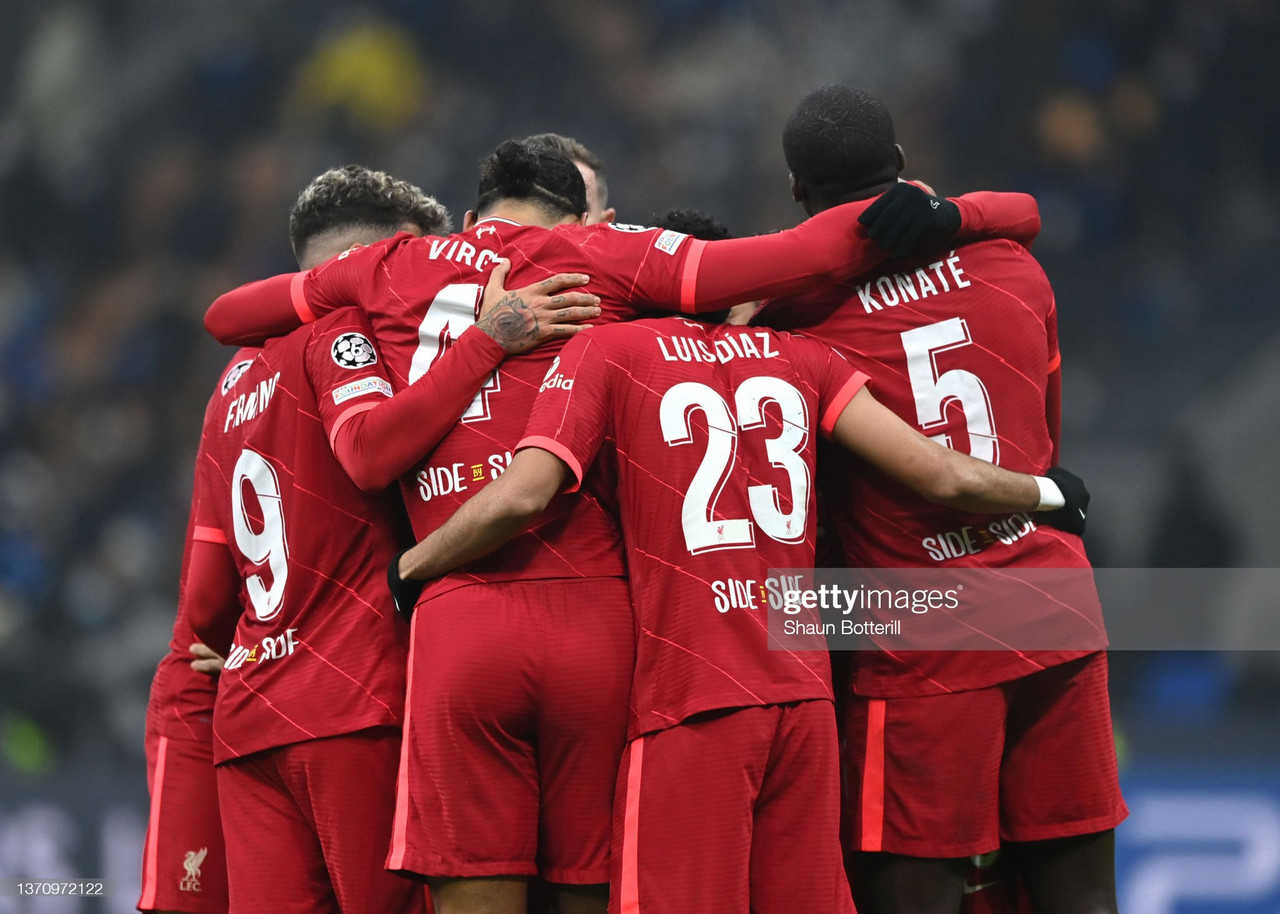 With Liverpool struggling in their Champions League clash with Inter Milan,, manager Jurgen Klopp was able to turn the game around from the substitutes bench. Roberto Firmino and Luis Diaz, in particular, gave viewers a rare taste of something that Liverpool have been lacking for many years: genuine attacking depth.
Mo Salah, Sadio Mane and Firmino had been virtually untouchable as a trio. Firmino would be the selfless one – dropping into deeper spaces to open up gaps in-behind – allowing Salah and Mane to reap the goal-scoring benefits. The trio worked like clockwork, terrorising defenders domestically and in Europe.
However, while Salah has continued to soar, the performances of Mane and Firmino have declined after the club's Premier League title success in 2019/20. Mane had become significantly more wasteful in the final-third and that has simultaneously affected Firmino's influence on matches.
At Manchester City, if Riyad Mahrez has a bad game or two then he won't be seen for a little while. Somebody will replace him. At Liverpool, Klopp hasn't often had that luxury of choice. He has always had players in reserve who are honest and talented professionals, but they have not been of the same calibre as his starting players.
Diogo Jota had a mixed first season at Anfield but his emergence as a centre-forward has given the Reds another dimension. Unlike Firmino, Jota wants to play on the line and he is a much more predatory goal-getter. He can provide the goals when others are missing their chances.
Likewise, the arrival of Diaz had finally given Mane some competition on the left side of the attack. The January buy from Porto is quick, tricky, and immensely confident. Battles for a starting birth will only act as a catalyst of improvement for both of the respective players.
Doing things differently
To use business terms, it is like Liverpool have organically grown their social media brand while rivals such as Man City have adopted the paid booster post tactic. Both are valid ways of marketing, by the way, with smart spending helping to propel your reach onto new levels.
It's important to note that City's spending has been very smart because, if you don't know what you're doing, then frivolously throwing wads of cash at the wall isn't going to amount to much. Hello Manchester United and – to an extent – Chelsea!
While Pep Guardiola has had the luxury of excessive backing, it provides no guarantees for ready-made success. They have taken a route to glory and they have nailed that route.
On the other hand, organic growth is about naturally developing and it takes time to reap the rewards of it. As is often the case, organic growth can go unnoticed while competitors pay to boost their posts on social media so it's ever more impressive when somebody manages to break the mould.
Essentially, stepping out of the metaphor for a second, Liverpool are operating on a different plan to every other title hopeful. They are functioning heavily as a business with a genuine focus on profit and loss spreadsheets.
There have been criticisms over FSG's ownership of Liverpool but it would seem like things are slowly coming together for the final seasons of Klopp's current contract. The club would be smart to seek out cover for right-back and defensive-midfield in the summer but, other than that, Liverpool have roughly two competing players per-position, with a couple of exceptions.
Work to do
It is difficult to recruit competition for Trent Alexander-Arnold and Fabinho because both are almost guaranteed starters when fit but it isn't fair to expect both men to play every minute of every game – not with the intensity that modern-day football is played at. Of course, Jordan Henderson can slot into the number-six position but that is generally of detriment to his game.
Even more important, however, is the contract situation of their Egyptian talisman.
Salah's deal has to be extended because he is now as good as anybody in world football. Losing him in the summer or – even worse – on a free transfer when his contract runs out in 2023, risks undoing so much of what has been built over the years.
Mane's deal also ends in 2023 and, while his levels have undoubtedly dipped, he is still one of the best wingers in the Premier League.
It certainly isn't easy running a football club. Like whack a mole, when you fix one issue, another one is ready to jump out of the chute but persistence is the key for football owners.
A fundamental ingredient with the City board room has been their relentless support of Guardiola. They haven't always spent ridiculous money on new signings but they have always helped to maintain a happy camp, keeping on top of contractual situations while offloading unhappy players for good money. Sheikh Mansour and company simply do not sleep.
While you can commend FSG for getting the current squad in the shape it is now in, they cannot rest on their laurels. There is still a lot of work to be done.
Nonetheless – as things stand – the Kop should be feeling a sense of optimism for the years to come.