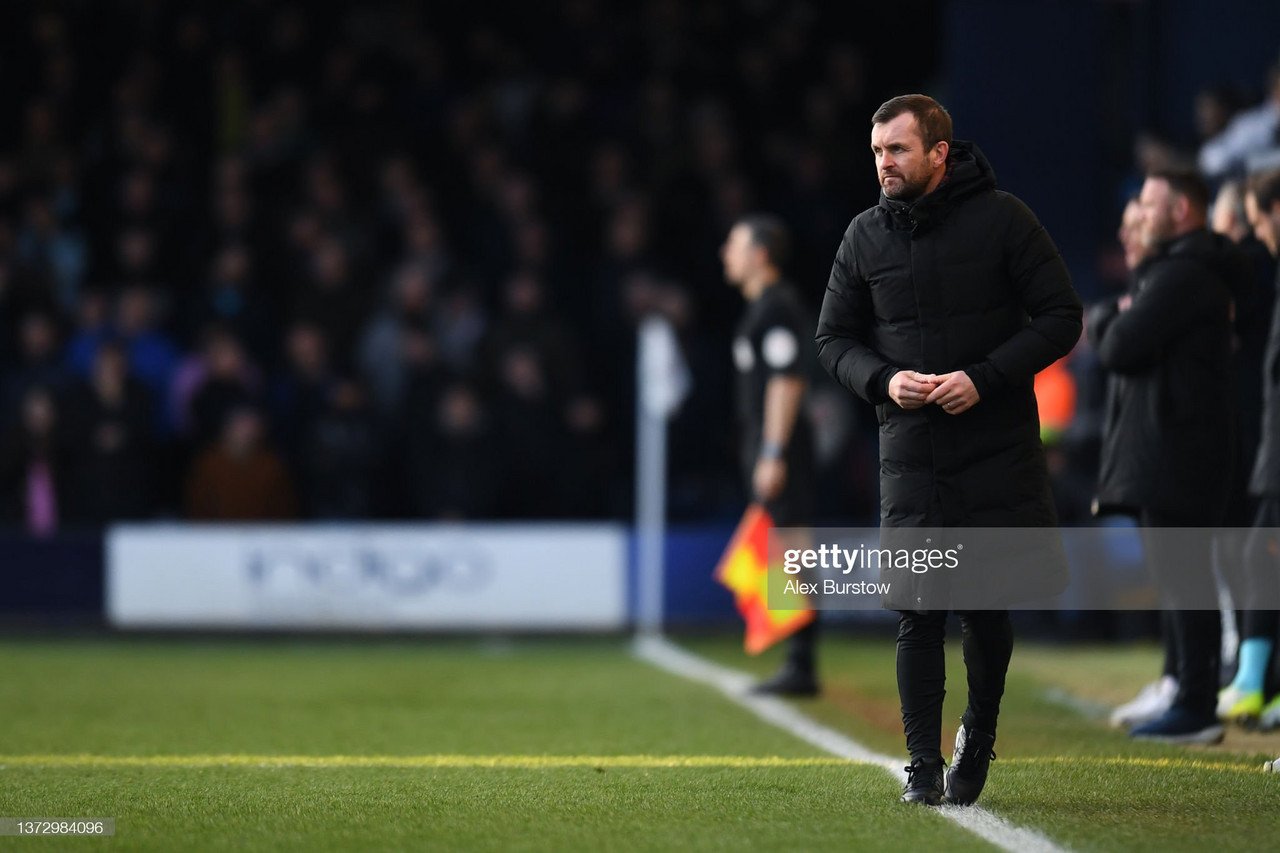 Luton Town slipped out of the play-offs following this afternoon's 1-2 defeat at the hands of Queens Park Rangers.
The men in orange took the lead through veteran forward Cameron Jerome in the 37th minute and actually had the ball in the net earlier through Elijah Adebayo, but it was ruled out for offside.
Although seeming comfortable, Town succumbed to a second half comeback as Andre Gray and Rob Dickie scored to bounce the R's up to fourth.
Nathan Jones was a frustrated figure in his touchline press conference and felt despite the emphatic turnaround, that much of this defeat was a mix of bad luck and self inflicted mistakes.
"We've got to do better in situations, we had no pride. I didn't see us having any problems in the game. I thought we were comfortable in a certain way and then we're diving in in the box - giving them a penalty, and they desperately needed that. They weren't knocking on our door in any way, that's the frustrating thing."
An improvement may be needed in defensive organisation as Nathan Jones' side have now lost two of the last three. That said, the Welsh manager was unhappy with how QPR got the go ahead goal.
"Again we've got an opportunity to clear it, we slice the clearance and then we concede from the corner.
"There's an offside from the corner for the goal which is a big decision that's gone against us again, so look - bitterly disappointed with the result. The margins have gone against us, but we've got to be better than that."
Rare disappointment at home and Chair red?
Typically, a home game for Luton is a raucous affair. The noise and ferocity of the crowd is usually mirrored in the way the Hatters play at Kenilworth Road. So, despite feeling in the ascendency, it seemed odd that QPR would snatch the all important points.
"We felt we were the better team, we got the goal, felt we scored a perfectly good goal. Again, marginal offside but we felt that could've gone for us not against us.
It's been really frustrating to concede two second half goals because we don't tend to do that here and I don't know if it's belief or something because I'm bitterly disappointed with that result to be honest."
After the half time whistle, QPR dynamo Ilias Chair looked to have got away with one after putting a hand in Tom Lockyer's face. Nathan Jones was bewildered with how the Moroccan avoided what could be deemed a clear red card.
"If you raise your hands in someone's face its a red card and that's what happened. Whether it was malice, there's always a way around it. Interpretations... I don't know - for me if you raise your hands in someone's face you get sent off but... he didn't."
Controlling the game better and a look ahead to a big week
Game management seemed to be a particularly hot topic in this game, especially in the second period. Jones noted how his side "imploded", squandering the first half lead.
"We started (the second half) really brightly, had a glorious chance to take a 2-0 lead and then we just imploded a little bit really. We went loose, we went off it a little bit and that was the thing - that's a frustrating thing really."
The coming fixtures for Luton offer a time to go again and get back into that all important play-off place. Jones looked back at previous games, determined to learn from some costly defeats.
"Three tough games. We didn't turn up in Middlesbrough. We were better in the two following games but we should've been better than we were today.
We should've got out of the game today and that's the frustrating thing."