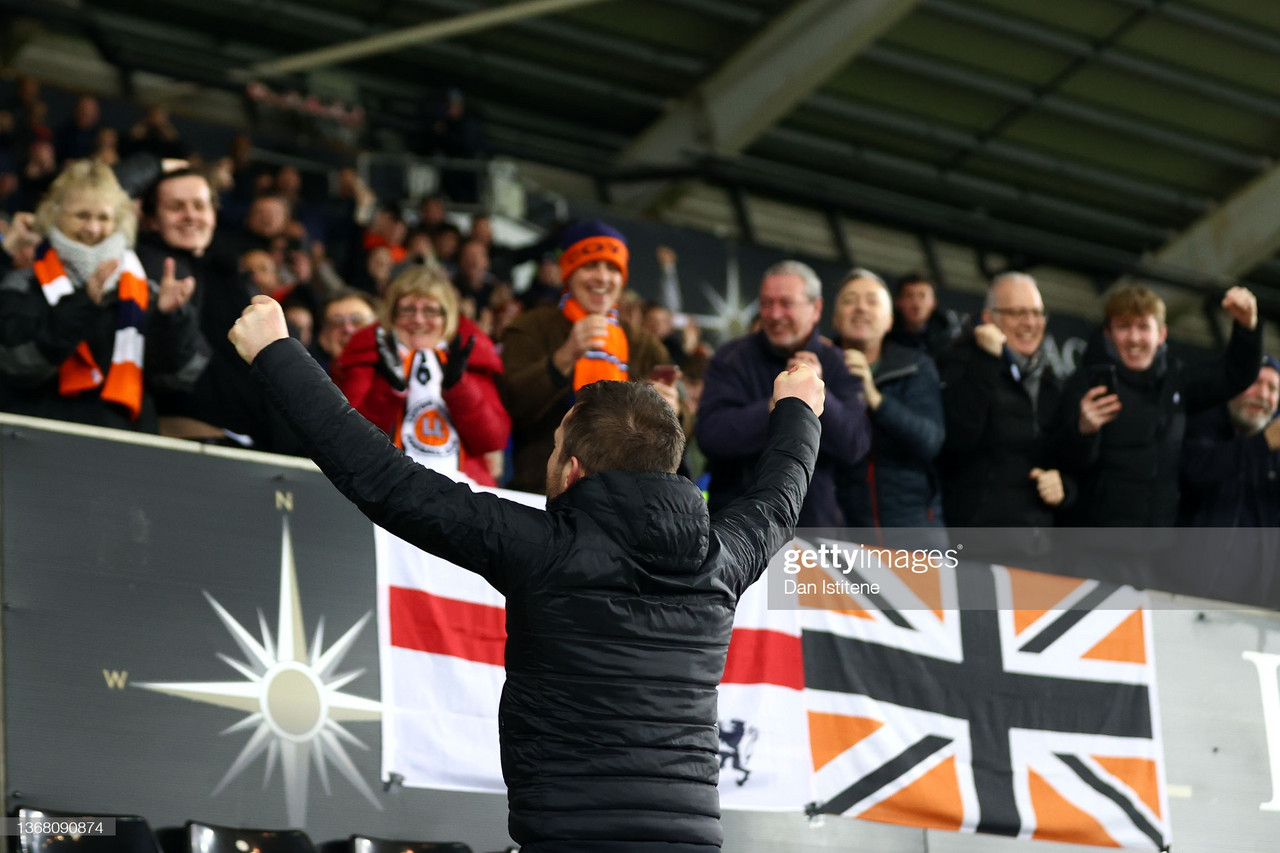 Nathan Jones dubbed Luton Town's 1-0 away win against Swansea City last night as "massive". Despite brimming with delight, the Welshman was typically realistic about his side's performance and the gravity of beating Swansea away from home.
The Hatters deservedly took the three points after a dogged display, with substitutes Cameron Jerome and goalscorer Harry Cornick playing vital roles.
A "wonderful away performance"
Although the exuberant excitement from Jones overflowed into the stands, he was composed when emphasising the challenge of playing and beating Swansea away.
"For me, these are as difficult a side to play against in terms of trickiness - especially when they dominate possession, its very hard to get the ball back.
"You have to be organised, aggressive and real clinical when you get the opportunity and that's what we were today".
In what he described as a "wonderful away performance," Jones reiterated his side's form in recent times.
"This is a magnificent win to start the month - especially following the month we just had."
Wonderful was seemingly the watchword yesterday as Jones constantly praised his team.
"Tactical awareness today was wonderful. To come here and win 1-0 is a wonderful result."
Thoughts on the playoffs and playing style
"We are very close, its only three points, with a game in hand.
"I was celebrating today really because the fans were magnificent. They've travelled down here on a Tuesday night. Massive journey, it was just to repay a bit to them."
"We've just got to keep getting points. Realistically, lets not get carried away too early. The first thing we have to do is secure our status in this league. With our resources, compared to others, that's what we have to do."
"18 games, 18 massive games to go - we've got to keep consistency."
Jones repeated his previous sentiment and rattled off more adjectives in describing his team's performance.
"These are really difficult to play against - if you're not disciplined they'll pick you off, but we were disciplined, aggressive, energetic, hungry... I loved that performance tonight."
Coming home to "God's country"
Before this game, Jones hadn't had much luck in recent times with sides from his homeland - losing five of his last seven Championship games against teams from across the border.
Yesterday's performance firmly put that behind him though, as he revelled in returning home.
"I love coming home, great to see my family - come back to God's country and this is a difficult place to come.
"They're not getting the results at the moment but they're such a difficult side to play against, they really are."
Redemption from early season fixture and summary
Nathan Jones and Luton know all too well just what Russell Martin's Swansea can do. Harking back to the fixture earlier in the season at Kenilworth Road, Jones referenced the Swans' ability.
"We were magnificent for 60 minutes at home - should've been five up, could've been five up. Should've been four up, could've been four up - but they came back and scored three outside the box which we weren't happy about, but they can do that here."
Jones' final statement was delivered in emphatic fashion.
"Everything I would want in an away performance came out today - and it was utter perfection."