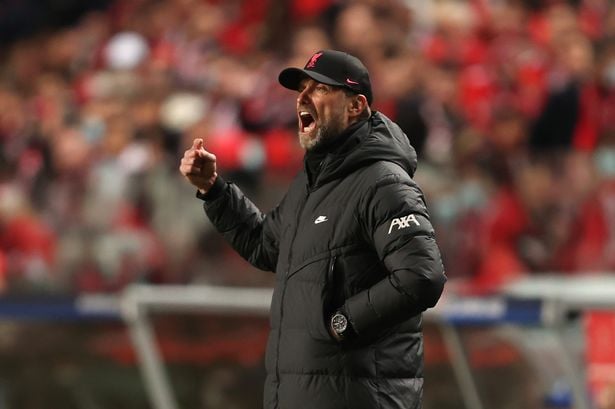 Liverpool welcome the Portuguese outfit to Anfield on Wednesday night as the Reds look to book their ticket in the semi-finals of this year's UEFA Champions League.
The Reds are 3-1 up on aggregate after their trip to the Estádio da Luz last week.
In his latest press conference, Klopp discussed Wednesday's game, Luis Diaz, Benfica and Darwin Nunez.
Wednesday's game
Jurgen Klopp highlighted the importance of tomorrow's yet believes rotation in his squad selection may be necessary if the City game has influenced the fitness of his players.
Klopp said: "This is a super, super, super important game. We tried so hard to get the Champions League last season and now we can make it to the semi-finals. That is incredible. It means a lot to us.
"The last game will have an influence on tomorrow. Nobody is injured as far as I know, but we need to have a look at who is fresh enough for this game.
"It's 3-1 at HT. It's as tricky as 2-0. We saw against Inter how one goal can change things. We want Benfica to feel like they don't want to play at Anfield. We need to be angry in a good way and be ready for these kind of things. I hope we are."
After his goal against Benfica last week, Jurgen Klopp was full of praise for Luis Diaz and how well he's adapted to life in Merseyside.
"We didn't know how quickly he would adapt. All the players we've signed over the past few years are happy. It's not the worst place in the world here. The fact he really enjoys training is really cool!
"He can't stop smiling in training!"
The German was full of praise for Benfica who did not make it a walk in the park for Liverpool in Lisbon last week.
Jurgen Klopp said: "If I was them, I would go for it, full throttle - put us under pressure, try to score early. That is what you would do and that is what we expect.
"We now know more about the opponent, so let's go again.
"Really aggressive in a football sense, defended well, we know more how they play."
Darwin Nunez restored some faith into his side after he capitalized on a misjudgement from Ibrahima Konate to fire home past Alisson.
Jurgen Klopp was full of praise for the young Uruguayan forward who has proved why many top clubs are seeking for his signature.
Klopp stated: "An extremely good looking boy eh?! He was calm for the finish. He is good, really good. If he stays healthy, he has a big career ahead of him."