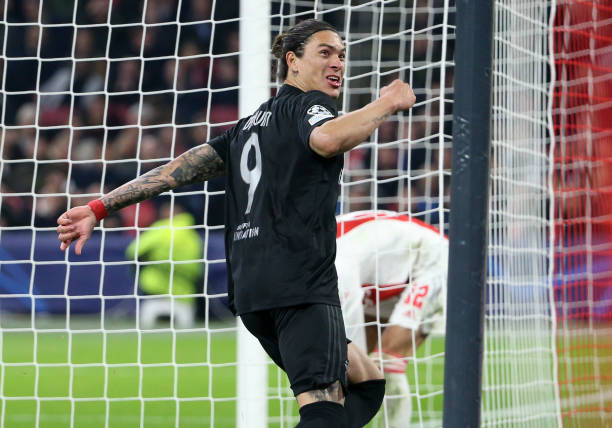 Career so far.
Darwin Nunez is still a young player at the age of 22, perfect for the side Arteta plays with, performing above expectations in the league as the youngest squad in the league, so adding another hungry young talent with a lot of desire could do wonders for the Arsenal team.
So far in the Liga Nos this season, Nunez has made 22 appearances for a Benfica outfit that has fallen behind the leaders Porto, hitting the back of the net 20 times and assisting twice. Benfica have also made it to the Champions League quarter finals after overcoming Ajax in the previous round, Nunez scoring the winner late on in the second leg in Holland. This was his fourth goal in the Champions League this season, making eight appearances, another factor the Gunners can take confidence in, seeing a player performing on the biggest European stage, where they themselves hope to be playing.
Playing style.
The Uruguayan primarily plays as a centre forward, however, can also fill in as a second striker slotting in behind the centre forward or even as a left winger, this could be beneficial to the Gunners plans also, dependent on whether Alexandre Lacazette does sign a new contract this summer, which unfortunately does look unlikely, but they do also have young American striker Folarin Balogun.
The youngster is also used to playing in a system similar to the style Arsenal uses but does not function as a sole striker in the Benfica tactical system, a team that is used to dominating possession as well as well as creating chances with short passes and combinations and applying pressure to the opposition off of the ball. The team push higher up with their wing backs moving past the halfway line to overload the opposition and push them further towards their own box. The defence in this 3-4-3 system does link well with the attack, especially the two wing backs, who provide the attack with crossing opportunities, Nunez can occupy the left hand side of the pitch when he is operating as the winger for the side. The offensive play does not primarily rely on possession play however, with the team utilising different combinations of dribbling, link up play and runs off of the ball such as Grimaldo overlapping the winger on the left hand side of the pitch, another system we see in use at Arsenal.
Due to the high tempo and frequency of their attacking play, Benfica commit a lot of bodies forward in attack, this is possible because of the high frequency and the amount of passes the side make every game, they aim to keep at least 65% of the ball each game making around 500 successful passes, this system was extremely successful in the 2020/21 season with Seferovic racking up 22 goals in that season, the team are extremely good in their counter attacking scenarios, using their pace and strength to shock teams whilst pushing forward, another strength we see from Arteta's sides footballing style, as well as taking advantage of goals from set pieces. Currently sitting at the top of the goalscoring charts in LIGA Nos, the team have a prolific record for goal scoring, having not failed to score in a single fixture away from home this season and only failing in 4% of their games played overall, this season they have an excellent record of goal scoring, averaging 2.52 goals scored per game as well as a strong defensive record, only conceding 0.93 goals per game.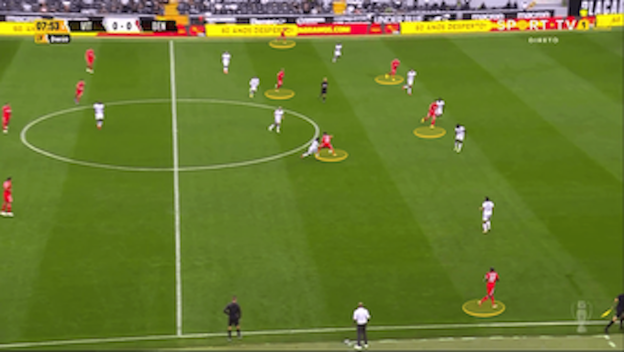 ---
Benfica committing bodies in attack.
---
Strengths and weaknesses.
One thing that Nunez does very well is carrying counter attacks, he plays as a disruptive striker, often causing a nuisance for opposition defences, with his pressing he applies constant pressure to defenders in an attempt to force them into an error or to play the ball to an opposing player. With a dynamic range of mobility, he can make incisive movements around and inside the box, making it difficult for defenders to mark him, and is often getting away from his marker and attacking open spaces, something he is proficient at with or without the ball. Creating chances for himself is another strength of his game, he can strike the ball with explosive power in a variety of situations, making it extremely difficult for goalkeepers to save. On top of these they would be getting a striker who enjoys to drift out to the left on occasion and does not dive into tackles recklessly, so they know they are getting a composed player under pressure, adding another player who is an efficient dribbler with the ball and a proficient finisher as well as creative key passes. The Uruguayan internationals cutting inside from the left and quick feet can be seen on show as well as his finishing when he scored his first goal against Barcelona in their 3-0 win in the Champions League.
Despite his strengths of passing and dribbling, his passing being strong in key situations but outside of those, it is one of his weaknesses and would definitely need to be worked on if he was to fit into Arteta's team, who are constantly passing when in possession of the ball, as well as this his dribbling is strong, but his holding up of the ball needs to be improved upon as well. His awareness of offside is also one of the weak points of his game, coming into the Premier League, this would be absolutely vital he improved upon, with the game a considerable amount faster than the game he is used to currently.
Fitting into Arteta's system.
Nunez could be the piece of the puzzle Arsenal are missing, we all know they are performing exceptionally well this season, but this has been without the pressures of European football, and adding an early FA Cup exit to the mix, there has not been much pressure on the Gunners. Regardless of these facts, the goals are not coming from where they should be for the club, missing that talismanic striker we grew so accustomed to in players such as Henry, the potential is there for him to hit that criteria, of course not to Henry's standards but it remains to be seen what level he could be hit for Arsenal if he was to join.