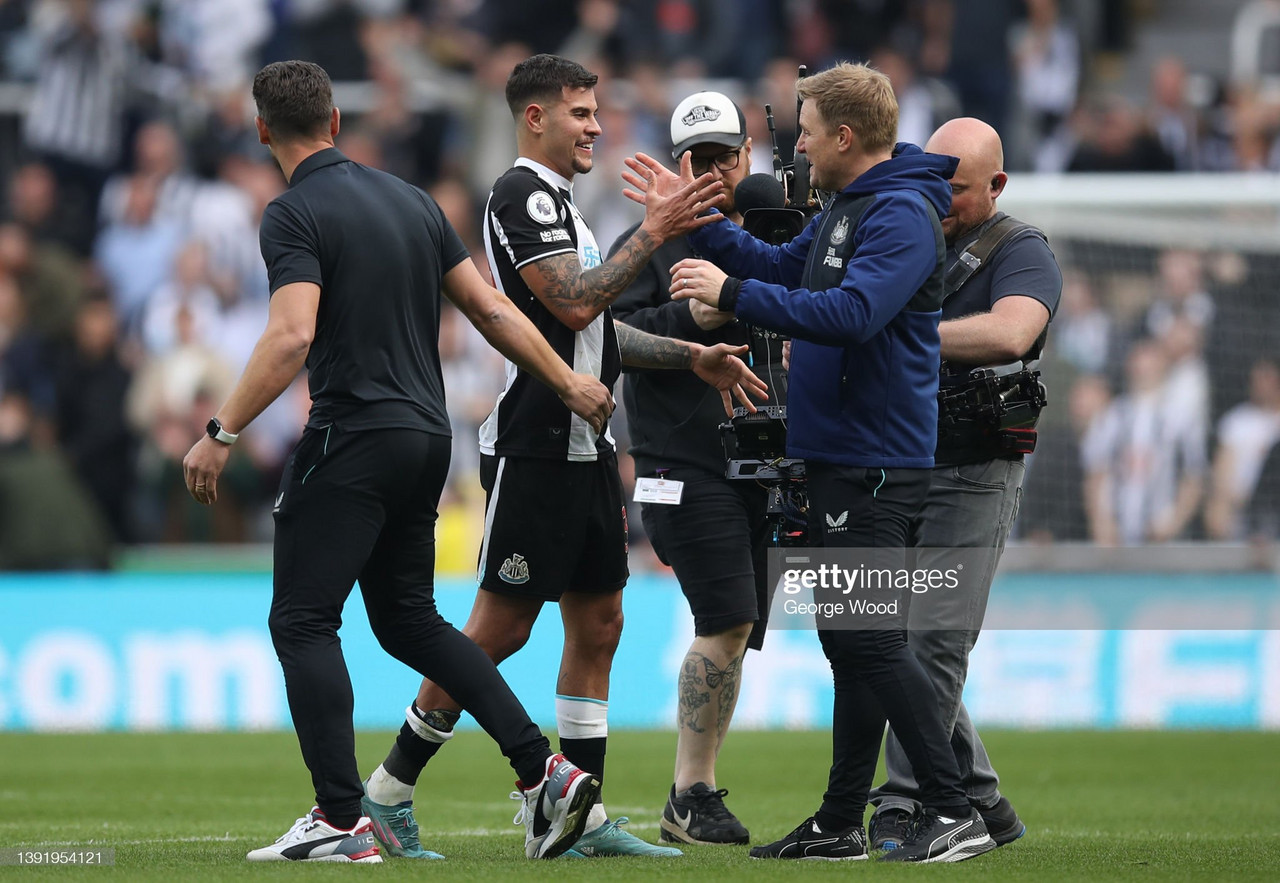 Newcastle United head coach says that match-winner Bruno Guimarães was 'magnificent in every aspect' in this afternoon's dramatic 2-1 victory over Leicester City.
The Magpies secured their fifth straight victory at St James' Park in a row when the Brazilian international got his head on the end of Joe Willock's deflected cross – securing his second of the game and all three points for his side.
On Newcastle's new fan favourite, Howe said: "I'm really, really pleased with him today.
"I thought he was magnificent in every aspect, especially out of possession, because we struggled to get control of the ball."
On Bruno's goalscoring form and his mentality
Guimarães has now bagged three Premier League goals in 11 appearances since his £33.5 million arrival from Lyon in January.
The midfielder could only manage that exact goal tally after 71 games for the French side.
"I think you expect your number eight's to contribute goals and assists, be creative and have a good output and certainly the way he's started, it looks like he can play in that position for us and excel in there," said a delighted Howe.
Howe also gave an insight into the mentality of Guimarães – in particular how performances on the pitch affect him personally.
He said: "He's an incredibly passionate individual.
"I love that about him. He cares deeply whether we win or lose. Again, I love that about him.
"You need players that wear their heart on their sleeve, and are prepared to give you everything on the pitch. He's certainly one of those."
Krafth revelation revealed after solid performance
Guimarães will rightly steal the headlines from this afternoon's game, but Emil Krafth once again quietly went about his business at right-back for Newcastle, putting in another eye-catching display.
What made Krafth's performance even more impressive was when Howe revealed to the media that the Swedish international had far from an ideal build-up to the game.
Howe explained: "He was suffering with an illness so he didn't train much last week and deserves full credit for putting himself out on the pitch today.
"What a performance from him, especially against a fresh Harvey Barnes. It was a real test for him.
"I've been hugely impressed with Emil, both as a player and a person. He deserves a lot of praise."
Update on Trippier and Wilson
Toon fans are eagerly anticipating the return of injured pair Kieran Trippier and Callum Wilson – with it expected that both players will feature again before the end of the season.
Trippier has been sidelined since mid February after breaking his foot in the win at home to Aston Villa, and Wilson has out with an Achilles injury since late December.
Howe says the duo are unlikely to feature in either of Newcastle's two games next week.
"I don't think either will be involved next week, whether that's Crystal Palace or Norwich," said the Toon's head coach.
"I am not putting a time on it as there are still a lot of unknowns.
"Neither player has really done too much on the grass yet but they are working towards that.
"Thankfully the team is in good form so we are in a position where we don't have to rush them back but we still have enough games to see them before the end of the season."