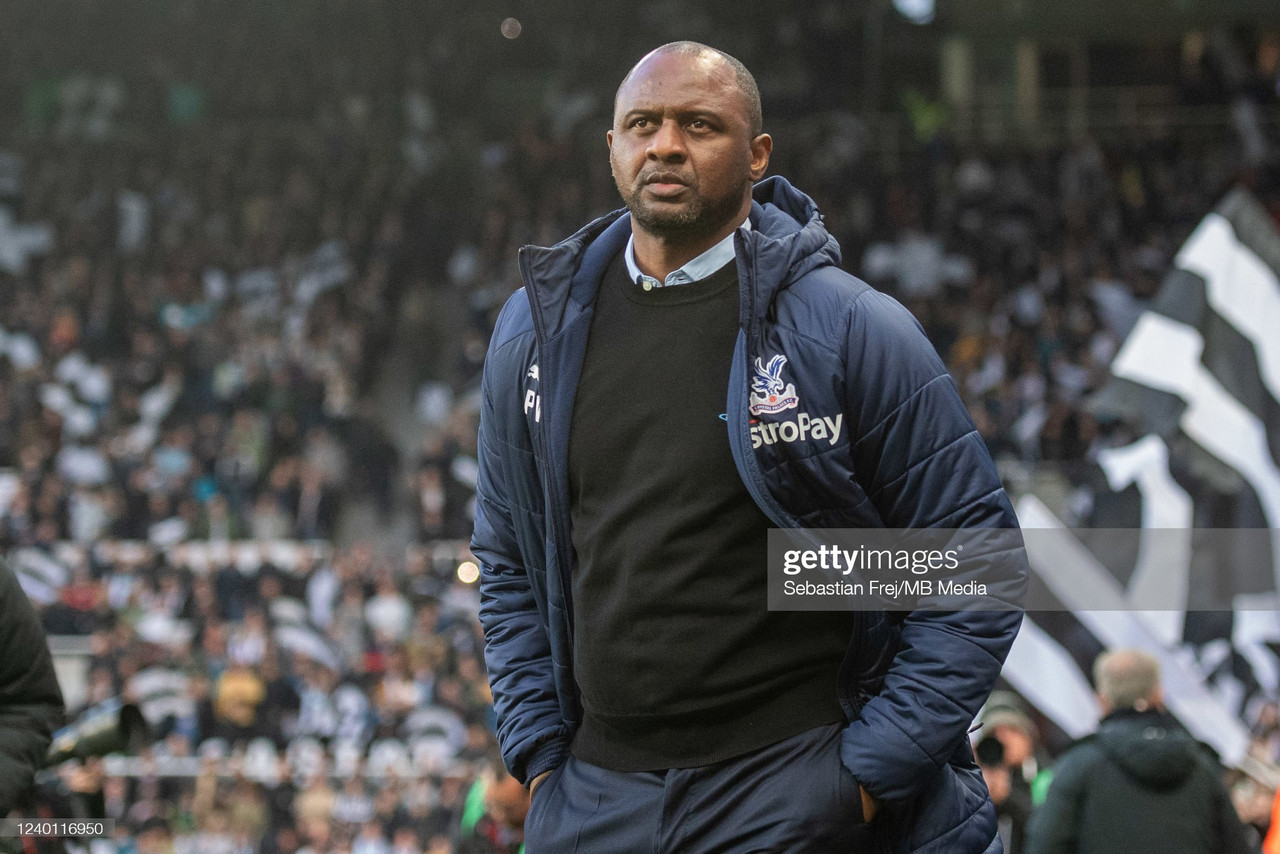 Crystal Palace boss Patrick Vieira says that his players need to learn how 'bounce back' quicker from tough defeats – after his side were beaten by Newcastle United tonight, 72 hours after losing in the FA Cup semi-final to Chelsea.
Palace were condemned to a 1-0 loss at St James' Park after Miguel Almiron's top-corner strike on 32 minutes was beyond the reach of Vicente Guaita.
Vieira's side improved in the second half after a poor opening 45 minutes, but couldn't find the breakthrough they desired.
On the game as a whole, Vieira said to the media: "I think the second half was quite positive in our way.
"Of course, losing the FA Cup, mentally and physically was quite challenging.
"We have a young group of players who need to learn from those kinds of games how to bounce back from a game like that.
"I think we struggled to get into the game in the first half an hour and we were really slow in our passes.
"We didn't compete well enough. And then, of course, we concede that goal.
"And in the second half, we tried our best but really we couldn't score."
On Olise's early exit
Michael Olise's evening was short-lived after the winger was hauled off after just 40 minutes in place of Jordan Ayew.
There was some rumours that the substitution was tactical, but Vieira confirmed it was due to an injury.
"We know that Michael had some issues with his foot in the last couple of weeks," he said.
"We started him today, but he wasn't 100% so the best decision was to take him off."
'Six really important games' still left to play
With defeat tonight, Palace slumped to 14th in the table with their opponents Newcastle leapfrogging them all the way up to 11th.
On claims his side could be 'on the beach' with relegation and a place in Europe seemingly out of the equation, Vieira insists his team still want to finish the season as strongly as possible.
"We always want to improve individually and collectively," the Palace boss said.
"We want to be a better team. But we don't want to take any kind of conclusion yet.
"We still have six games to play in, six really important games for us.
"When we take this conclusion, we will see how players conduct themselves and how much they want to compete every week, how far they are to challenge themselves and to keep giving everything to the team and to the football club."