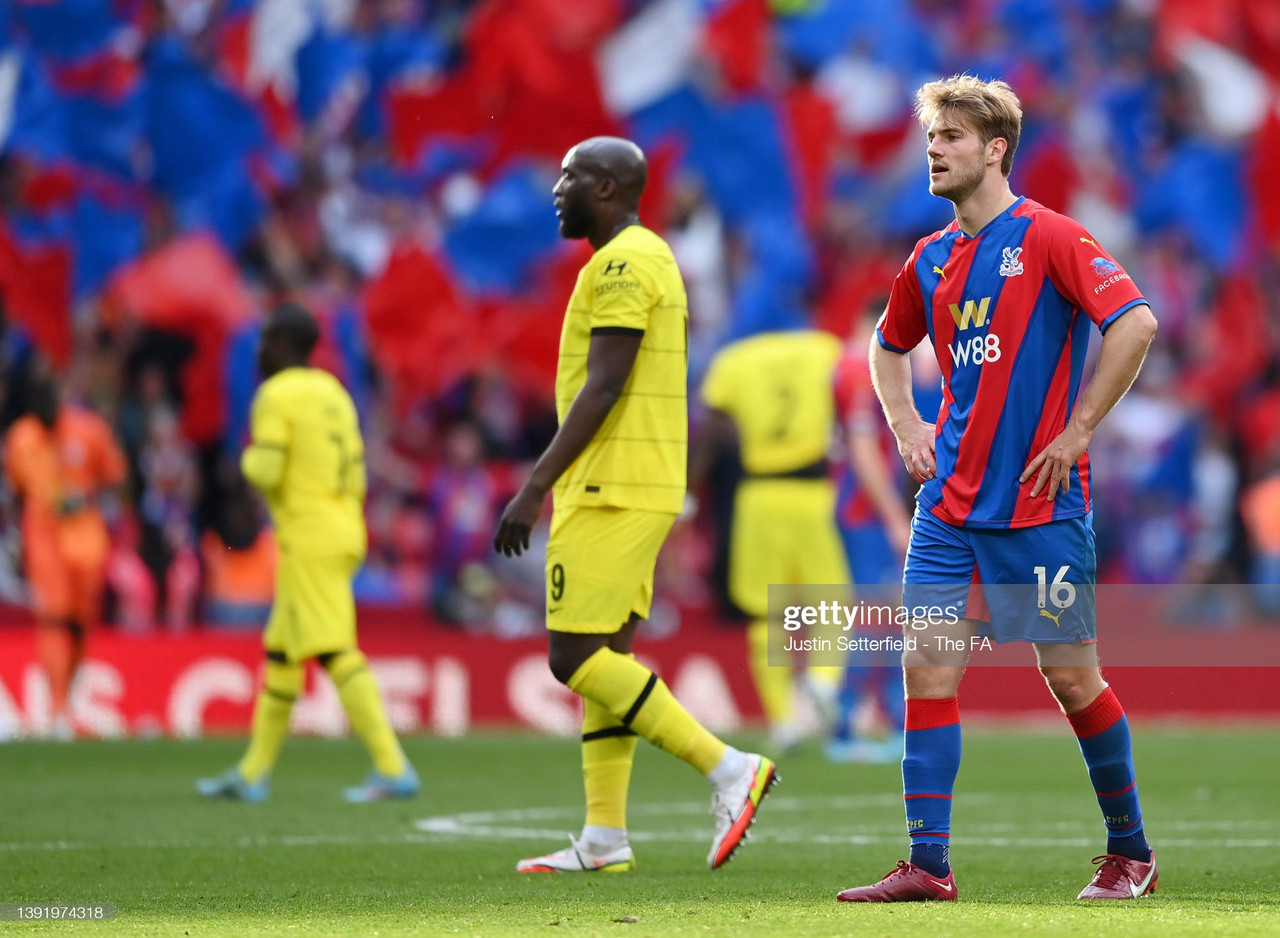 Joachim Andersen felt that Crystal Palace lost out on a chance to book themselves into the FA Cup final due to "fine margins" when Chelsea secured a 2-0 victory on Sunday afternoon.
The central defender has played an instrumental role in tightening Palace's defence this season, but his hard work and resilience weren't enough to keep their western rivals out at Wembley Stadium.
Two goals from Ruben Loftus-Cheek and Mason Mount in the second half meant that Crystal Palace's fairytale FA Cup campaign perished in front of them, but everyone involved with the South London club remains positive.
"It's a huge disappointment," Palace defender Andersen told the South London Press. "I actually thought we did well in the first half. We fought well. We nicked the ball off them a couple of times.
"In the second half, I felt like they got too much time on the ball. They found the midfield really well and found some good passes to break the lines. The [first] goal is a little bit lucky, a nice finish, but it was avoidable and then you know it's going to be hard after that.
"We did what we could. It's the fine margins in these games against a world-class opponent, so we have to learn from that."
A change in formation worked well for the first half
Joachim Andersen, since arriving to the fray at Selhurst Park in the summer, has been used to playing in a familiar back four under Patrick Vieira, but after assessing their last game against Thomas Tuchel's Blues, The Eagles opted for a change in blueprint.
Fielding a back five in an attempt to go man to man with Chelsea's strong offensive lineup, the Danish defender played alongside Marc Guehi and Cheikhou Kouyate in the centre of defence.
It was a change in formation and tactic that worked well for the first hour in the capital, with Crystal Palace dealing with every trick up Chelsea's sleeve.
Whether it was a cross into the box, an incisive and quick counter-attack, or a bullish attempt to get the ball up the field without intent, The Eagles remained unflustered by any hurdle that came their way.
But in the latter half of the game, Crystal Palace came undone, and Thomas Tuchel found the key to success.
"When we have the ball it's similar to what we always do," explained the Denmark international. "We looked at our recent game against Chelsea and what could suit us to perform better against them and we did well defensively, they didn't have many chances until their [first] goal.
"They changed their system," he added when asked about the difference after the half-time break. "Normally, they play with two pivots, but then it was only one. We had a little bit of difficulty knowing who was going to mark and to who was going to push on.
"After that, they still had to break our back five and we did well with that. But it's small margins in these games, they nicked the ball off of us at the goal, it was a nice finish."
It was misfortune from the red and blue of SE25 that cost them for the opening goal from Ruben Loftus-Cheek, leading to panic that cost them dearly for another with 13 minutes left.
A top 10 finish is still on the cards
Despite the disheartening result, Joachim Andersen understands the importance of finishing strong in the Premier League, encouraging his teammates to push for a top 10 finish.
"I know everyone will learn from this experience. To play here at Wembley, to play in front of I don't know how many people. The atmosphere was amazing. It's just a disappointment that we didn't win.
"From now on we just keep on building, like we did the whole season."
When asked about the importance of forgetting the cup loss, Andersen stated: "It's massively important."
"We need to be switched on, we need to keep this top-10 position, it's a really close race, but I feel like we can do it. We have some good games left. We've been building – just keep on building the last months, playing better and better. We need to get these results."