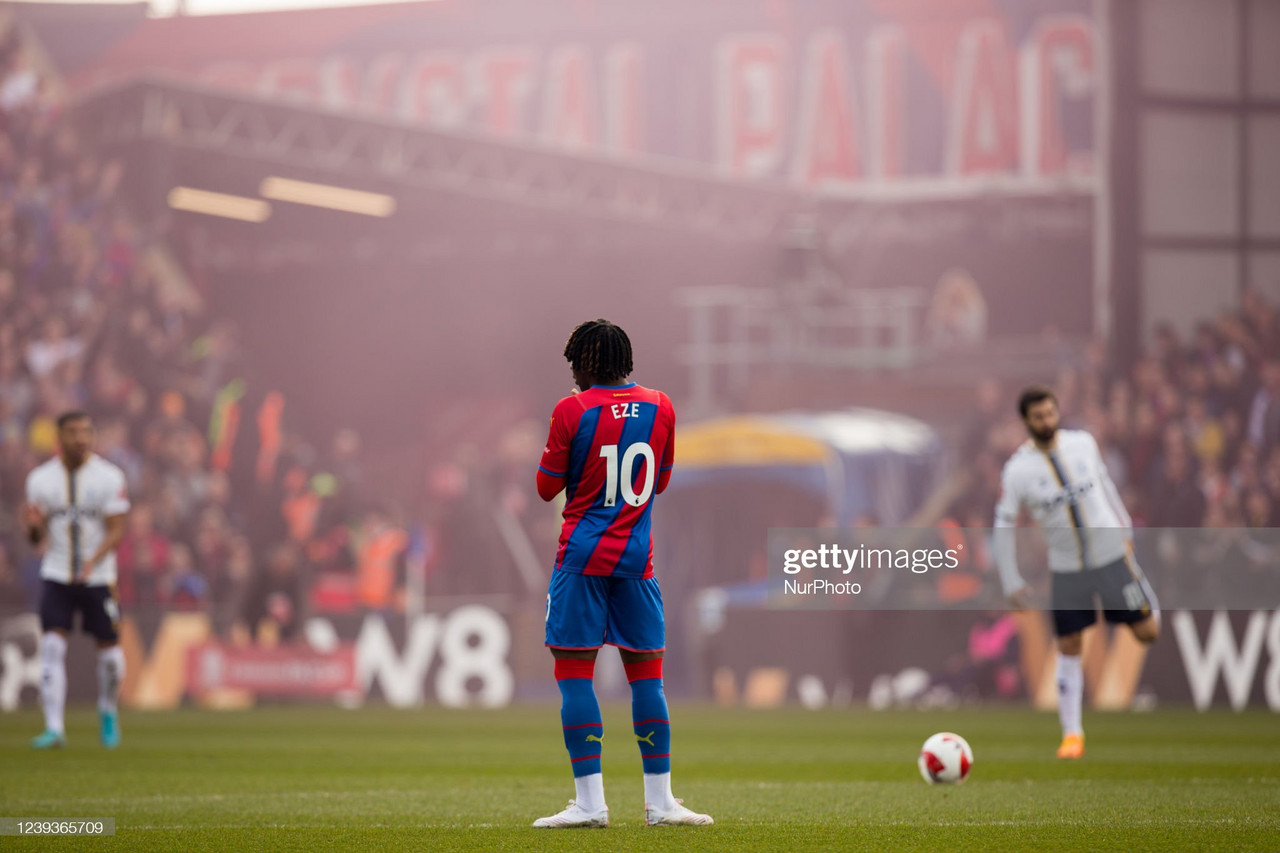 "Risk is always part of the game", Patrick Vieira reasserted after he had left the gloriously exultant celebrations at Selhurst Park on Sunday afternoon.
And risks are what he took to lift Crystal Palace to a 4-0 victory over Everton in the FA Cup quarter-finals.
Although starting slow, despite the attempts from the Holmesdale Ultras to encourage Palace to 'Finish what they started', The Eagles put on an emphatic display to steamroll to a masterclass performance and result, overriding the early storms they weathered in the first half.
Ultimately, the triumph handed The Eagles their first appearance at the national stadium since they achieved the same feat in the 2012-13 season under Alan Pardew.
Showing unalloyed fearlessness in his starting lineup, Patrick Vieira initiated an offensive blueprint that saw Conor Gallagher, Jean-Phillipe Mateta, Eberechi Eze, Wilfried Zaha and Michael Olise on the same pitch for the first time.
Everyone knew that it was a move that could go either way; the outcome was bound to teeter on a spectrum between two polar opposites.
On one end of the scale, Crystal Palace could have suffered from counterattacks - or even complete defensive disarray. But of all the nerves that were aflutter around South London at the weekend, Patrick Vieira persisted as the most placid of the lot.
He believed in his team, just like he has on timeless occasions throughout the season, and his risks paid off in swashbucklingly sublime fashion.
Patrick Vieira's decision to field most of his attacking valves all at one time paid off, and Everton were put to the sword as soon as momentum was grasped by The Eagles after Andros Townsend's 20th-minute injury allowed rest bite and recuperation.
Prior to this stoppage, Palace had uncomfortably strung together an embarassing eight touches in Everton's half, but they soon latched onto the outcome of the fixture.
What followed was a scintillating 70 minutes for the men in red and blue where they hardly took their foot off the gas. Frank Lampard, despite his comments that Palace were average on the day, was left to surrender to a relentless attacking performance by Crystal Palace.
The players have listened and reacted well to Vieira's demands
Retrospectively, things change very quickly at Selhurst Park under Patrick Vieira - much quicker than the Hodgson days of old. For instance, it was only a couple of months ago that the Frenchman expressed undercurrents of anxiety in his attacking outputs.
Crystal Palace had continuously suffered from a lack of cutting edge in their performances over the winter period, often resulting in a drop of points that they didn't deserve.
Fluid in their shape, positive in their mentality, and chance creation in abundance - the only thing that was absent in the majority of their performances was the end result.
Fast forward to this weekend, and Palace fans witnessed one of their best offensive performances of their most recent Premier League era, which is in its 9th season.
Seemingly, fielding all five of his most trusted players has provided Patrick Vieira with a platform for success, no matter the opposition.
and better yet, every single individual in the lineup linked up coherently with each other to open the door up for a perfectly balanced display.
While Tyrick Mitchell held his own once again at the back, Cheikhou Kouyate continued to impress in his role at the base of midfield, and Eberechi Eze showed glimpses of a return to his best.
Patrick Vieira now boasts an embarassment of riches that would strike fear into any Premier League defence. A selection conundrum reaches boiling point before every matchday, with Palace fans fighting amongst each other on the realms of social media over who should start.
For a long time, this was never the case. Confined to featureless football and predictable outcomes and lineups week in and week out, Palace fans had become accustomed to very little change.
Under the new direction of Patrick Vieira, which seems to be upwards rather than forwards, the potential and possibilities at SE25 are unlimited and unrivalled.
The Frenchman can seek different avenues in his team to ensure Palace get the right result, and this is also something perpetually evident in his deep resources that awaited on standby at the weekend.
Will Hughes grabbed his first goal for the club, coming off the bench to add salt to Everton's wounds, and Christian Benteke, James Tomkins and Odsonne Edouard looked sharp and capable when introduced to the baptism of fire that had placed itself inside Selhurst Park.
To a great degree, the bottomless pit of talent at Vieira's disposal can be condensed into the Nathaniel Clyne and Jack Butland case studies. Both players were out of favour and out of touch in their previous clubs, coming into the cold in South London.
Now, they show their doubters just what they were missing out on.
Joel Ward and Vicente Guaita both looked comfortable in their positions before the season started, with no competition to repel. But with the introductions of Clyne and Butland, this is no longer the case.
Overlooked, underestimated, and thrown to one side - Roy Hodgson's Crystal Palace never once looked like a team that could pose any significant threat to the best of the best.
In less than a year, though, Patrick Vieira's Crystal Palace have changed the narrative unconditionally. An over-reliance on Wilfried Zaha in past years has been almost whitewashed by the flurry of creative jigsaw pieces in the team now.
The Eagles are finally soaring in the upward, immediate direction again; somewhere they found themselves heading towards under Ian Holloway.
The buzz that took Selhurst Park off its hinges in the moments of 'Crystanbul' seem to be making a lively return, bringing hope of more to come when the bigger teams come to town.
Crystal Palace are no longer that team that will be stepped over by the so-called big six, and they cause problems to anyone who visits South London. The question now is, will the implementation of Patrick Vieira's fantastic five make regular appearances from now on?