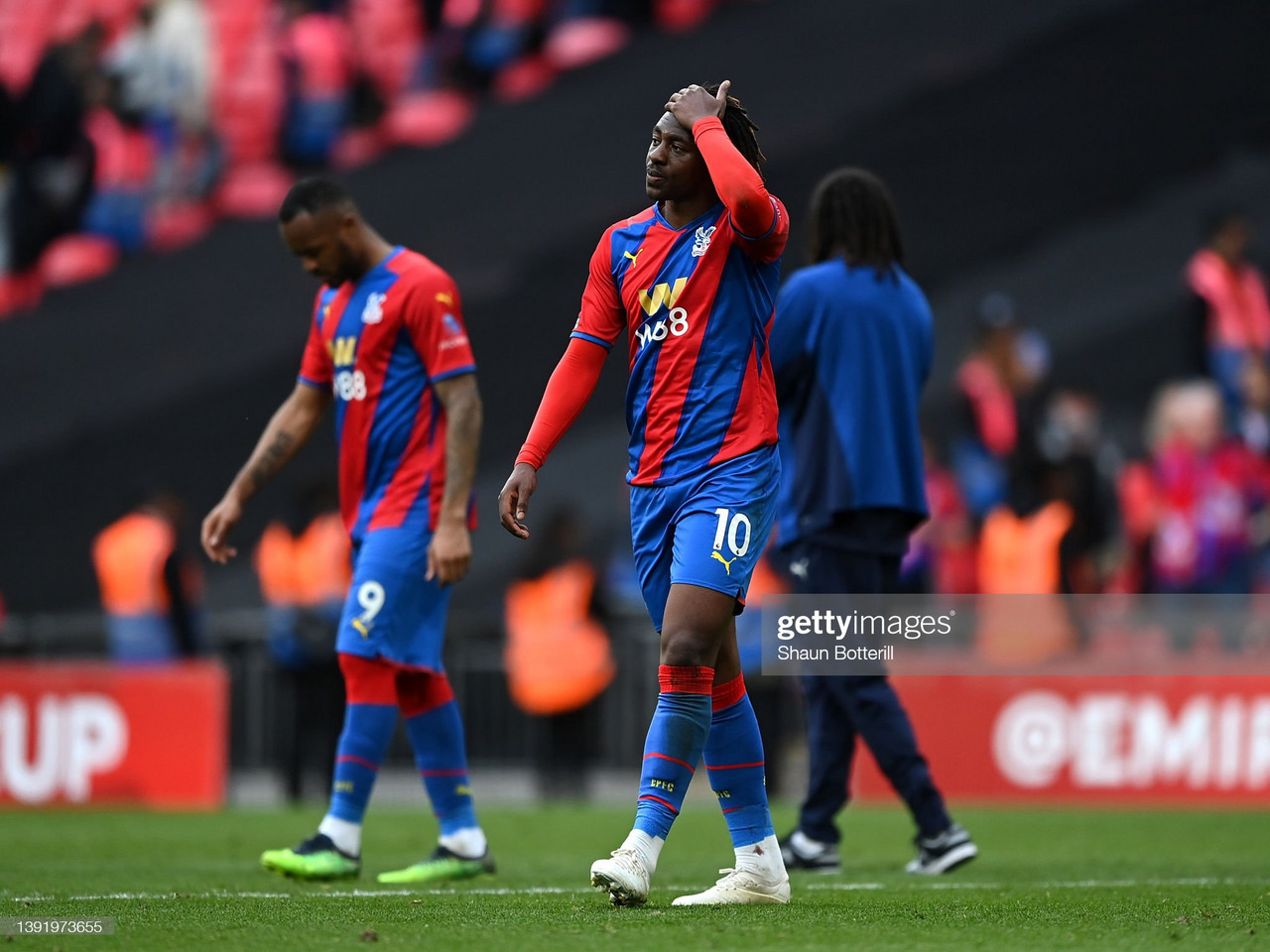 Patrick Vieira has instilled his confidence in Eberechi Eze ahead of tonight's crunch tie against Newcastle United, asserting his belief that the Englishman is fully fit to tackle the remaining seven games.
The 23-year-old midfielder suffered a season-ending Achilles injury last May, which has hindered his progress during Vieira's first season. Since his return to action, Eze has found it difficult to restore his starting position, with new signings Conor Gallagher and Michael Olise proving to be worthy competition for his spot.
Additionally, his new manager has controlled his game time, ensuring the creative livewire would not suffer another setback. In total, he has only played 170 minutes of Premier League football this season, but this number is set to surge over the remaining month.
And last time out, against Chelsea, he showed a glimpse into his magnum opus.
Offensive awareness, positive buildup play, and trickery on the ball drew praise from Patrick Vieira, despite his team's exit from the FA Cup on Easter Sunday.
There has been a growing demand and expectation from the Palace faithful to see Eze return to his best, and while he has shown his desire to return to first-team football through his round the clock appetite to train, he has supported his attitude with a string of promising performances.
"This is something he has been waiting a while for - to play 90 minutes," Vieira told the media ahead of his side's gruelling trip to Newcastle.
"Now he's had a couple of months of training every day, he's been playing a couple of minutes and is now fully fit to look for these 90-minute games. The more games he plays, the better he will feel, but I was really pleased with his 90. He felt tired after the game, but that was expected.
"What is important for him is that, with seven games left, he will start some of them, and he will come off the bench from others. What is important for him is to keep training on a regular basis to build his fitness and see what happens at the end of the season.
"I'm really pleased with what he's been showing and he will play games from now until the end of the season."
Eberechi Eze's next venture in the Premier League could come against the very opposition that tried to tempt him away in January. Crystal Palace will face Newcastle United in the next round of fixtures, and Eze could hold the key to unlocking the Magpies' defence.
During the contest, the number 10 may draw comparisons to his opposite number, Allan Saint-Maximin - a player who Vieira will know very well from his time managing OGC Nice in Ligue 1.
When asked about the differences between managing the two stars, Vieira said: "You really need a lot of energy. But Saint-Maximin was a joy to work with. He is somebody who loves the game and loves football.
"He has so much quality that allowed him to dream about being an international player."
Will Ebere Eze see a return to his past form?
Certainly, Vieira isn't lying when he says the sole purpose of Eberechi Eze's minutes for the final games of the season is to build fitness and match sharpness. But in the back of the Englishman's mind will be the desire to go a step further.
Last season in a red and blue shirt, he contributed to 10 goals in 34 Premier League games, giving Palace fans their first taste of what's to come. In essence, it was Eze who first brought hope that the Wilfried Zaha overreliance was slowly loosening its grip.
The way Eze's demeanour effortlessly floated across the pitch brought excitement back to Selhurst Park, and the number 10 will be wanting to replicate that in his final games of the season.
Eberechi Eze is more than capable of winning games by himself when he is at his best; he was born to conjure regular spectacles. While the future of Conor Gallagher at Crystal Palace remains up in the air, Eze's return to magnum opus may solve plenty of problems.