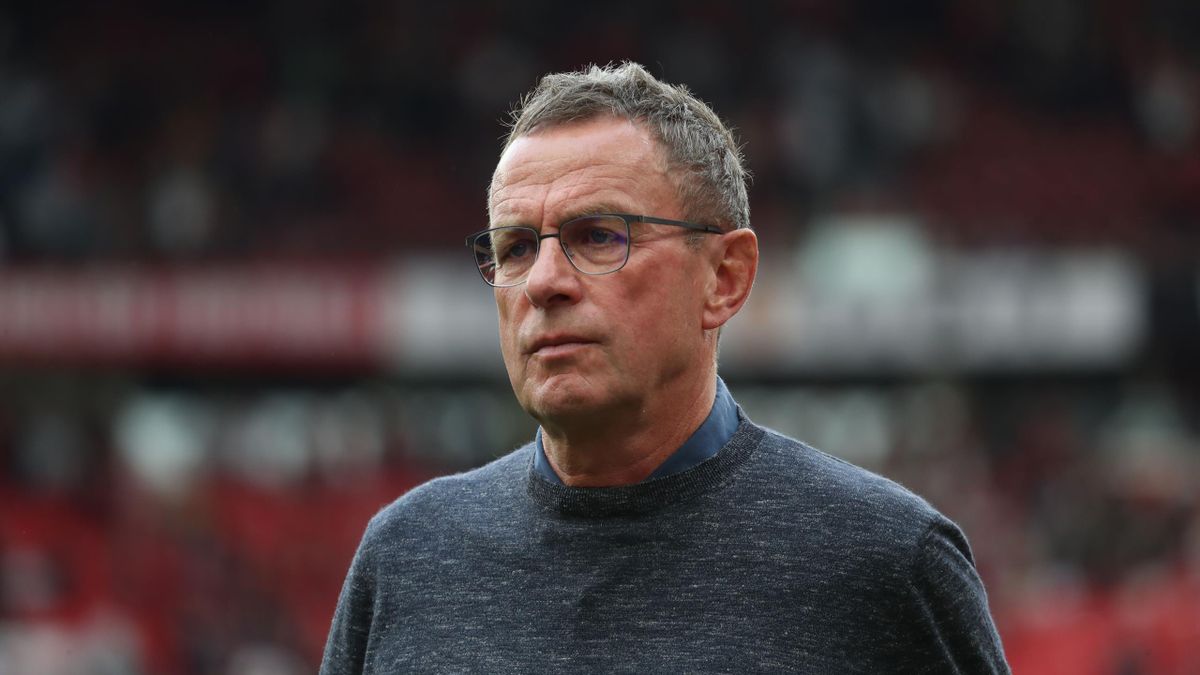 As Manchester United travel to the south coast on Saturday evening to face Graham Potter's Brighton, interim boss and newly named Austria manager Ralf Rangnick spoke to the media on Friday afternoon, revealing on team news, the challenges ahead, speaking to Erik ten Hag and Jesse Lingard's situation.
Team news
With United's last game coming on Monday night against Brentford, Rangnick revealed there will be changes to the squad at the Amex.
"Harry [Maguire] is back in training. He trained the whole week since the second day after the Brentford game. He will be available for tomorrow and has been part of the group."
However, the German kept his cards close to his chest on whether his skipper would start.
"This is a decision I have to make after training today and obviously I do not want to tell our opponents who will be part of the line-up, but he will definitely be part of the group", said Rangnick.
Rangnick also confirmed Marcus Rashford will be missing through illness.
"He has got a bronchitis with high temperature, so he won't be able to be part of the group and we have a question mark behind Eric Bailly. He called the doctor this morning and had some back problems and is being checked right now and we will have to see whether he will be able to train afterwards."
Bailly has been linked with a move away from the club, having featured just seven times in all competitions this season.
The challenge's ahead
With the Reds not in action for 13 days after the upcoming fixture, Rangnick reflected on the previous two games against Brentford and Chelsea, where United managed to pick up four points, with the 63-year-old fairly pleased with the game against Thomas Frank's side.
"The last two home games we got four points, and we spoke already after the Brentford game that it was one of our best performances in possession of the ball, and one of our best games in the last six months. This does not mean that everything was perfect but in possession we were controlling the game.
"I am positive that the team will try to play at the same kind of level tomorrow and in two weeks' time against Crystal Palace. What I liked about the [Brentford] game was that you could see they [players] had fun playing together and they were enjoying themselves on the pitch – which is exactly the kind of approach we need tomorrow."
The Seagulls come into the contest having lost just once in their last six outings, sitting in ninth place and they certainly won't be a pushover for this current crop of United players.
Incoming Erik ten Hag
With the announcement of Erik ten Hag taking over the reins at Old Trafford from the summer, huge changes are expected across the club's footballing structure, with chief negotiator Matt Judge joining senior scouts Jim Lawlor and Marcel Bout in leaving Old Trafford in recent weeks.
As for Ten Hag, Rangnick is set to speak to the Dutchman at the end of the season.
He said: "We want to have our full focus on the outstanding games. He [Erik] has another three games to play and will do everything to try and win the title in the Netherlands and we have agreed that we will speak about everything at the end of the season."
United have 15 players out of contract in the next 18 months, and Rangnick is fully aware of the changes needed for where United want to be.
"With regards to next season, there will be some changes because there are quite a few players whose contracts are expiring, and we spoke about that earlier on. With the right new players to join us here plus the players who are already here on longer term contracts, in the end it is a thing that needs to be discussed with Erik and the board. Erik needs to tell the board which player he wants to work [with].
"I am positive with the right new players plus the players that are already here the pathway could be a very positive one and this is what we will all try to achieve."
The Departing Jesse Lingard
As per large parts of the season, there has been a lot of dressing room unrest at the Theatre of Dreams, with Jesse Lingard's brother the latest to share his frustration on behalf of the 29-year-old.
Lingard's brother took to Instagram to share his displeasure on how the academy graduate hadn't been granted a send-off after United's home game against Brentford.
On the post, Rangnick said: "To start with, in the last couple of weeks under my tenure he has played far more games than he used to before I came. Number two, on gameday against Chelsea, he contacted me in the hotel and asked me to release him from the game and to also release him from the training session two days after the game for some personal family reasons and I also allowed him to do that.
"This was also the reason, with only three subs, I had to take a decision between bringing on Edinson Cavani or Jesse Lingard, or even the young Alejandro Garnacho, who I would have loved to bring on and give him a chance after being three-nil up and another 50 minutes to play. I took the decision to bring on Edinson for the very reasons I just explained to you."
Lingard has made just four starts all season, with the Englishman out of contract and fully expected to leave this summer.
Rangnick continued: "Hadn't I brought on Edinson Cavani maybe somebody else would have posted it was classless not to bring on Edinson Cavani or the young Alejandro Garnacho. With only three subs and two had already been done, you have to take a decision, and this will not be the liking to everybody."
The interim manager also spoke on how he hasn't taken much note of things said on social media.
"To be honest, I am not reading a lot. I have not had the time in the last six months to read. I am not on Instagram and Facebook. I am not engaged in those areas. My focus has always been here with my coaching staff to develop the team. With social media there is always somebody posting something, and it is important for us not to take notice of it unless it is the player himself."