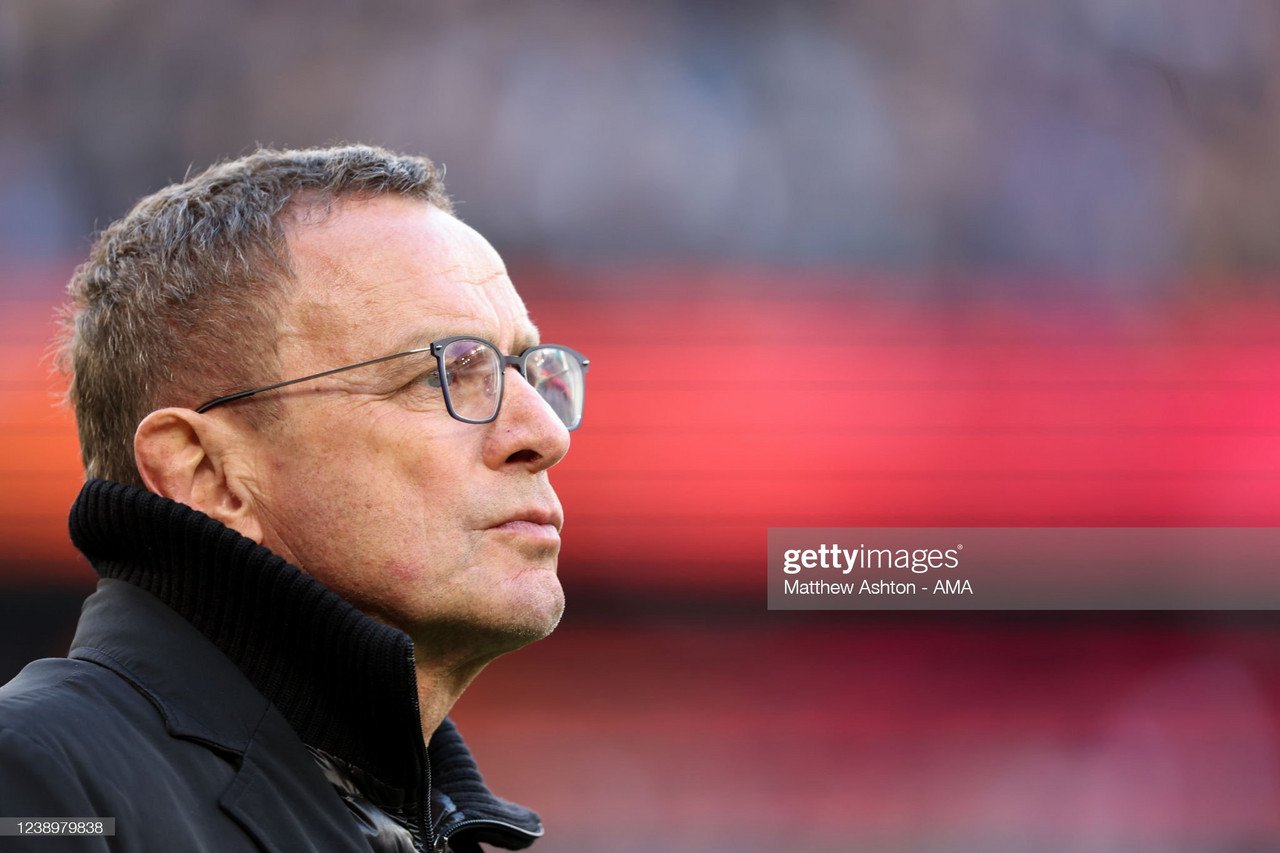 As Manchester United prepare to return to Premier League action on Saturday afternoon, Ralf Rangnick spoke to the media ahead of his side's clash with Tottenham Hotspur.
Both sides have endured difficult periods across the 2021/22 campaign but the target of a top four finish remains very much alive.
The race for UEFA Champions League football next season does look to be in Arsenal's hands, but a victory from either side on Saturday, mixed with a slip up from Arsenal, could provide a crucial switch in momentum as the season rapidly nears its climax.
Earlier in the season, United travelled to Spurs and came back with all three points thanks to goals from Cristiano Ronaldo, Edinson Cavani, and Marcus Rashford – a result that saw Nuno Espirito Santo relived of his duties.
If The Red Devils were to get another victory, it would be the first time that United would have won three consecutive league games against Spurs since a run between 2009 and 2010.
Here's what Rangnick had to say ahead of Saturday's crucial showdown.
Tottenham game is crucial
With Saturday's game serving as a catalyst for either side's top four hopes, United could look back on this fixture at the end of the season as the match that either made or broke their season.
Rangnick wasn't shy in expressing his thoughts on the importance of the clash against Spurs:
"We are fully aware about the importance of tomorrow's game. At the same time, the game on Tuesday. But now the most important game is the game tomorrow against Tottenham. We have to win that game, we are fully aware of that.
We had a good week of training. The players are also fully aware about the importance of the game. The focus is there, the togetherness was there in the training sessions. So, with regard to players, we will still miss out Luke Shaw," Rangnick said.
"He's until yesterday still being tested positive with Covid. Scotty [McTominay] is a question mark, he had some problems with his calf so we have to wait and see until after training today.
"Right now, it is more likely that he will not be available because if we risk him tomorrow, he will more likely be out for the game on Tuesday, that's why I tend, with muscular issues - even more so if it's the calf muscle - I tend to be careful," he continued.
The Ukraine war is not a footballing tragedy but a human one
In light of the horrifying, ongoing invasion of Ukraine by Russia, it was only right that Rangnick was asked for his opinion on things – especially after the news that Roman Abramovich's assets had been frozen.
Here's what he had to say:
"Well, to be honest, everybody, I think, shares the same opinion, that this is a tragedy, what's happening over there. Everybody can only say, fingers crossed, that they find somehow a peaceful solution once again.
"With all the measures that have been taken recently politically and with regard to the economy or whatever, it also now affects the football business in a way [which] seems to be logical to me," the German said.
"But again, I don't have enough inside information to speak about, for example, what is happening now at Chelsea.
"But if you look at it in a bigger picture, for me, it's just a human tragedy and I very, very much hope that in the next days and weeks that they can find a peaceful solution."
Rashford has to fight to get back into the side
Marcus Rashford has endured a difficult spell at Old Trafford in recent times, and the 24-year-old was dropped in the Manchester derby last weekend.
The attacker has come under immense scrutiny for his below-par performances, and Rangnick was asked what Rashford must do to get back to where he should be:
"To play on the same level that he trains. This is all. We spoke about that a week ago or two weeks ago in a press conference. Marcus is training well, he's got abundant talent, he's got almost everything that you need as a modern striker.
"For him, it's only about transforming the performance of the training sessions into the regular games," he continued.