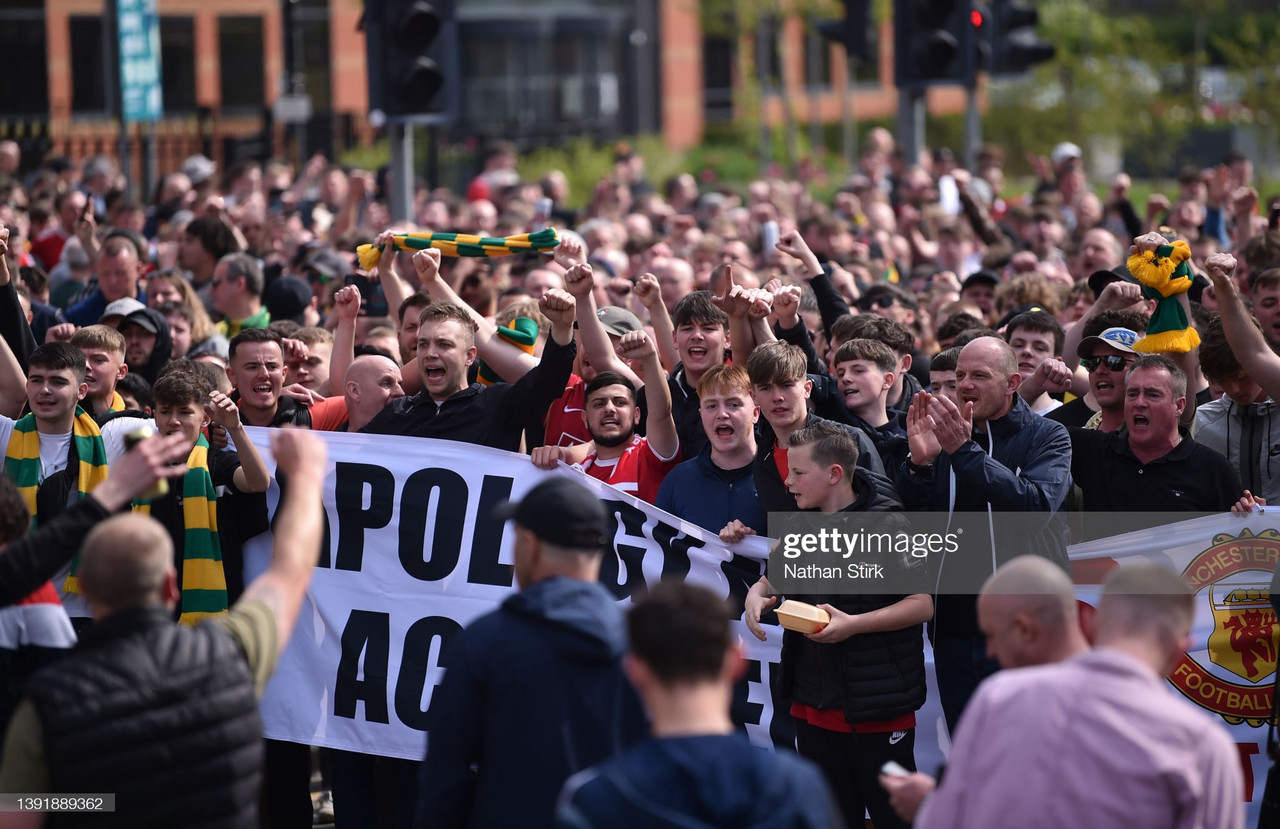 "You're not fit to wear the shirt."
A sound rarely heard from match-going supporters serenaded some Manchester United players after an underwhelming display against Norwich City – seldom do United's base of support turn on their own.
However, on a day where anti-Glazer rhetoric reached its crescendo, twelve months removed from the European Super League fiasco, United supporters had had just about enough.
Yes, a game had been postponed in the immediate aftermath due to fan protests, but it is difficult to remember a match where home support – especially those in the Red Army section above the tunnel at Old Trafford - had turned so vociferously against its players.
A culmination of years of anger
United's ownership has never been popular among supporters, with the highly controversial buyout of the club in 2005 leading fans of the club to protest, boycott sponsorships and even leave the club completely.
For instance, FC United of Manchester still attracts crowds of 2,000 in the seventh tier of English football.
Those who just couldn't turn their back on Manchester United were stuck with Glazer ownership, and until Sir Alex Ferguson's retirement in 2013, consistent success was an amicable trade-off for the unpopular ownership, who had a largely hands-off role in the club due to Ferguson's success, coupled with David Gill's executive prowess. An all-too-brief green-and-gold petition in 2010 should be noted as a result of the possibility of purchase from a group heralded as the 'Red Knights'.
However, once Ferguson and Gill retired, some would argue United were left like rabbits in headlights, unaware of how to operate without their two long-standing custodians. A first-time chief executive was appointed, and nearly ten years of poor management concluded with the shady and still maligned formation of the Super League.
While the Glazer family promised enhanced communication with United supporters, very little has arrived. Little has been said since the announcement of a fan share scheme and a fan advisor on the board will take some time to take noticeable effect.
Poor results on the field, little indication of a plan going forward and the belief from fans that some players just aren't trying – led to further protests prior to kick-off against the Canaries.
There was a notable absence of seats in the Red Army, who are usually in place an hour before kick-off bringing an atmosphere to Old Trafford. Many had committed to a 17-minute boycott promoted by a fan group – the 1958 - who seem to be the new face of fan disgruntlement.
Throughout the afternoon, anti-Glazer chants spread from the Red Army and Stretford End right around to the East Stand – including a chorus of "Stand up if you hate Glazers" – with a lot of supporters inside the ground rising, soldier-like, to send a message to their owners.
Where do supporters go from here?
The Glazer family are unlikely to sell the club. The facts are undeniable. Even a brief flirtation with a Saudi Arabian bid two years ago would have only resulted in a minority stake – but United supporters are adamant things must change.
United recently appointed planners to oversee a masterplan for the redevelopment of Old Trafford, a move that has been long overdue, with the last major investment into the ground being prior to the Glazer ownership (approval of the quadrant expansion had been given prior to the takeover).
United are lightyears from Liverpool and Manchester City with regards to club-building, but appointing Ralf Rangnick to a more executive role to work alongside the imminent Erik ten Hag is the best pure footballing decision the club have made since Ferguson's retirement.
Ten Hag is a risky appointment, with Mauricio Pochettino being the safer choice, arguably. But United's biggest risk with a new manager would have been not taking a risk at all. The two best coaches in world football are taken; Ten Hag has a chance to build his own legacy if given the resources and structure.
Supporters will continue to protest until they see that the best interests of the club are at the heart of decision-making – not the best interest of commercial partners. It has baffled many that the ownership seems to be settled when consistent UEFA Champions League qualification is secured, despite consistent success in those competitions proving to be the biggest reason why companies jump on the bandwagons of clubs.
The game is underway at Old Trafford but more than a thousand Manchester United fans have remained outside in protest at the clubs ownership. #mufc #ncfc pic.twitter.com/9sN2GHZaKh

— Andy Kerr (@AndyKerrtv) April 16, 2022
And supporters are well within their rights to continue to protest – there has been no direct funding from the ownership since the takeover, few decisions have been made with success on the pitch being the main concern, and as aforementioned, the stadium – once the envy of every club in Britain – has now become merely a shell of despair.
Manchester United and their supporters are at a crossroads. The ball is in the club's court – supporters can and will follow when football becomes the priority: until then, expect protest to continue.