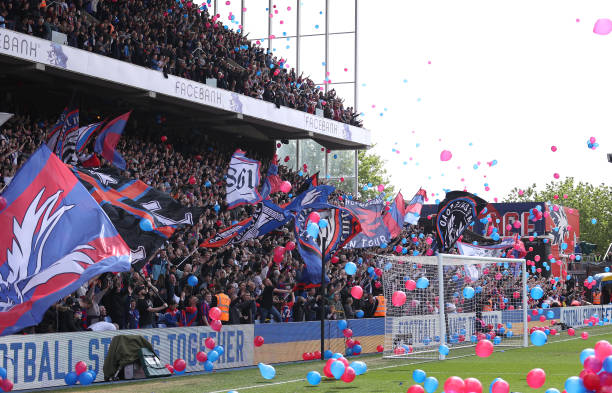 Watford go down without a fight
One might have been forgiven for assuming this was a routine end-of season encounter between two mid-table teams. Of course, it wasn't and Watford could have done with a reminder.
This was the result that confirmed Watford's relegation, though you would never have known it from their insipid display. In a game they had to win, the Hornets mustered just a single shot on target, and didn't look remotely interested in chasing a goal in the closing stages.
Realistically, the players would have known that it was all over after their defeat to Burnley last week. But witnessing a side being relegated without putting up any fight whatsoever still comes as a surprise – unless you happen to be a Watford fan.
Watford have had three different managers this season and the disorganisation shows.
In previous years, they seemed to be able to chop and change regularly and make it work, but no longer. This, their sixth defeat in a row, consigned them to another year in the Sky Bet Championship, and the club need to rebuild. Serious changes are needed there if they are to bounce back next season but it doesn't look likely based on this performance.
Palace prove they are the best of the rest
Watford's limp performance meant that Crystal Palace had a much easier afternoon than they might have anticipated.
The Eagles have played far better this season and never needed to get out of second gear here, cruising to victory in a match they controlled from start to finish.
At the beginning of the season many had tipped Palace to be among the strugglers, but this was affirmation that they are comfortably above the poorest teams in the league.
Patrick Vieira's can look forward to a 10th successive season in the Premier League after their latest three points of an impressive campaign.
The young, hungry squad can only get better from here, and there will likely be more reinforcements on the way in the summer transfer market. There is no reason to believe they will be any closer to the bottom next year.
Edouard can't catch a break
The lesser-spotted Odsonne Edouard was granted a rare start for the Eagles on Saturday, preferred to Jean-Philippe Mateta in the central striker's role, and he can be satisfied with his afternoon's work.
Given the opposition's negative tactics, space in forward areas was at a premium but Edouard showed endeavour, a willingness to press high, and flashes of neat interplay with Wilfried Zaha and Ebere Eze.
His crowning moment almost arrived just after the hour mark, as the French forward evaded two Hornets defenders inside the box before lashing a left-footed strike against the post, via goalkeeper Ben Foster's foot.
It was agonisingly close to what would have been a much-needed goal for the beleaguered striker, who hasn't scored since the 3-1 defeat against Liverpool on the 23rd of January. The margins are small, and a single goal can often be the catalyst for an out-of-form player to go on a run. Edouard will be hoping for better luck next time. He needs it.
Hodgson is history – and 'Roy-ball' might be going with him
Roy Hodgson's first act as relegated manager of Watford was to share a joke and a friendly chat with some of his former Palace players, including Zaha and James Tomkins.
Showing a lack of respect for his new club, Hodgson did not even acknowledge the sold-out travelling support, dubiously claiming afterwards that they were "too far away".
This flippant demeanour and pallyness with the Palace boys has not gone down well in Hertfordshire and it smacks of a man with no skin in the game, who knows his time at the top level is done.
Hodgson has already announced that he won't be returning to management next season and given how he has fared in his final assignment as a coach, that might be for the best.
His preference for a passive approach, where his teams sit deep and look to break only occasionally, is no longer a good fit in modern football. In choosing to replace him last summer Palace recognized that the game is moving away from such negative tactics, and almost all the top teams now look to play aggressive, front foot, pressing football. That is very much not Hodgson.
He is a football legend for many, but all good things come to an end and Watford fans will be hoping it comes sooner rather than later.
Zaha continues to torment Watford
In truth, this was not a brilliant spectacle. The sight of hundreds of red and blue balloons flooding the Selhurst Park pitch before the game, delaying kick-off by several minutes, was a rare moment of colour on a sleepy afternoon.
If there is one man who can be relied upon to ignite a game, it is Wilfried Zaha.
The winning penalty was his 6th strike against Watford in total, increasing his tally to 12 goals and assists from 21 appearances vs the Hornets.
Zaha relishes his status as pantomime villain, and so do his adoring supporters in SE25. 'Oh Wilfried Zaha, he's sending you down!', was lustily bellowed from the stands after he dispatched the spot kick.
The penalty finished Watford off but they had stopped fighting a long time ago.