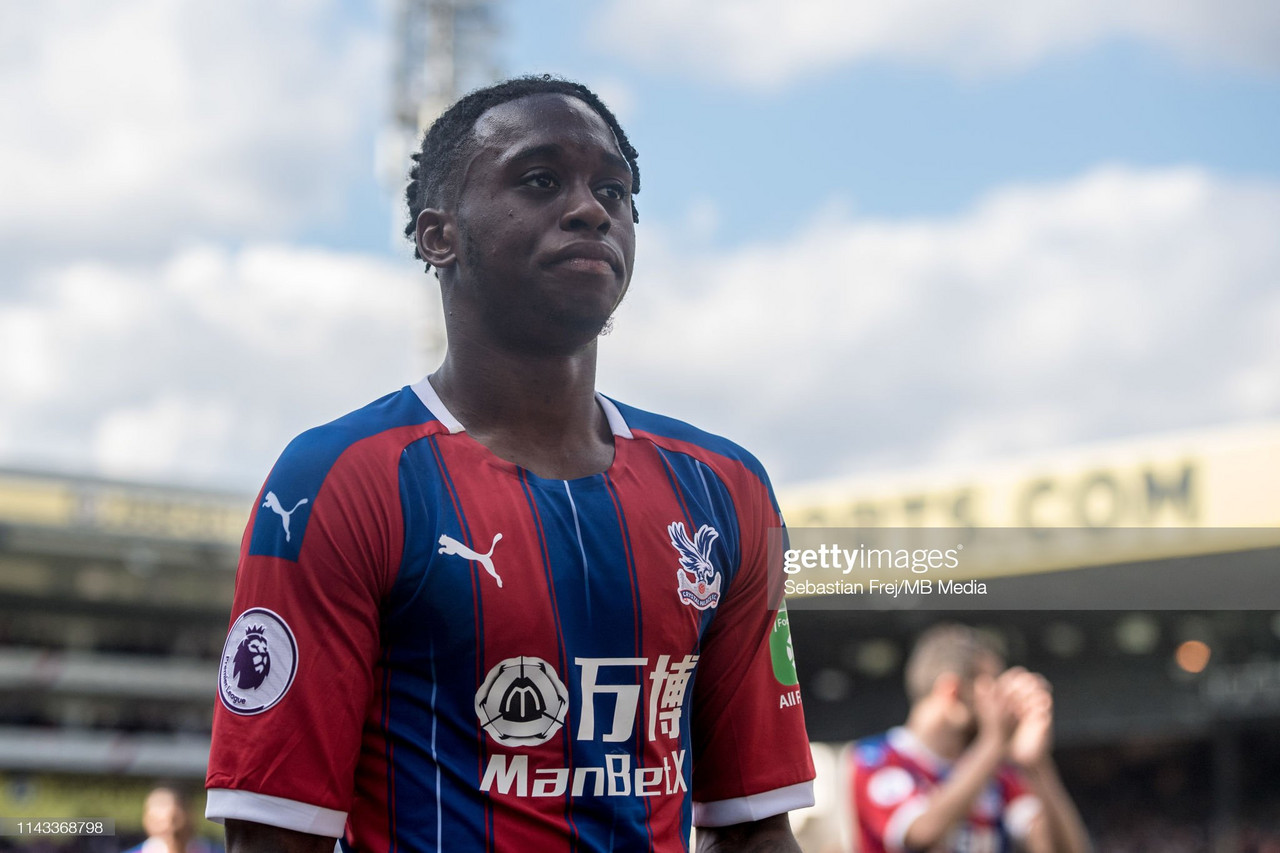 For Crystal Palace fans, it's hard not to feel a bit sorry for Aaron Wan-Bissaka. The Eagles' academy graduate, who built a reputation as one of the hottest young talents in the country in his time at Selhurst Park, has endured a torrid spell at Manchester United.
In truth, if his time there hadn't been so miserable, Palace wouldn't be getting linked with him again. As it happens, his availability comes just as Patrick Vieira's men are in the market for a new right-back: Nathaniel Clyne and Joel Ward are both the wrong side of 30 now, and Nathan Ferguson's injury record has restricted him to just 10 minutes of game time in two seasons.
While their recent transfer strategy has seen them looking further down the ladder for up-and-coming gems, Wan-Bissaka's situation offers Palace the chance to sign someone from one of the elite - in theory, English teams.
Out of favour in Manchester
On the face of it, it's a deal that would make a lot of sense. The Croydon boy, who was a huge fan favourite in south London, and would have seen how Wilfried Zaha re-traced the same steps back from Manchester to revive his own career, is unlikely to be wanted by incoming United boss Erik ten Hag.
The Dutchman demands technical excellence from all eleven players in his side and likes his full-backs pushed high up the pitch to contribute heavily to attacks.
Even the most ardent AWB-defender would acknowledge that this doesn't bode well for him.
The prevailing theory is that he's a solid defender but struggles with the offensive side of the game. Although he isn't completely incapable going forward, in his debut 2019-20 season at United, this seemed an accurate appraisal.
A very solid 35 appearances for the third-strongest defence in the Premier League, featuring more successful tackles than anyone in the division, led to Gareth Southgate calling him, "a very good defender, one against one probably as good as I've seen". Two exceptional performances against Raheem Sterling in the derby games were a particular standout.
Of course, this wasn't enough to actually earn him a place in the England squad, and his subsequent decline has been sharp. These days he is no longer United's first choice, with the functional but hardly outstanding Diogo Dalot now preferred.
Even his defending, once thought impeccable, is now considered suspect, with poor positioning highlighted as a specific weakness. His stock has fallen to the point that it is very hard to see him getting back into the United XI next year, especially given ten Hag's penchant for technical proficiency.
Up to a point, United's chaotic dysfunction of the past few years is a mitigating factor and he is far from the only one who has stagnated there.
But that shouldn't mean he gets a free pass for his poor form.
Can he restore his glory days?
Is Wan-Bissaka's regression – along with those of Paul Pogba, Marcus Rashford and others – down to a lack of coherent structure at his club, or was he just never that good in the first place?
The answer is that we don't know yet.
At 24, he still has time to resurrect his career. The trouble for Palace, when weighing up a move, is that this is only one of a number of unanswered questions. How damaged is he from his ordeal at United?
How motivated would he be to come back down the ladder to little old Selhurst Park? Considering Palace's style is now far more expansive than when he was last there, is he technically good enough to offer what they need?
All of which, along with his likely sizable wage demands, make a season-long loan deal the most sensible option. It would give both player and club the chance to size each other up again, to make sure the glove still fits.
Palace would retain some transfer budget to spend in other areas while milking one more season out of Clyne or Ward as a backup and giving Ferguson some breathing space to finally get fit. Wan-Bissaka could rebuild his confidence and, even if a permanent move home didn't work out, he'd be putting himself in the shop window for someone else.
You would imagine that Dougie Freedman, Steve Parish and the recruitment team have weighed up these risks, and if they do decide to bring Wan-Bissaka home this summer, Palace fans can trust that they'll be doing it for the right reasons - and not sentimental ones.