A consistent performer in a Liverpool defence which has often taken criticism this term, Nathaniel Clyne insists he is "looking forward" to taking on Manchester United in the Europa League.
"I relish it" the former-Southampton player told the club's website when asked about the upcoming fixture, which will be the first European meeting between the Reds and their old rivals.
Clyne revealed that playing in Europe has "everyone excited" at the club and told Liverpoolfc.com that "this is why I signed for such a big club, to look forward to nights like this."
The right-back has been an almost ever-present in his debut season at Anfield, appearing in all 27 league games as well as notching up seven. Europa League outings.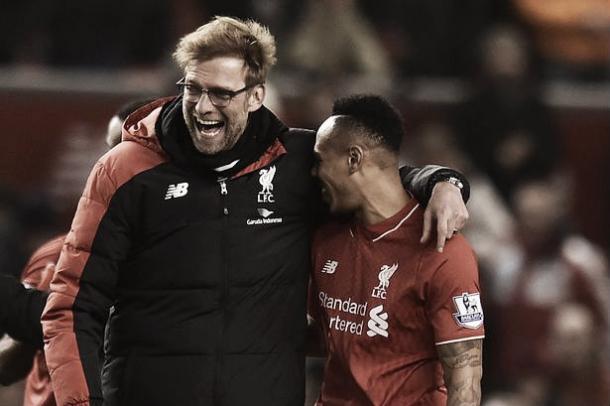 The England international is experiencing his first taste of continental football in the Reds' Europa League campaign, but is far from overwhelmed by facing Louis Van Gaal's side in the last-16 of the competition.
Defender says Liverpool are ready to reap revenge
"Everyone loves to play European football so it's going to be exciting up against our rivals, United," Clyne continued, before claiming that "we owe them [Manchester United] from the Premier League games."
Liverpool have lost to the Red Devils in their last four league meetings, including a 3-0 home victory for United in Clyne's first appearance for his new side against their North West rivals earlier this season.
In addition, United snuck away from Merseyside with all three points in Klopp's first head-to-head with Liverpool's fierce enemies back in January.
Yet the 24-year-old stated that he and teammates need to "take it to them" when asked about the fixture, also saying that "hopefully we can get the goals and get a good result going into the second leg."
Clyne also admitted though that keeping a clean sheet will be "the most important thing" for Klopp's team in the first leg of the tie at Anfield. "We don't want them to get an away goal," he declared.