Dejan Lovren is enjoying working his way back towards full fitness as he targets a successful 2016-17 campaign with Jürgen Klopp's Liverpool, believing last term can act as a springboard for a "much better" season this time around.
The Croatian enjoyed a remarkable turnaround under the German last season, becoming a key member of the side alongside Mamadou Sakho and helping create a formidable partnership which helped the club to two finals, including the Europa League.
Lovren's form makes the centre-back an almost guaranteed starter ahead of the new campaign, particularly because of Achilles tendon injuries to Sakho and Joe Gomez.
And the Reds' No.6 believes they can look ahead to a promising season in Klopp's first full campaign, having only taken charge last October.
Defender looks back on frustrating 2015-16 campaign
Speaking to Liverpoolfc.com, Lovren insisted that he's "ready to start the engine again" as he said he's "feeling a little bit tired" at the start of pre-season, dismissing it as "normal" after a lengthy summer break.
The defender got longer than any of his other international teammates, having not joined up with Croatia for Euro 2016 due to issues with the national team coach, and called it "a good point" to be back again "and working hard."
"We didn't have two days off in the middle of last season because we had a game every three or four days," the 27-year-old explained when looking back on last term, adding that the Reds had "a lot of injured players" and "couldn't change some players that you needed to change."
He acknowleged that it was "quite tough" at times but insisted he and his teammates are "here to work and give everything for the club." Lovren declared that the season "would have been much better" if they could have won the Europa League final, revealing: "I still regret it [losing to Sevilla]."
Lovren still regrets losing European final in May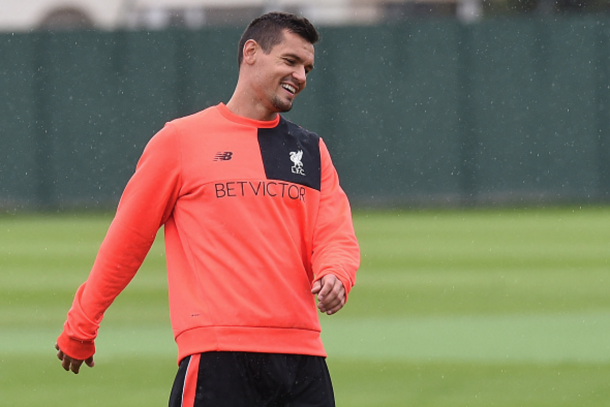 Nevertheless, the club's European escapades at the very least reaffirmed Klopp's belief in the talent and spirit available to him among Liverpool's current ranks.
And Lovren insists the squad must use the disappointment and frustrations of losing out on silverware in their final, and 63rd, game of last season as motivation to go one better this year.
He said that he hopes the team "will have other finals" and that they "need to use this one" in order to "never repeat it again."
"I regret it and feel we didn't play 100 per cent in the game," Lovren added on the performance in Switzerland, insisting that in the "two or three games before" they "did the same with all our heart and won against the big teams."
He admitted the result of the final is "definitely a disappointment" for everyone at the club but that it can act as "a learning process" for the players "and the coach."
Lovren confident for an improved future under Klopp
"It's normal, it's football, it's never perfect," he continued, insisting they will "definitely use it for next time" as they look to seal Champions League qualification.
Lovren insisted that, given Klopp and his backroom staff have now been in charge for nine months and will have had a full pre-season by their league opener at Arsenal in mid-August, the club can have a more successful campaign.
He said that the manager "came suddenly in the middle of the season" last year and that meant it was "really tough" for him to adapt, although Lovren added Klopp "was adapting much quicker than everyone was thinking."
He suggested last year was "like a warm-up" for this season, insisting that as a result Liverpool will have "a much better with him [Klopp]."