Louis van Gaal has been sacked by Manchester United after intense speculation over his future at the club, widespread media reports suggest.
Van Gaal, 64, lifted the FA Cup on Saturday after an extra-time winner from academy graduate Jesse Lingard. Yet it has proved to not be enough with former-Chelsea manager Jose Mourinho set to take over in the coming days.
Mourinho expected to replace van Gaal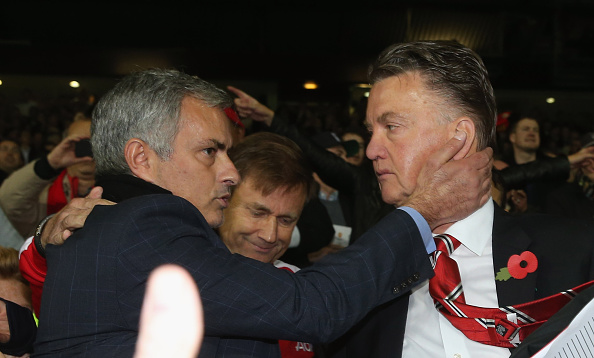 Van Gaal failed to reach United's minimum target of a top four finish which secures UEFA Champions League football. After a good first season where the Dutchman began to rebuild the club following the quick departure of David Moyes, van Gaal has not continued to improve the club. The FA Cup win was a relief to United fans and although a trophy provides memories and excitement, for the owners of the club, missing out on Champions League is not good enough.
Van Gaal's style of football has angered United fans
United had the chance to finish in the top four, needing to win their last two games but failed to do so after a 3-2 loss at West Ham United.
It is believed that the board were keen to stand by van Gaal until just a few weeks ago but since the beginning of May, his position has looked untenable and Mourinho's arrival inevitable.
Just minutes after United's Cup win on Saturday, reports of his sacking began to surface. Some suggest that he only found out the news via his wife, Truus.
When van Gaal arrived at the club in July 2014, he brought in his own backroom staff. It is now reported that they have also been sacked. That includes Albert Stuivenberg, Frans Hoek and Max Reckers. Hoek is believed to have fallen out with United's best player David de Gea to the extent that the Spanish goalkeeper was considering forcing a transfer had van Gaal and his team stayed. Ryan Giggs' future is yet to be decided.
According to the Telegraph. Paul Gilroy QC has sorted out van Gaal's severance package. The Dutchman leaves the club with a £400,000 bonus for the Cup win at the weekend as well as a £5m pay-off, his contract was due to finish at the end of the 2016/17 season.