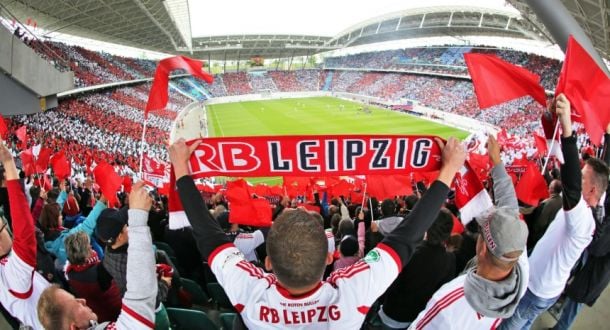 With their promotion to the 2.Bundesliga, RasenBallsport Leipzig e.V have reached a new plateau of exposure, with more foreign football fans becoming familiar with their rapid rise which drew the ire of German football fans and opposition clubs to degree never experienced before. Sure, there was discontent with the sudden rise of 1899 Hoffenheim, backed by the millions of Dietmar Hopp, founder of software giant SAP, and to a lesser extent Bayer Leverkusen and VfL Wolfsburg, clubs with strong ties to pharmaceutical company Bayer and automotive producer Volkswagen. However, nothing has compared to the disdain and thinly-veiled hate shown towards the latest addition to the Red Bull franchise of football teams, alongside Austrian Bundesliga side Red Bull Salzburg and MLS giants New York Red Bulls.
What seems to make things even worse is the fact that it is blatantly a promotional tool for energy-drink manufacturer Red Bull, but the powers-that-be managed to sidestep the 50+1 rule implemented by the DFB specifically to counter this very situation. The supporters of this project will undoubtedly correct you by indicating that it is not a Red Bull team by name, but it is glaringly obvious that this disguise just a farcical method of not falling foul to the strict DFB rules. In fact, the words Rasen Ballsport have almost nothing to do with football, unless seen in very literal terms, with the loosely translated English words being Lawn Ball Sport. The ingenuity of it has to be admired, though, with the initials of RB Leipzig leaving nobody in doubt over their financiers, while also not falling foul of rules blocking the explicit use of a company name in a football club moniker. This begs the question; is the whole project a brilliant exploitation of loopholes in rules, or an unethical way to promote a product?
In fact, after their automatic promotion from 3.Liga, there were doubts whether the club would be allowed into the second division due to their logo, expectedly, looking very similar to that of the company Red Bull. The wishes of fans opposed to RB Leipzig fell on deaf ears, though, as only a slight alteration which still leaves nothing to the imagination was needed for the DFB to be content. Many will ask why this whole affair is such a big deal to football fans, and the answer is simple. German clubs take pride in being fan-centered, with the vast majority of sides being partly fan owned. Thus there might not be too many funds to splash out on transfers, but everything is done with the city, its inhabitants and future sustainability in mind. RB Leipzig is the very antithesis of this, with numerous Red Bull board members being handed funds to buy into the club under instructions from the company due to DFB regulations stating that a registered club should have at least seven board members. RB Leipzig have nine members, all employers of Red Bull, in essence allowing the energy drink manufacturer to be in complete control of the club without actually doing so on paper. It is a very complicated affair, but very shrewdly done, which very much binds the hands of the DFB and renders them unable to put a stop to the progress of the club at this stage. As one can imagine, there is subsequently a bottomless fit of funds do delve into, with board members able to invest this into the club as their 'own' capital. This truly strays right on the border of ingenuity and a lack of ethics, and it understandably enraged fans of other more historically significant clubs, struggling to keep their heads above water as the financial demands of running a football team continues to increase.
The club came into being after investment in SSV Markranstädt in 2009, with many Leipzig locals being against the re-brand of the old club. In fact, fan protests even resulted in their then-stadium, Stadion Am Bad, being exposed to weed-killer which damaged the pitch, and the destruction of advertising. Intriguingly, Red Bull also attempted, unsuccessfully, in 2006 to purchase the traditionally significant FC Sachsen Leipzig, which was met by fan protests that even deteriorated into violence, forcing the company to abandon their project for the time being. Over time the inhabitants of Leipzig grudgingly agreed to the plans of a new club, leading to where we find ourselves in the present day. In the past transfer window, the extra spending power of RB Leipzig has been telling, with the club accounting for more than half of the 2.Bundesliga transfer expenditure. In fact, the German second division transfer record was shattered by Die Roten Bullen, as they are known, when Massimo Bruno was purchased for €9 million from RSC Anderlecht. To put this fee into perspective, FC Schalke 04 and Borussia Mönchengladbach, both Bundesliga clubs, paid €2 million and €2.25 million respectively for Sidney Sam and Andre Hahn, both full German internationals. Oddly, the player has been loaned immediately to the Austrian Red Bull franchise in Salzburg, making one wonder whether everything is being done above board.
There is no doubt that there are more questions than answers surrounding Die Roten Bullen, and whether they will be allowed into the Bundesliga when they gain promotion; an inevitability if one considers their ability to get the best players possible into the club. It is telling that they are already being touted as potential promotion candidates after just having moved up from 3.Liga, which illustrated how lopsided the competition is when one team can take advantage of such an embarrassment of riches while others barely scrape enough together to retain their playing licenses. The biggest concern, surely, is that other investors will look to follow suit in taking over clubs via the Red Bull blueprint of finding the loopholes in the very guidelines which were put into place to protect the integrity of German football.
In the end, it might all come down to whether the DFB have the courage and means to make a stand against RB Leipzig when they come knocking down the door of Bundesliga participation.