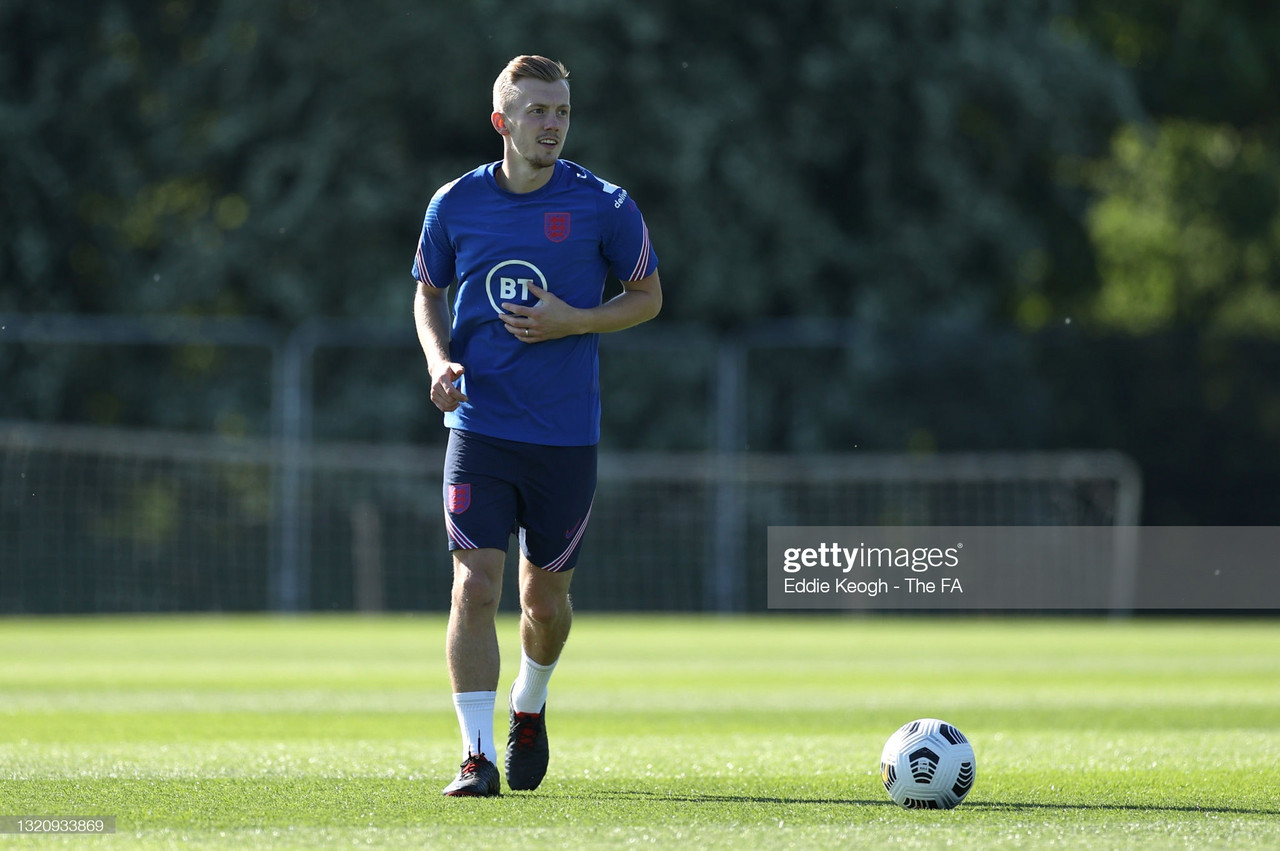 Much was made about Gareth Southgate's decision to include four right-backs in his final 26-man England squad for this summer's European Championships – with the number of designated central-midfielders being taken tallying only one more than his right-backs. One such name that was left in the cold was James Ward-Prowse, who, despite two below-average campaigns from Southampton, has been a rare player to shine, playing every minute of his last two Premier League campaigns.
What Ward-Prowse offers to England
Known primarily for his world-class set-piece ability, Ward-Prowse offers much in a more reserved role, as well as his contributions going forward. The midfielder would have been most useful, on the pitch, at least, in competition with Jordan Henderson, who is likely to start if he is declared fit.
The Liverpool captain spent the last three months of the season injured with a groin issue, with rehabilitation taking longer than expected, though the midfielder returned to on-field work in training with the Reds.
If Henderson had been unavailable for the tournament, as half-expected by many onlookers, then Ward-Prowse would have been the best fit for a like-for-like replacement.
He knows how to operate as a defensive midfielder, sitting in front of the back-four, but could also sit in alongside a more creative midfielder such as Mason Mount, a favourite of Southgate and someone who, after his excellent campaign with Chelsea, should be one of the first names on the team-sheet.
However, the Southampton skipper would contribute more than just on-field ability. The best, title-winning squads have more than one captain. Yes, Harry Kane and Jordan Henderson figure to remain as captain and vice-captain respectively, in a ceremonial sense, but England will also have the services of club captains such as Harry Maguire and Jack Grealish; leadership comes from all over the pitch, not just by the man wearing the captain's armband.
Ward-Prowse will have added another experienced voice, a man with plenty of experience in the Premier League. Is Ward-Prowse's omission merely an appeasement of the England fans' desire to see Trent Alexander-Arnold in the squad?
Four right-backs and five centre-midfielders
Did England need to take four right-backs? Absolutely not. Two would have sufficed, with three being the absolute maximum. It would have been difficult telling Alexander-Arnold or Reece James, the two men most likely for the chopping block, that they would not have been going to the tournament – but that's football.
Spain was ruthless by not taking Sergio Ramos – as football leaves no room for sentimentality. Kieran Trippier, a title-winner at Atletico Madrid this season, can do the right-wing-back job, with Kyle Walker being the best, all-round right-back in the squad.
The surplus right-backs could have been left at home, favouring midfielders such as Jesse Lingard or Ward-Prowse himself – a move that would have shown Southgate's aggression to this tournament.
It's really a question of who offers more: do you prefer Trent Alexander-Arnold being England's main set-piece taker at right-wing-back, or Ward-Prowse in midfield, who is undisputedly England's best free-kick taker?
Onlookers could tell you that the Liverpool right-back can do a job in midfield, and while his future may lie in the middle of the park, a knockout international tournament is the last place to be trying out new concepts for your players.
This is where you stick to what you know, and it is clear that England's overwhelming selection of defenders shows that they are likely to play with an Antonio Conte-esque 3-4-1-2 formation for the majority of this tournament.
At the 2018 World Cup, this was arguably necessary because of England's lack of technical ability compared to the stronger sides at the tournament, but this summer's tournament has England as one of the major favourites. Is this not the time to play with a more aggressive 4-3-3 style of play?
In both systems, a player with Ward-Prowse's ability would thrive – and his intangible qualities would serve England in good stead alongside his on-field class.
In the end, it comes down to the familiar England question: if Ward-Prowse played for a 'top-six' side, then he'd be going to the Euros this summer. But for now, England have played the risk of taking surplus right-backs rather than more centre-midfielders.