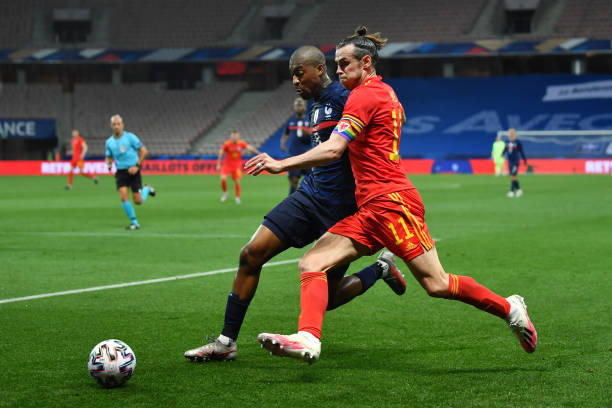 For Wales, what could have been one of the games of the night, a controversial red card decision clouded that feeling and killed off a David and Goliath-type game.
With France firmly on top of Wales' 10 men, Kylian Mbappe pounced on a rebound before Antoine Griezmann sent a beautiful curling effort into the top corner.
Ousmane Dembele added the third to truly dampen Welsh spirits, with Karim Benzema playing another vital role in the build-up.
But there were still positives to take from a reasonably one-sided game, so what did we learn?
Two of Wales' key players from Euro 2016 - Joe Allen and Aaron Ramsey. Both have struggled this season, to say the least.
Allen has had an injury-hit season, only appearing on 20 occasions - one of which was in the Premier League 2 as a way to gain back his fitness.
Ramsey's Juventus have had a poor season and has meant that the Welshman has not had his best season in the black and white Italian stripes.
However, even with Wednesday night's game being a friendly, it gave both players a chance to find their feet on the international stage again and allowed them to show just what Wales will need at Euro 2020.
The Stoke City man controlled the Welsh midfield until being subbed off, while 'Rambo' appeared late on and showed his quality straight away by sliding Dan James in and winning a freekick following a jinking run towards the France penalty area.
France's fiery front three
Benzema. Griezmann. Mbappe. Three names you do not want to hear together.
Mbappe preying on a rebound. Griezmann with a stunner at the start of the second half. However, Benzema, the one of the three who was not able to get his name on the score sheet, was, arguably, the most impressive.
The 33-year-old has been chosen to play for France for the first time in over five years and has shown just what Didier Deschamp's side have been missing out on. Even with his penalty miss, Benzema was not letting his absence get to him, racking up multiple shots on target and involving himself all over the pitch.
Benzema will be one to watch this summer, and will most likely have an outside shot of top goalscorer at Euro 2020.
All that stood between him and a goal on the night was Danny Ward (although Ward will get his own section for his performance).
What formation do you think of when you think of Wales? Five-at-the-back? Defensive? Playing on the counterattack?
Well Rob Page decided on a 4-4-2, with players being tested out of position and adjusting to a different style of attack. It seemed to be working, although it is unclear whether Wales could have come away with a result against the World Champions after a sending off after just 25 minutes - a needless refereeing decision in a friendly.
In the second half, we saw Ben Davies come on in a bundle of substitutions. The Tottenham Hotspur man slotted in at left centre-back, rather than in his natural full-back position.
Being down to 10 men for the majority Wednesday night meant that the game was more of a training drill for Page's men, showing why Wales had seven clean sheets in their last 10 games before facing France.
If this Wales squad is anything, it is versatile. This could be an important factor in this year's tournament, especially with
Up until Neco Williams' ridiculous red card - an accidental handball while blocking at the near post - the full-back was trying out a slightly different role against France.
Eyebrows were raised when the formations were released, showing Williams playing a midfield role. Many thought it was just a mistake and Wales were actually playing their usual five-at-the-back. However, Page and his team had something unique in mind.
In the 25 minutes Williams was on the pitch, the defender managed to show his flair and quality on the ball in the last third of the pitch, while still being able to put a shift in defense against France's fearsome front three.
What could Page be planning?
The last time Ward saved a penalty for Wales was in 2011 during a 3-2 friendly loss to Slovenia's Under 19s, but that did not faze the shot-stopper from pulling out the heroics to thwart Benzema.
That was just the start, with the backup to Wayne Hennessey giving Page a reason to be Wales' first choice in between the sticks. His performance was seen by most, gaining him the best player rating of all the Wales players.
It was evident in 2016 that Ward was a trusted keeper, being given the gloves by Chris Coleman against Slovakia in their first group stage game of Euro 2016 - Wales' biggest match in over half a century.
Hennessey has always been the first choice, however, with the Crystal Palace man being a consistent starter at Selhurst Park. With Ward stuck in Kasper Schmeichel's shadow, the 27-year-old has failed to burst onto the scene.
His performance against France has definitely made a point to Page.