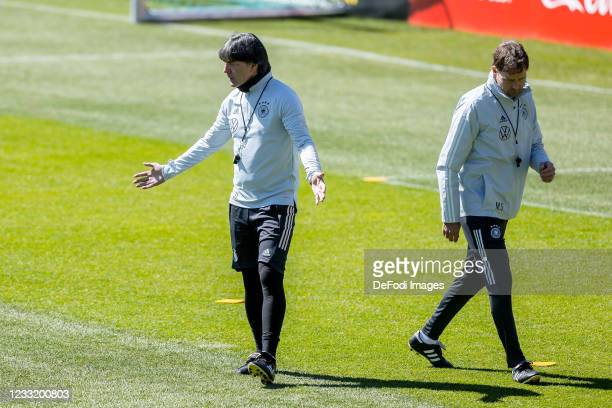 The formation that Germany used at the 2018 world cup was a standard 4-2-3-1 with the two holding midfield players meant to help cover the center backs however this did not happen. As a result of the first game after the World Cup in the nations league, Joachim Löw decided to switch to a 3-4-3 formation and it has become Germany's go-to formation since.
Most likely formation- 3-4-3
Germany will more than likely go into their first match against France with their now-standard 3-4-3.
This formation is becoming more and more popular in football as it means the team has an extra center back, so if the left or right-sided center back has to cover the space left by the wide players they know that they've got protection behind them.
However, there is one problem and that is if the defenders are not that fast then they will struggle with balls played in behind against fast attacking players.
To solve this problem Low will probably select Mats Hummels to play as the middle centre-back with Antonio Rudiger and Lukas Klosterman playing right and left center back since both of them play the formation with the club sides.
The two central midfielders in this formation will likely be Toni Kroos and Joshua Kimmich who will be in charge of dictating the pace of games and providing a defensive shield for the centre-backs. The left wing-back would likely be Robin Gosens as he has played left wing-back for Atalanta all season.
However, the right-wing-back position is difficult to know who will start because Germany has not actually got a natural right-wing-back in their 26 man squad. This is perhaps one of the weaknesses of the German team.
The three forwards will likely be Thomas Muller and then 2 from either Timo Werner, Kai Havertz, Leroy Sane, Kevin Volland, Serg Gnabry, Jamal Musiala, or Jonas Hoffman.
Alternative Formation: 4-3-3
For Germany to have any chance of getting out of their group of death, they will have to have the ability to change formation and tactics based on how the game develops. One of these possible formations is 4-3-3 this formation would likely leave Germany a little bit exposed at the back however it would give them more attacking opportunities.
The center backs would likely be Hummels and Rudiger with one of Gosens, Marcel Halstenberg, or Christian Gunter at left-back, however, unlike in the 3-4-3 above Kimmich would likely right back if Germany played this Formation because he used to play the position before he was converted to a midfielder.
The midfielders would be Kroos and two from Leon Goretzka, Florian Neuhaus, Ilkay Gundogan, or Emre Can to give more of an attacking threat from the midfield.
The left and right attacking players will either be Timo Werner, Sane, Gnabry, Hoffman, or Musiala. If Low wants to play a false nine then it will either be Muller or Havertz that starts however if he wants a conventional striker Kevin Volland would be the best option.
Best Formation: 3-5-2
This would probably be the best formation that Germany should play. The three center backs would be the same as the 3-4-3, the left wing-back will be Gosens however again it's anyone guess who would play right wing-back.
The attackers would again be two players from the attackers mentioned already. But the great thing about this formation is the selection flexibility in Midfield that Low has. For example, if he needs or wants to be more attacking he could play Kroos or Kimmich in the center and then Gundogan and Goretzka either side of them, who have 24 goals this season combined.
Alternatively, if he needs some game management or more defensive assurance he could easily select Neuhaus and Can instead of Gundogan and Goretzka.
So whatever formation Löw and Germany decide to play against France and Portugal, with players like Kylian Mbappe and Cristiano Ronaldo, Germany will have to adapt because otherwise there will be a repeat of 2018.