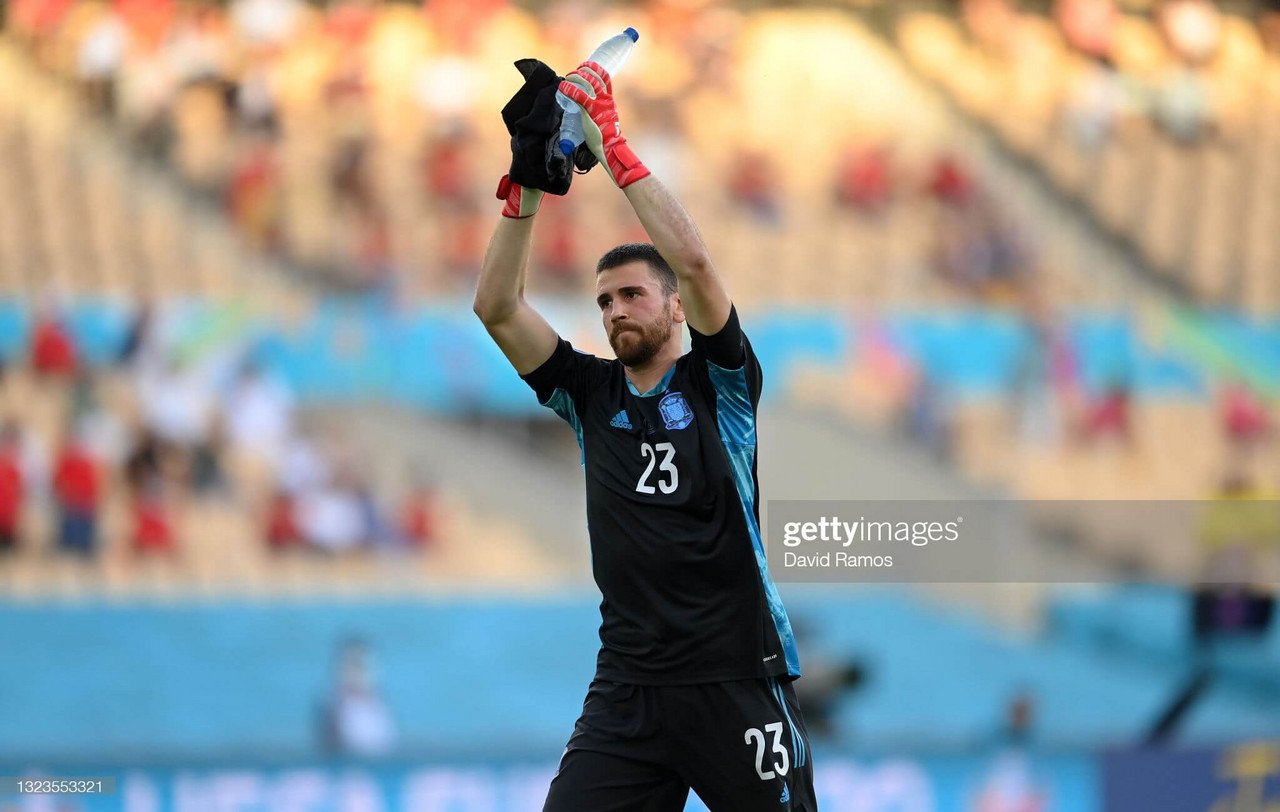 There will be a small gathering in the town of Vitoria-Gasteiz on Saturday evening. One of their own will be in goal trying to keep Europe's most prolific No.9 at bay and ensure Spain achieve their first victory of Euro 2020.
Unai Simon hails from the small town in the Basque Country, joining nearby Athletic Bilbao's youth system in 2011 aged 14. Now 24, the goalkeeper is not only the club's No.1 but also first choice for his country. "When I was four years old, I started as a player but I was either very big or very lazy and I was put in goal," he says with a smile.
"In football at age 7 we were lucky to have a field with natural grass, which in winter was actually pure mud. I loved throwing myself on the ground, coating myself, my mum not so much, but since then I decided to wear gloves for life."
From those muddy pitches in Spain's north to the humid city of Seville and the dry turf of the Estadio La Cartuja on Monday evening when he made his tournament debut as the national team's No.1, it has been a whirlwind of a journey.
'A strange situation'
It was in the summer of 2018 that Simon got his break. Athletic's goalkeeper, Kepa Arrizabalaga, had just been sold to Chelsea for a world record fee and the No.2, Iago Herrerin, was out injured. Therefore, the 21-year-old Simon was recalled from his very brief loan spell to play.
Having spent time working his way through the Athletic academy, donning the gloves in a first team match was a significant moment for Simon and he didn't let the opportunity slip. Such were his confident displays that he established himself as the club's regular goalkeeper and was ever-present in Athletic's goal this season, keeping nine clean sheets in La Liga.
"It was a strange situation," he says. "It can be said that it was luck because [Eduardo] Berizzo told me to look for a loan out of Athletic, I decided on Elche. I left, not even 15 days passed when they called me to explain that Kepa had signed for Chelsea and that Iago was injured.
"It was a surprise to see me start but I enjoyed it to the fullest. It may be luck but I have always been told to look for it. Luckily, things worked out in my favour.
"[Coaches] always tell me to keep a cool head. You don't have to come up in a good game, or sink in the bad moments. You always have to act the same way. Focused on the field and off there is time to enjoy and go crazy. This is how I understand the goalkeeper position: always keep a cool head, be ice."
'Always dreamt of playing these games'
Such level-headedness on young shoulders has led to Simon being one of the best goalkeepers in the Spanish division and duly warranted a call-up to the national team in August 2020. Seven appearances later and he was given the starting jersey by Luis Enrique, ahead of David De Gea, for the European Championship with his eighth cap coming in the goalless group E opener against Sweden.
"Well, we have always dreamed of playing these games, a tournament like that," he says. "If they told me a few years ago that I was going to play a European Championship, I wouldn't believe it. [I have] good feelings and I'm looking forward to the Poland game."
It was a welcome clean sheet against Sweden on Monday but the lack of clinical finishing at the other end cost Spain. "In football, games are often decided by a millimetre or a tenth of a second," Simon adds. "We try to score as many goals as possible and concede the least. I cannot guarantee to leave a clean sheet in every game but we are going to do everything in our power to achieve it, I as goalkeeper and Alvaro [Morata] as striker because we all defend and attack."
Having managed a point from their first game, expectations are now for Enrique's youthful team to take a step towards the knockout rounds with a win over Poland, who were defeated by Slovakia in their opening game. Though there is the challenge of facing Robert Lewandowski who is in tremendous goal-scoring form having broken Gerd Muller's Bundesliga record this season.
'I don't compare myself to Casillas'
For Spain, it is fair to say that a lot of Spaniards are not entirely convinced by this highly inexperienced squad but Simon, who won the under-19 Euros in 2015 and under-21 Euros in 2019 both as back-up goalkeeper, believes that the few older heads in the squad will help guide the new-look Spain.
"There has been a generational change and those who have more weight in the team are players who have lived a lot of experiences that we have not had with the national team and hopefully we can later," Simon says.
"The references are Koke, Thiago, [Sergio] Busquets or Jordi Alba, who have to show us the way and where to go. What they convey to us is that the team is the one that wins these competitions and not the [individual] selections, you can have the best players who are not going anywhere if you do not move in a group. We have to be a team and we are succeeding."
Personally for Simon it is a privilege to takeover the jersey which for so long was synonymous with Iker Casillas, who lifted two European Championships and a World Cup as Spain's captain. "I liked Iker's mental capacity to handle situations," Simon says.
"During his career there were times when people around Real Madrid questioned him. Knowing how to handle those situations makes him great; because of his saves but also because of the ability in bad times to be the only one who decided his future.
"I don't compare myself to Casillas, far from it. I have played eight games in the national team. It is true that the competition is the same, we live day to day, we cannot think of getting to the final when we are still in the group stage and we have to beat Poland."
Should Spain beat Poland on Saturday evening, the locals in Vitoria will raise a glass to Simon, Spain's young No.1.