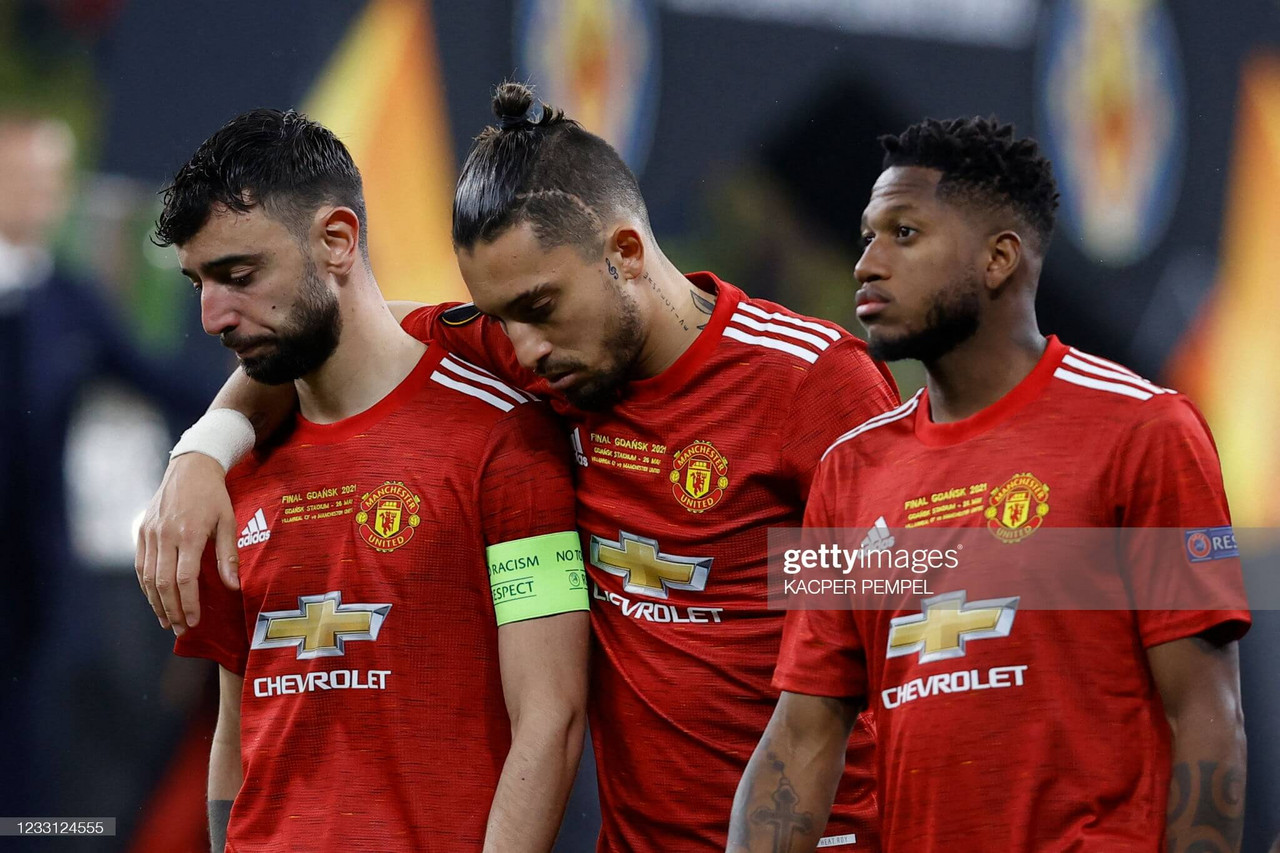 It was the perfect time to score. When Edinson Cavani just about stayed onside to swipe a Luke Shaw cross past Geronimo Rulli to equalise in the 55th minute, it seemed that Manchester United, after an arduous first-half, were in prime position to push past Villarreal.
Ole Gunnar Solskjaer's side had started the second half with more intent; apart from a short scramble in their own penalty area, the ball was predominantly in Villarreal's half. Yet, United didn't manage another attempt on target in the succeeding hour of play. When Solskjaer and his players needed to turn the screw, they could barely unlock the door.
The reasons behind that are numerous. In the end, this Europa League final meandered through the rest of regulation-time, past extra-time and into a penalty shoot-out, which Villarreal won 11-10. One rogue spot-kick by David De Gea saw the Spanish side claim their first ever title, but the mechanics of this failure, or victory in Villarreal's case, were to be seen in the half-hour after Cavani's goal.
Lack of substitutions telling
In this, United's 61st game of the season congested into eight months, Solskjaer waited until the 100th minute to make his first substitution - Fred for Mason Greenwood - despite United visibly tiring much earlier. Meanwhile, Unai Emery, the Villarreal manager, made all permitted five substitutions during the game and then the additional one allowed during extra-time. It kept his team fresh and was the first instance of the Spaniard obtaining the upper-hand over his United counterpart.
United needed to inject more energy to their play, but slowed down instead. The lack of substitutions played its part but that in itself speaks of how lowly Solskjaer rates the depth of his squad. That said, Solskjaer did opt for an attacking starting XI with Marcus Rashford on his favoured left side and Paul Pogba as a midfield sitter, which should be applauded albeit that intent on paper didn't quite transfer onto the pitch.
Another substitution which might have reaped rewards would have been Dean Henderson, who has saved eight of his last 19 penalties, for De Gea, who has now conceded the last 40 spot-kicks he has faced both in games and shoot-outs.
Regardless, the time for United to strike was when they had just equalised through Cavani. That should have given Solskjaer's players the urge to hunt down Villarreal even more, that was the time to pick them off. It should have inspired Bruno Fernandes to seek the ball in his No 10 position, Rashford to be more confident when a chance fell to him in the area, and Paul Pogba to try and prise open Villarreal's defence.
Whether it be fatigue or a failure to match the occasion, United didn't manage to kick-on. Villarreal certainly played a part in that, which is the second instance of Emery's superiority. His side may not have featured too many household names, it may not have cost an obscene amount to assemble, but the players knew their job and how to perform it effectively.
Emery shows his deft hand at game management
Emery is a well-known obsessive when it comes to analysing videos of opponents and trying to exploit their weaknesses. It may be pragmatic but one could tell that Villarreal had the confidence on the back of Emery preparing them thoroughly for this final against this opposition. Whether it be Etienne Capoue's job on Fernandes in midfield, Pau Torres and Raul Albiol's sure-footed defending, or the finesse of Dani Parejo's free-kick which brought Villarreal's goal from their only chance at goal; they knew what they were doing.
It helps having a manager who has been there and done it before. This was Emery's fifth Europa League final and the fourth time he's won it. That ability to manage a situation in the moment showed. It is easy to say that United should have gone up a level in the second-half when Villarreal dropped deep and allowed United free-reign in large areas of the pitch, but Emery's side frustrated them. In an obscene way for purists, they controlled the game without having much of the ball.
As far as the inquest into United's disappointing evening, and to some extent season, which now sees the club without a trophy for the fourth consecutive season, the debate will cover: squad depth; the absence of captain Harry Maguire; whether their form into the final was foretelling; whether that mattered; Solskjaer's substitutions and the fatigue of a team who have played an unrelenting campaign.
Yet, most importantly, it should focus on whether United can play and manage the moment when it matters. There is always a lot of focus of what United should do and how they should buy but as Villarreal showed, sometimes it comes down to just playing the moment, the final, bringing your best versions to such season climaxes and kicking-on if you're given the chance.