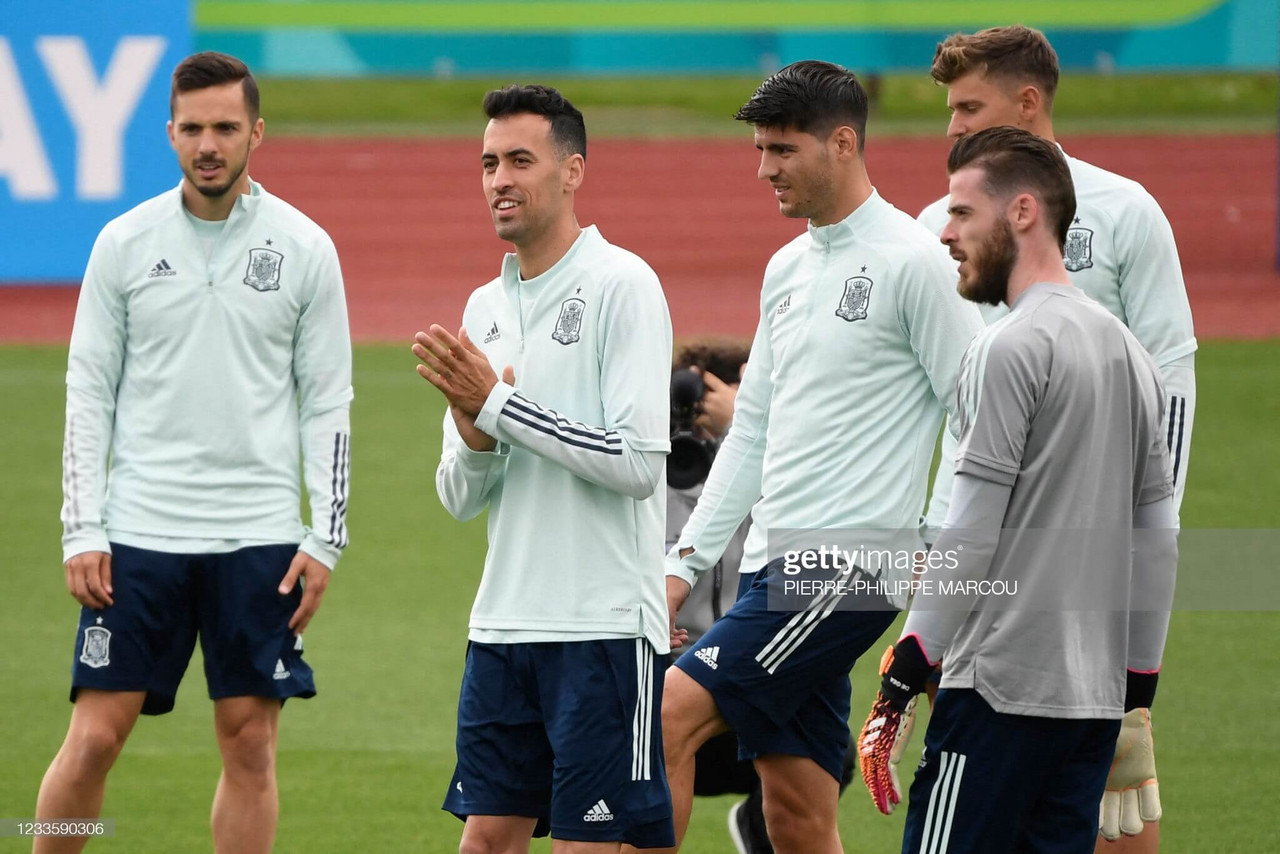 Spain are like a bottle of cava and ready to burst into life at Euro 2020, according to manager Luis Enrique. La Roja have two draws to their name ahead of the final group game against Slovakia on Wednesday, but their performances have been pockmarked by misfiring forwards and slow build-up play in midfield.
Collecting two points from the games with Sweden and Poland, and only scoring one goal in the process, has led the seleccion to third place in group E which may not be enough to guarantee a place in the knockout rounds. Therefore the game with Slovakia carries much significance for the three-time winners of the competition.
Enrique has admitted that he is somewhat "concerned" by Spain's insipid opening games and is no longer bothered whether his team finish first, second or possibly even third. "The way things are, I'll just settle with going through," he said.
"No one on the planet who knows football can say we were inferior to Poland or Sweden. Not when it came to the score, but in every other important element of the game we were better. Our objective against Slovakia is the same."
Enrique only focused on game at hand
The fact that Enrique was asked about his position as national team manager highlights the pressure that Spain and the coach are under. It further reflects the disconnect between the team and fans which has grown during the opening games of the competition and is also evident by tickets going unsold for all three of Spain's group games. Furthermore, boos and jeers greeted Alvaro Morata's substitution in the first game and the final whistle against Poland.
"We're playing for what we're playing for – which is simply getting through the round," Enrique said when asked whether he was playing to save his job. "Concern is logical when you deserve more but don't get it, but what I have to do is focus on what I can control, which is to motivate and get the best out of my players.
"And I have the feeling that this is like a bottle of cava that is about to be uncorked. As soon as we do take that cork out, as soon as we produce a complete performance and get the kind of win that gives us confidence, our best version will come out.
"What's been missing is the finishing. It has been hard for the superiority to translate into goals, which is the hardest thing in football. Look at other teams, including some of the favourites, and see the number of chances they create [which is no higher] and they do score goals."
Spain's slow predictable passing game has drawn criticism but not been aided by the dry pitch at the Estadio La Cartuja in Seville, where they are playing their three group games. The pace of this next game could drop further given the temperature at kickoff is expected to be over 30C. Add in a Slovakia team who will try to deny them space and Spain could be in for another testing evening.
"They will play very defensively because the draw is good enough for them; let's hope we can 'open the can' as early as possible," Enrique said.
Busquets back and ready to start
A boost does come in the return of captain Sergio Busquets who has missed the last two games after testing positive for Covid-19 on the eve of the tournament. The midfielder will return to the lineup for this game and could be partnered by Thiago Alcantara who has only made one appearance from the substitutes bench thus far.
Enrique is also expected to start Cesar Azpilicueta at right back, giving the Chelsea full back his first national team cap since 2018. Alvaro Morata and Gerard Moreno are both likely to form the attack.
"What we want, above all, is to play well and score goals," Busquets said. "We have to remain optimistic. We've lacked a sliver of luck in front of the goalmouth but when we get that game when things click the Spanish public will throw themselves behind the team still more.
"We, the players, are delighted with how Luis Enrique and his staff work. We know what level of coach is in charge and what he's already achieved. If there are people questioning him then we are all headed in the wrong direction.
"I've been fortunate enough to play in a number of international tournament finals and most of them have had a final group game with tension and pressure like this."