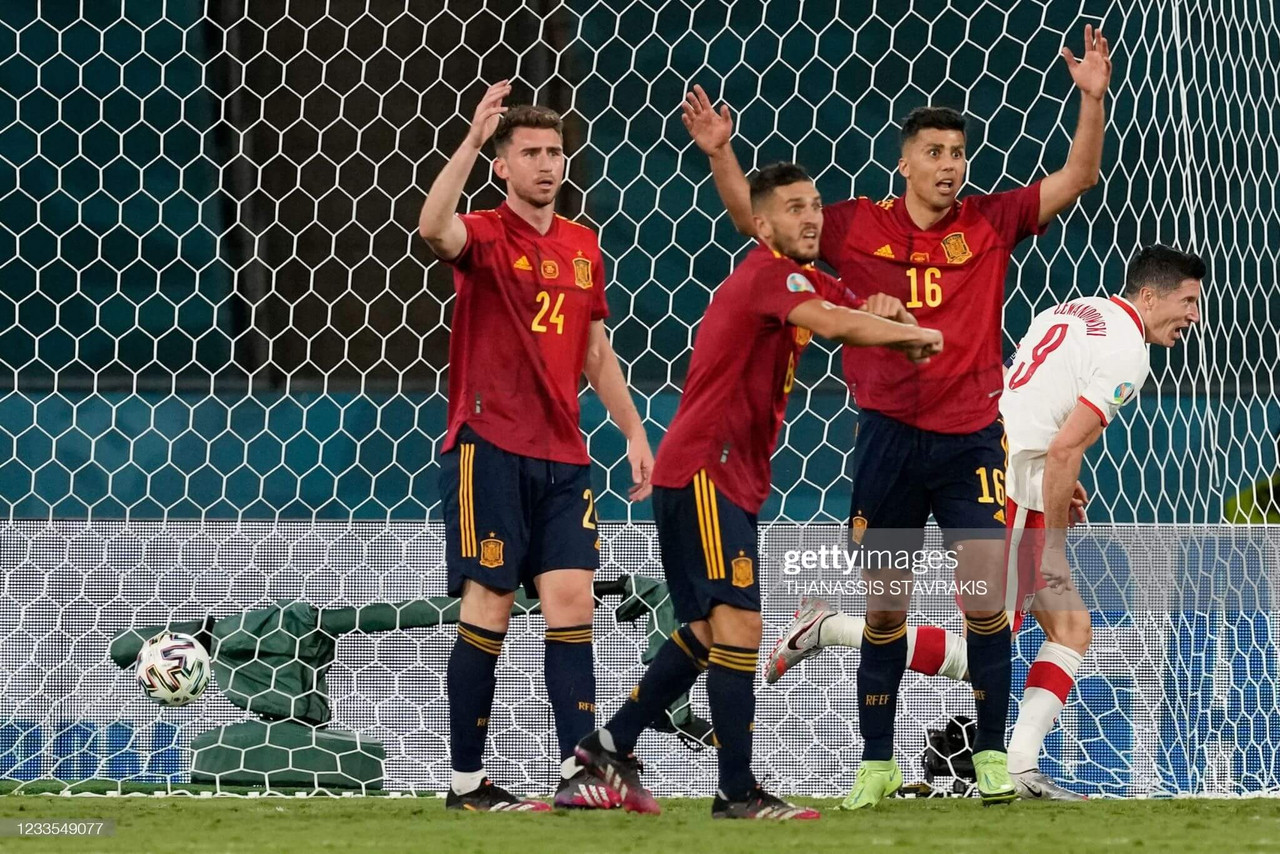 Two games, two draws, two points, too few reasons to be positive, too many chances spurned, too much unease to quell the pressure and convince the doubters that they're wrong. This is where Spain find themselves: a position that they didn't think they would be in.
Collecting just two points from "home" games against Sweden and Poland in their opening games of Euro 2020 means that Spain now have to defeat Slovakia to ensure they progress to the next round. Nobody said it'd be easy, but they thought it would be easier than this.
And so it comes down to the final group game to keep Luis Enrique's team in the competition, a slip-up and it could be all over before they have even started. The 0-0 and 1-1 results are the problem but the two 90 minutes displays as a whole leave a lot to be desired from this relatively inexperienced Spanish team.
"We're in a good mess," shouted the front cover of Marca. "La Roja fail to take off," was the headline in Mundo Deportivo. It is fair to say that this crop of Spanish players were already up against it coming into the tournament. Supporters of the national team are the keenest to dish out opinions and the meanest when it comes to criticising the players.
Inexperience counting against Spain
This squad of youthful and unproven players on this stage, albeit ones who have had promising seasons with their clubs, featured too many unknowns to be taken seriously when the competition got underway. They have done little since to make the doubters, both at home and abroad, believe that they mean business.
Add in that no Real Madrid players have made the national team squad for the first time and thus a substantial part of the media have automatically turned dubiously against Enrique (the former Barcelona manager and player) and his players. Though arguably the biggest problem for this current group of players is that they are not the previous golden generation that won this competition, twice, along with a World Cup. Comparisons are crude but expected.
Their problems have been brought on themselves, though - apart from the chaotic build-up to the tournament which resulted in all the players receiving their covid-19 vaccinations days before the Sweden game due to a possible outbreak in the camp.
Across the two games, they have managed 29 shots at goal, 10 'big' chances and 1,725 passes while also missing one penalty. This suggests that Spain are creating goalscoring opportunities but just not taking them - a troublesome issue that was apparent before the tournament.
What's more, this is backed up by Spain having the highest expected goals figure (5.3) in Euro 2020, ahead of the Netherlands. Yet they only have scored one goal, four fewer than the Dutch.
"We deserved to win, as we did in our first game," Jordi Alba said after Saturday's draw with Poland. "We lacked that little bit of luck and came very close to scoring goals. We were working very hard throughout the team – the intensity was there and we know what we need to do at every moment."
Knowing it and doing it are quite separate things, however, and time is running out for Spain already. Daily newspaper Sport proclaimed Enrique's team are "near the abyss" and that they're "already feeling the vertigo of failure". The paper's editorial added: "Two games, two draws and an obligation to win the next game. They aren't a team that overwhelm their opponents either by intensity or ball rhythm."
Lacking goals and high tempo
The spotlight continues to fall on Alvaro Morata, who scored against Poland to alleviate some of the pressure that was building on his shoulders. But his failure to tap in the rebound following Gerard Moreno's missed penalty will be added to the list of evidence that the critics are amassing concerning his ability to lead the line for the national team.
The positives Spain can take is that they have been relatively strong in defence, only conceding one goal in two matches, which fell to Robert Lewandowski. The continuity at the back must remain and will stand Spain in good stead should they make the knockout rounds. The issues, however, stem from pedestrian play in midfield and a lack of tempo to their overall game. Pass, pass, pass, but little movement or speed.
Maybe the heat of Seville is playing its part in subduing Spain's performances but the temperature will not change when Slovakia come to town for a 6pm kick-off - if anything the heat will be even more sapping.
Enrique now finds himself needing a win and must decide how he plans on going about achieving it. Some may say that Spain don't need to change too much, just their clinical finishing, but when the manager's job is quite possibly on the line, over-thinking can easily manifest itself.
"It hasn't left us with the best feeling – perhaps we were the dominant team, but it wasn't enough to force the victory," the Spain manager admitted. "We probably tried too hard and overdid things instead of creating clear-cut opportunities. Missing the penalty was a pity because it was at an absolutely crucial moment.
"Frankly, I thought we'd be able to impose ourselves more – but we couldn't. A result often covers up flaws in a performance. When the result isn't positive, it calls for even closer analysis."
Something that will remain is the belief amongst the players. "We are used to pressure like this and, personally, I'm convinced we'll go through," Alba said resolutely. He is one of the few players in this camp who has been around the block. The next few days are when Alba, Sergio Busquets and Koke should come into their own and propel positivity ahead of the must-win group game.
"This was painful but we have to keep believing," Pau Torres added. "The message to everyone is keep believing. Nobody in Spain should be in any doubt that we'll give everything to win the next game and qualify."
"We're evidently frustrated," said Rodri after another toiling evening. "The ball didn't want to go in again. We missed a penalty and we really needed to tuck it away. That would have made all the difference.
"When the ball doesn't go in, the doubts grow. The positive note is that we still have a 'final' to play and qualification depends on ourselves. We gave this everything and football 'owes us one' now."