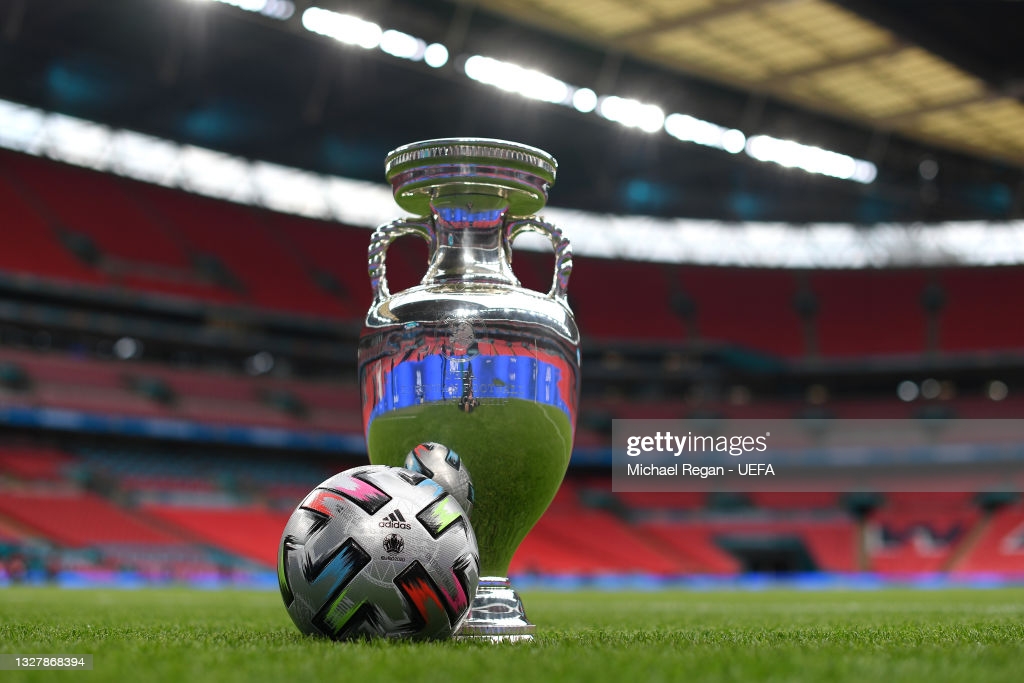 For the first time in 55 years, England have reached a major tournament final. It will also be the first Euro's final in their history.
Standing in their way of the Euro 2020 trophy are Italy. The scene is set for Wembley, The Three Lions have beaten the likes of Germany, Ukraine and Denmark so far.
The fans are chanting 'It's Coming Home' but England have got to get over the final hurdle and beat a very tough Italian side before it does.
The Italians have been in this competition 10 times and have reached the final on four occasions, including this year's tournament. They've lost in two finals, once against France in 2000 and again against Spain more recently in 2012. They won their only Euro title back in 1968.
It looks like Gareth Southgate has most of his players available, with only one reported 'minor injury' and no suspensions in the squad. The England manager may look to change the shape of his team with Italy providing one of the toughest tests yet.
We saw a change in shape against Germany and it worked a treat as The Three Lions beat their rivals in a major tournament for the first time since 1966, and everyone knows what happened that year...
For those that don't, England won the World Cup. But of course, you would've had to have been living under a rock to not know that.
Jordan Pickford unless injured will start in between the sticks again. Against Denmark he conceded his first goal of the tournament and after a shaky first half stepped up once again and performed to help England win.
It's expected that the team will feature regulars like, Luke Shaw, Kyle Walker, John Stones and Harry Maguire at the back. With the midfield duo Kalvin Phillips and Declan Rice pairing up once again. Potential players of the tournament, Harry Kane and Raheem Sterling will keep their place in the team. The only question is really who the remaining two players will be.
Kieran Trippier or Reece James could come in with Walker playing as a centre-back in a three at the back formation. Leaving Jadon Sancho, Bukayo Saka, Jack Grealish and Phil Foden battling it out for the final place in the first eleven.
Will he play four at the back or look to approach the game more defensively with five?
This morning it has been reported the Foden missed the last training session on Saturday. It is said that he had to sit out of training due to a 'minor knock'. This news was announced on England's Twitter feed.
25 players are out at training this morning as the #ThreeLions get ready for Italy, with @PhilFoden sitting out due to a minor knock.https://t.co/yX43DQhMNU

— England (@England) July 10, 2021
Italy
Roberto Mancini and Italy are again without one of their players of the tournament, Leonardo Spinazzola. The Italian full-back ruptured his Achilles tendon in the quarter-final. Emerson Palmieri filled in for Spinazzola and played against Spain in the semi-final.
Trio - Jorginho, Nicolo Barella and Marco Verratti - will most likely be Mancini's choice again as they have been outstanding. They've also got one of their players of the group stage sat on the bench in Manuel Locatelli, who scored two goals against Switzerland and started Italy's first two opening Euro 2020 games.
Federico Chiesa seems to have cemented his place in the first team after being a hero for the Italians in the knockouts so far. He scored the first against Austria, in the 2-1 win. And again he scored the opening goal of the game, this time in the semi-final against Spain, where they drew 1-1 after 120 minutes. Italy were eventual winners 4-2 in the penalty shootout.
Ciro Immobile will lead the line again with Lorenzo Insigne, both have two goals so far in the competition.
#Azzurri 🇮🇹

📸 Final push! Last training session at #Coverciano before the grand finale 😍 #VivoAzzurro #ITAENG #ITA #EURO2020 pic.twitter.com/TjnRiEnpfr

— Italy ⭐️⭐️⭐️⭐️ (@azzurri) July 9, 2021
England: Pickford; Walker, Maguire, Stones, Shaw; Phillips, Rice; Saka, Mount, Sterling; Kane
Italy: Donnarumma; Di Lorenzo, Chiellini, Bonucci, Emerson; Jorginho, Verratti, Barella; Chiesa, Immobile, Insigne
England:
Group D:
(W) vs Croatia (1-0) - Wembley
(D) vs Scotland (0-0) – Wembley
(W) vs Czech Republic (1-0) – Wembley
Round of 16:
(W) vs Germany (2-0) – Wembley
Quarter-final:
(W) vs Ukraine (4-0) – Stadio Olimpico
Semi-final:
(W) vs Denmark (2-1 AET) - Wembley
Italy:
Group A:
(W) vs Turkey (3-0) - Stadio Olimpico
(W) vs Switzerland (3-0) - Stadio Olimpico
(W) vs Wales (1-0) - Stadio Olimpico
Round of 16:
(W) vs Austria (2-1 AET) - Wembley
Quarter-final:
(W) vs Belgium (2-1) - Allianz Arena
Semi-final:
(W) vs Spain (1-1 AET; 4-2 Penalties) - Wembley
England:
For The Three Lions, Harry Kane and Raheem Sterling are the ones to watch. The England captain has now scored four goals in Euro 2020 with Sterling just behind him with three. The Manchester City winger nearly got his fourth when Denmark captain Simon Kjær put the ball in his own net for England's equalizer in the semi-final.
Kane on the other hand is two goals away from the golden boot and will be looking to grab that alongside the Euro 2020 trophy. However, both of the attacker's priorities will be to win the game and lift that trophy, the golden boot would just be a bonus. Sterling's skills and pace could cause the Italians problems, with Giorgio Chiellini and Leonardo Bonucci ageing, despite their world-class defending abilities they aren't the fastest defenders anymore. And Kane won't need two bites of the cherry to get a goal if the chance arrives.
Italy:
The Italians have 'veterans' at the back, who will be very hard to beat. However, that's not who England should be worried about. As said before, Chiesa seems to be in good form and knows where the net is. The 23-year-old spent his last season on loan at Juventus from Fiorentina, he'll remain with the Old Lady for at least one more season.
He won the Supercoppa Italiana: 2020 with Juventus as well as the Coppa Italia: 2020–21, where he also scored the winner. Immobile and Insigne again could cause trouble with their finishing abilities but they face a tough test up against an England side who have only conceded one goal so far - and even then it took a sublime freekick to beat Pickford.
The two sides have met 27 times in total, with the 28th meeting coming this Sunday. Obviously, there cannot be a draw in the final, however, games between Italy and England have finished equal eight times, with The Three Lions winning on eight occasions and Italy with 11 victories to their name.
The last time that they met was in an International Friendly in 2018. It was a game that England deserved to win, but after VAR assisted the referee in awarding Italy a penalty late on, Southgate's side had to settle with a 1-1 draw. Jamie Vardy and Insigne got the goals on that day.
Only four of England's players in the starting eleven on that day are in the Euro 2020 squad (Stones, Walker, Trippier and Sterling). A further four players who were on the bench are also in the Euro 2020 squad.
That's just eight out of 24 players that have kept their place in the England squad. With a much improved England side, Italy are set to face a challenge that they've not faced yet.
Where to watch on TV and online England vs Italy
You can watch the Euro 2020 final live on BBC and ITV. In the UK the game will kick off at 8 pm. Coverage on BBC will start at 7 pm and on ITV it's 6:30 pm.
You can follow England vs Italy live coverage in VAVEL.
What the managers have said
Gareth Southgate has led England to only their second ever major tournament final and could lead them to their first ever Euro championship. The only thing left in their way is Italy.
Southgate said: "There's one more massive hurdle to try to conquer.
"Italy are a very good side.
"They've shown outstanding form and have defensive warriors at the back who have been through everything.
"It's something to look forward to."
The last time Roberto Mancini featured in a final at Wembley was when his Manchester City side lost 1-0 to Wigan Athletic in the FA Cup final. Prior to kick-off, news did break announcing Mancini was going to be sacked regardless of the result.
When speaking about playing in semi-finals and finals Mancini said: "There are games where you have to suffer."
When speaking after his sides penalty win over Spain, he added: "They can't all be as smooth as our progress so far.
"We knew it would be a tough game."
Mancini is yet to really comment on the final, however, when speaking about England the 56-year-old said: "As for England, they have shown that their individual players can be match winners.
"They have some top players in the final third and all across the pitch," the Italian boss said.