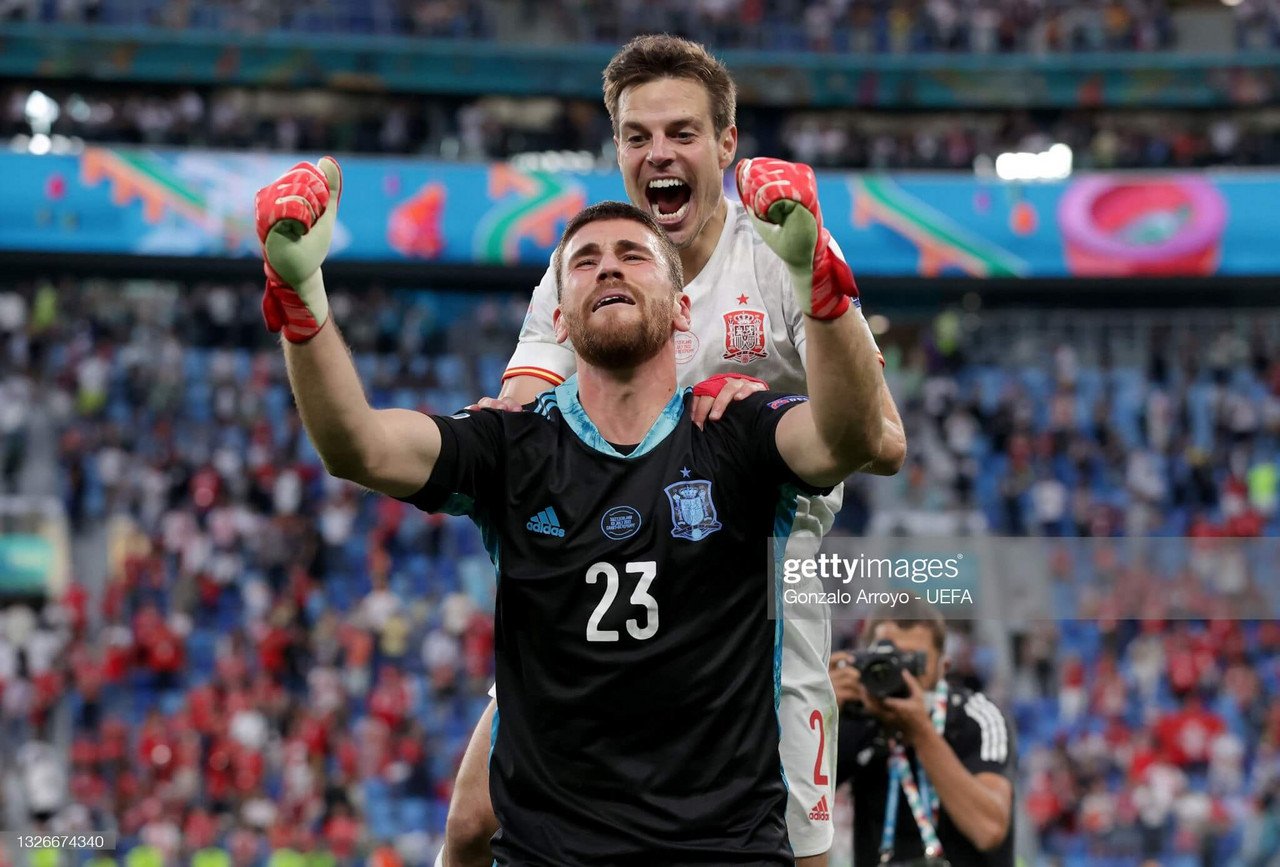 "I tried to convey a message of: what will be, will be," Luis Enrique said. For the second knockout game in a row, Spain had been taken into extra time but in this instance they were going all the way to a penalty shoot-out too.
Enrique, the Spain manager, wanted his players to relax, which is easier said than done in the circumstances. "I told them to enjoy the moment as much as they could," he said - again that is a tough ask given what was at stake.
Spain had missed their last five penalties, two of them at Euro 2020, and had squandered chance after chance in extra time as Switzerland's energy-sapped 10-man side hung on for a 1-1 draw. The frustrations have ran continuously through Spain's tournament and did so again in this game with their eighth-minute lead being wiped out by a defensive error.
Therefore, the relief that engulfed the Spanish players when Mikel Oyarzabal scored the decisive penalty past Yann Sommer was both evident and warranted. Oyarzabal ran straight to goalkeeper Unai Simon, who had made two saves in the shoot-out and seen another miss the target. "Angel hands" was what Diario AS called him.
"I'm not the hero; we all did it," Simon said later. "We deserved this before extra time, we deserved it after extra time, but it wasn't to be," the goalkeeper said. With penalties, it was. This a euphoric moment, I got very excited, very emotional, all that fury, all that desire. Something inside me wanted this."
Asked if he had told Simon he could be a hero, Enrique said: "Any coach thinks that when they speak to their goalkeeper. I've seen him save many penalties for Athletic [Bilbao]. I tried to tell him to put pressure on the taker but I was completely relaxed and had faith whatever happened."
Redemption for Simon and Spain
Simon has had quite the week after gifting Croatia a goal in the thrilling round-of-16 game which ended 5-3 after 120 minutes. His redemption in the penalty shoot-out led to wild celebrations amongst the players who sung Viva Espana in front of the supporters who had travelled to Saint Petersburg for the game.
"You have to erase your mistakes, forget about them," Simon said. "But you have to erase your good moments too because of what awaits. We can enjoy this now, but tomorrow we prepare for the semi-final. A lesson for life? Every game is a new game."
With this hurdle now cleared, Spain have a semi-final to look forward to. There have been criticisms of Spain's play during the tournament: too ponderous, not enough drive, chances squandered at quite an alarming rate. But the fact remains that Enrique's team are in the final four and will face Italy at Wembley next Tuesday for a place in the final.
"I've always said we were one of the eight teams who had a chance of winning the title but it was dependent on our performances," Enrique said. "Now we are in the last four that is fantastic and fills us with a great sense of pride. It would be ridiculous to think the four semi-finalists aren't going to be thinking about going one further and go to the final."
This was the first time that Spain had reached a quarter-final since they last won this competition in 2012. Having won three major tournaments in a row (2008, 2010, 2012) they have suffered disappointing exits in their last three competitions. Therefore, the advancement of this young, rather inexperienced but determined Spain team is more than welcome.
"Win or lose on penalties the team would have done excellently for my judgement," Enrique continued. "For how they've handled this, how they've played, how they've represented Spain."