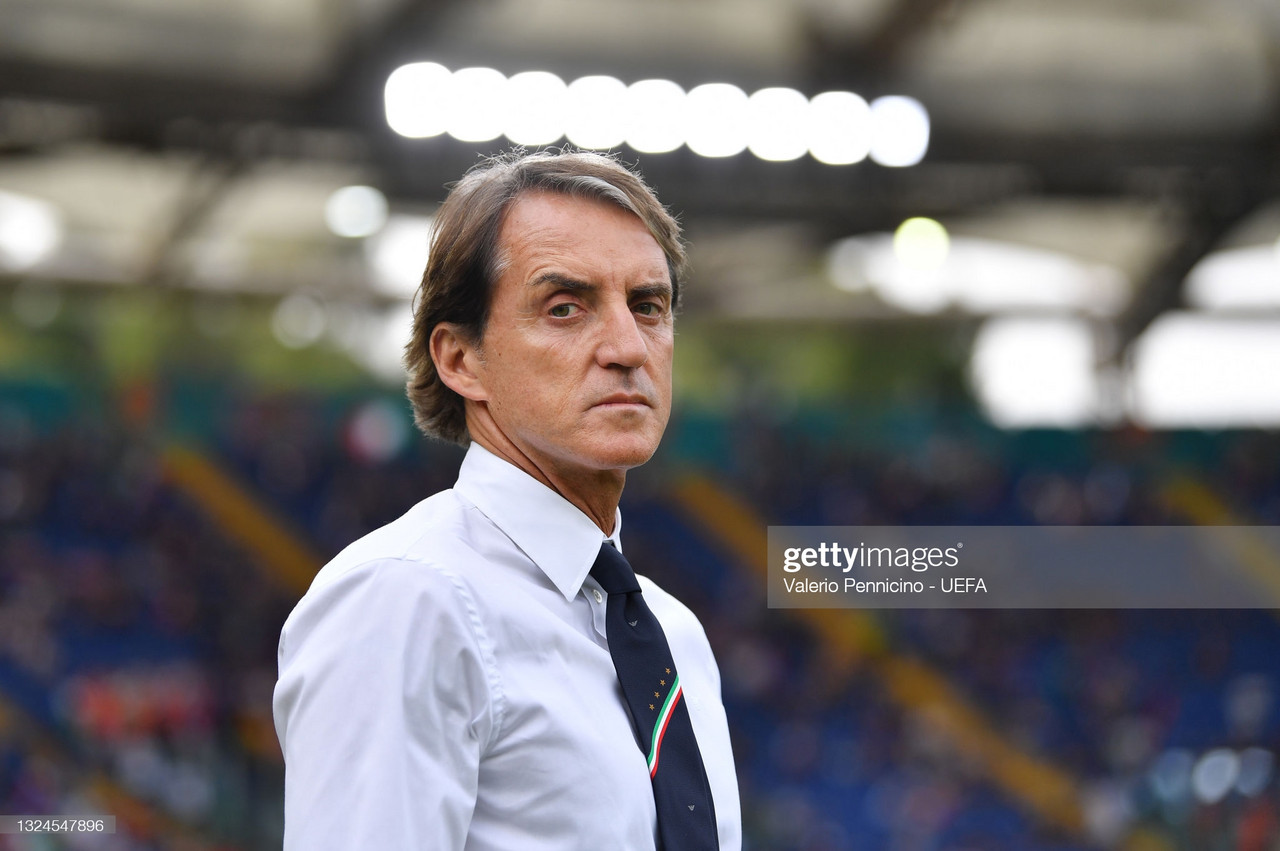 Roberto Mancini has certainly caught the eye of many during this summer's Euro 2020 championships. The Italian national team coach has slowly transformed his side into a tournament favourite having taken Group A by storm so far.
The Azzurri comfortably saw off Turkey in the first game of the tournament, thumping them 3-0, before hitting another three past Switzerland just five days later.
Italy rounded off the treble by seeing off Wales in the deciding game of the group stages, and this was despite making eight changes to his starting XI.
What is perhaps most impressive about Mancini and his dominance in the early stages of the tournament is that his side did not give up a single goal. This adds to the impressive run the side is on that has seen them keep clean sheets in their previous nine games. Their last goal conceded was against the Netherlands in a Nations League game back in October 2020.
With Tottenham Hotspur still on their ridiculously extended search for a new manager, they might not need to look any further than Mancini, who already has a history of success in the Premier League.
The Italian won the Premier League and FA Cup during his four-year spell in the blue side of Manchester.
Of course, Mancini currently has the likes of Giorgio Chiellini, Leonardo Bonucci, and Gianluigi Donnarumma currently at his disposal, so that does make keeping clean sheets much easier than it would be with the likes of Eric Dier and Davinson Sanchez at the back.
However, with Spurs looking to bring in central defenders this summer, Mancini could be the one to rebuild and reinforce Spurs as they prepare for the 2021/22 Premier League season.
Whilst his team has an impressive defensive setup, Italy have not been short of goals in recent matches. Scoring six goals in two games in the first two appearances of Euro 2020 makes them one of the top attacking teams in the tournament.
What this information tells us is that Mancini clearly implements a balanced style of play that targets both areas. A notable feature of Italy's play is that they keep possession exceptionally well. This helps drag the opposing team into a high press before the Italians pounce their way through and can emerge on the attack.
Usually deploying a 4-3-3, Mancini allows two central midfielders on either side of a defensive player to roam more freely in the centre of the pitch. The likes of Manuel Locatelli and Nicolo Barella are often seen progressing high up the pitch to support the front three and provide them with options in the final third, with Jorghino sitting deep and playing more as a box to box midfielder.
Ciro Immobile usually plays as a lone striker, but the strategy implemented by the 56-year-old manager means that the wingers often cut inside to provide runs that go beyond the striker.
Furthermore, the full-backs are progressive and provide width where the wingers may fulfil a more central role. Whilst attacking, the Italian backline usually forms a three, as they progress the ball down the side of one of their fullbacks.
Defensively, they sit in with a flat back four with two of the central midfielders sitting in front of the defence, providing protection for anyone trying to play through the middle, leaving one of the other midfielders to become part of the press, alongside Italy's attacking players.
This formation and style of play could work well at Spurs. With progressive full-backs at the club like Sergio Reguilon and Matt Doherty, they too could fulfil the role of playing fairly high up the pitch.
The protection and defence stability would come through Pierre Emile Hojbjerg whilst the likes of Giovanni Lo Celso, Tanguy Ndombele or Harry Winks could have the freedom to explore the attacking thirds of the pitch and be part of that high press Mancini likes to utilise.
A front three is something Spurs have seen regularly over the last season, with Heung-Min Son playing on the left, Harry Kane playing as a solo striker and either Gareth Bale or Erik Lamela playing on the right.
It would be interesting to see how Kane would be deployed under Mancini's system, as the Italian seems to prefer the striker to act more as a poacher, rather than dropping deep like Kane has done frequently for Spurs this season.
Mancini would certainly bring something different to Spurs. He could well fit that bracket of 'attacking, aggressive football' that chairman Daniel Levy is so keen to return to the Tottenham Hotspur Stadium.
The role of the new Sporting Director
Fabio Paratici could also be open to the idea of bringing Mancini to north London. The new Sporting Director has a clear want for a manager who has worked within the Italian football bracket and what better option than the manager of the national team?
Paratici has already tried to lure Antonio Conte, Paulo Fonseca and Gennaro Gattuso to the helm of the currently sinking ship at Spurs. Mancini could be another surprise candidate in the two-month-long search for a manager.
Mancini also has excellent knowledge of Italian players, add his experience of winning trophies and he could well be the expert in helping identify talent that will formulate a winning team at Spurs. The likes of Locatelli, Donnarumma and Nicolo Barella have already been linked to the club following Paratici's arrival. Mancini could work together with the Portuguese director to help lure some of that talent to Spurs.
Mancini won six trophies during his time at Inter Milan during what was his first major managerial role at a top club. This included three Serie A titles and two Coppa Italia's.
This winning mentality, combined with a sporting director who is admired and adored by those in Italy could be a tasty mix and is certainly something those in charge at Spurs should at least explore.
Following their 1-0 victory over Wales in the final group stage game at Euro 2020, Italy have now gone 30 consecutive games unbeaten, matching their previous record set in 1939. They have now also won 11 games in a row without conceding a goal, emphasising their superiority and class on the pitch.
Whilst Spurs sit twiddling their thumbs with confusion over who to appoint as manager, there is an obvious candidate staring them in the face. Whether anything will emerge in relation to Mancini as a target is yet to be seen.
What we do know, is that he is a superb manager who is doing an outstanding job with the Italian national team, it is no wonder he is catching the eye of writers such as myself, who can only praise his tactical prowess.